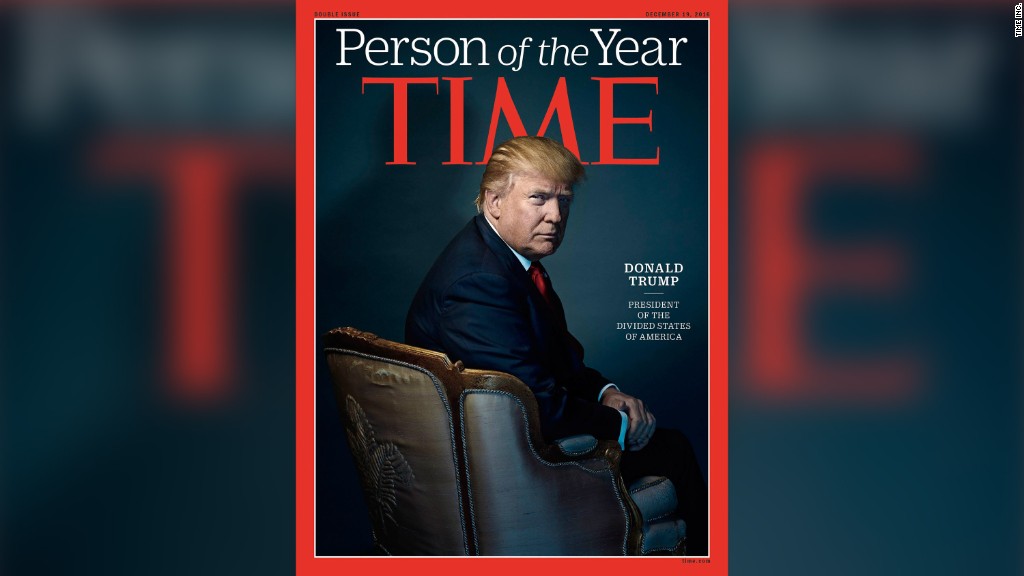 He sold all of them in June, he says, because he was worried about conflicts of interest.
"I don't think for me to be owning stocks when I'm making deals for this country that maybe will affect one company positively and one company negatively -- I just felt it was a conflict," Trump said Wednesday on NBC's "Today" show.
But here's the catch: Trump wasn't just invested in stocks. He also had his millions invested in hedge funds. The same conflict of interest concerns apply to hedge funds as well.
The Trump transition team did not respond to CNNMoney's repeated requests for clarification on whether Trump also sold his hedge funds.
Related: American CEOs are thrilled with Trump
Trump's potential hedge fund problem
If he hasn't sold, Trump's decisions as president will almost certainly affect the performance of his hedge fund holdings too.
In fact, they already have. Here's one example: According to his latest financial disclosure in May, Trump is invested in three hedge funds run by John Paulson, a major donor to his campaign and the Republican Party this year.
Paulson is famous for making a lot of money during the financial crisis. He was one of the few investors who recognized the U.S. housing market was in a major bubble. He bet that a lot of Americans wouldn't be able to pay their mortgages -- and he was right. He made billions when the rest of Wall Street and Main Street suffered huge losses, or were wiped out, in the 2008-09 crash.
But Paulson has struggled in recent years. Bloomberg reported that the Paulson Partners Fund, which Trump was invested in (and may still be), was down 22% between January through September.
Related: Mnuchin wants U.S. to sell Fannie Mae, Freddie Mac stakes
However, Paulson's fortunes may be looking up again since Trump was elected. Some of his funds have had a major uptick and he can thank Trump for that.
Two of his big investments, Fannie Mae and Freddie Mac stocks, are up 150% since Trump appointed Steve Mnuchin as his Treasury Secretary. One of the first things Mnuchin did after his nomination was to go on Fox Business and say, "We've got to get them out of government control."
The stocks jumped. Paulson made money. So did Trump, if he still owns those hedge funds.
Paulson had bet big on Fannie (FNMA) and Freddie (FMCC)(known officially as the Federal National Mortgage Association and Federal Home Loan Mortgage Corporation). The government took control of Fannie and Freddie during the crisis. Most of the profits Fannie and Freddie receive go directly to the U.S. Treasury. But Trump's nominee for Treasury Secretary wants to change that so that profits would flow to shareholders instead of the government.
Related: Dow zooms over 1,200 points since Trump victory
Stocks soar 150% thanks to Trump
"Mnuchin was a business partner of Paulson's. The connections seem really close," says Jeff Hauser, executive director of the Revolving Door Project, a watchdog group.
Trump is planing a major announcement December 15 on what he will do with his business empire when he is sworn in as president. Whether he will discuss his hedge fund holdings isn't clear. Typically, presidents put their investments into a blind trust that someone else controls. Or they do what President Obama did and invest only in "plain vanilla" government bonds and index funds like the S&P 500.
"Trump just needs to liquidate everything. There's just no way to balance these things out," says Hauser.
Verifying that Trump really did sell all his stocks is difficult. His last financial disclosure came in May 2016 -- a month before Trump says he sold his stocks.
Trump isn't required to submit another disclosure to the Office of Government Ethics until May 2018.
Back in May, Trump disclosed that he owned 100 individual company stocks, including Apple (AAPL), Microsoft (MSFT), Pepsi (PEP)and GE (GE). It sounds like a lot, but his stock holdings added up to a mere $10 million -- a small fraction of his overall business empire that he says is worth billions.
Trump reported up to $85 million invested in hedge funds in his May disclosure, according to a CNNMoney analysis.
Related: Donald Trump says he sold all his stocks in June
Here are Trump's hedge fund holdings and the amount in each (according to his May 2016 disclosure):
1. BlackRock Obsidian Fund: $25 million to $50 million.
(BlackRock (BLK) CEO Larry Fink is one of 16 CEOs on a new economic advisory team for Trump.)
2. Paulson Credit Opportunities: $1 million to $5 million.
(John Paulson was a major campaign donor to Trump and the Republican Party in 2016.)
3. Paulson Advantage Plus: $1 million to $5 million.
4. Paulson Partners: $1 million to $5 million.
5. AG Diversified Strategies: $1 million to $5 million.
6. AG Eleven Partners: $1 million to $5 million.
7. Midocean Credit Opportunities Fund: $1 million to $5 million.
8. Advantage Advisers Xanthus Fund: $1 million to $5 million.
Trump's total hedge fund holdings: $32 million to $85 million.