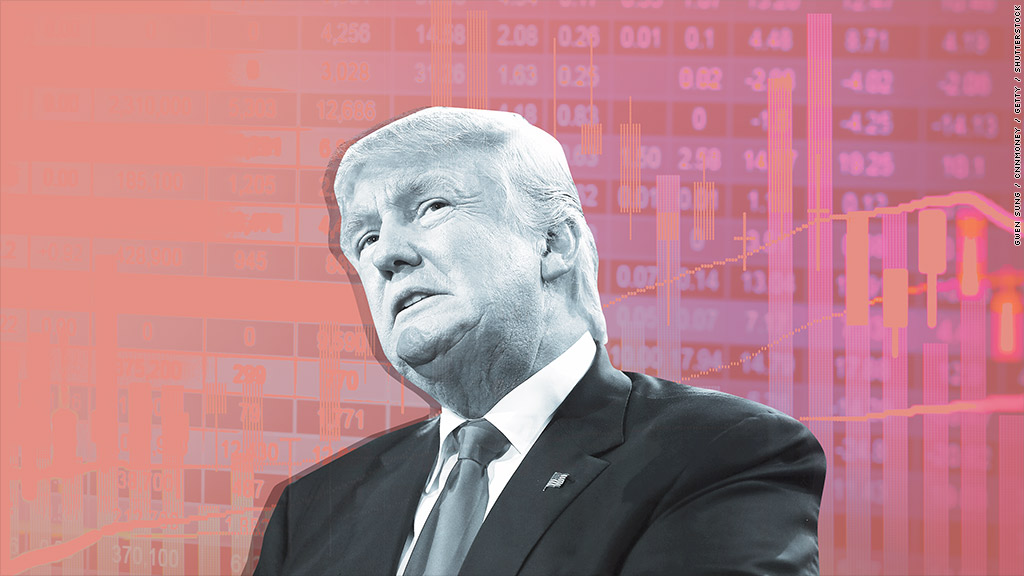 The explosive post-election rally continues. The Dow, S&P 500 and Nasdaq all hit record highs again Thursday.
And just about every part of the market is getting a Trump bump. Nearly three-quarters of the stocks in the S&P 500 are up since November 8. What's more, about half of those winners have gained at least 10%.
Financial stocks in particular have been on fire. Citigroup (C) and JPMorgan Chase (JPM) are up about 20% since Donald Trump defeated Hillary Clinton -- and that makes them laggards!
Morgan Stanley (MS) has gained more than 25%. So has troubled Wells Fargo (WFC), despite the lingering fallout from its fake account scandal. Bank of America (BAC) is up more than 30%.
And so is Goldman Sachs (GS) -- the former employer of both Treasury Secretary nominee Steven Mnuchin and Trump chief strategist Steve Bannon.
The market reaction to Trump's win is like the Bizarro World version of 2008. Remember that Seinfeld episode? Up is down. Down is up. Maybe Trump says "hello" when he leaves and "goodbye" when he arrives?
Related: Dow zooms over 1,200 points since Trump victory
So how long can the rally last? I wrote a few weeks ago about the Dow being on the verge of topping 20,000 for the first time. Most people thought that wouldn't happen until 2017. But that milestone is now less than 450 points, or 2.2%, away!
It appears Wall Street is still willing to look past Trump's mercurial nature and penchant for tweeting attacks against Corporate America.
Even though Carrier owner United Technologies (UTX) has incurred the wrath of Trump, the stock is still up more than 5% since the election.
Investors seem to be betting that Trump's tough talk is just that and that UTX and other defense companies will benefit from the likelihood of increased defense spending and more hawkish military policies.
To that end, shares of Boeing (BA) are up nearly 10% since the election as well -- despite Trump's recent criticism of how much he thinks Air Force One costs.
Corporate leaders don't even seem that concerned about Trump's frequent criticisms.
According to a survey of 600 business executives surveyed by the American Institute of CPAs after the election, optimism about the U.S economic outlook over the next 12 months rose to 62%, from 38% last quarter.
Related: Trump rally could be derailed unless...
The main reasons for this shift in sentiment? Executives now expect some regulations to be rolled back and a reduction in taxes.
The market also seems to think that the possibility of fiscal stimulus from Trump and the Republican-controlled Congress will lead consumers to spend more.
Kohl's (KSS), Staples (SPLS), Best Buy (BBY), CarMax (KMX) and Bed Bath & Beyond (BBBY)have been market leaders since the election.
Stimulus hopes have also helped infrastructure companies like steel maker Nucor (NUE), copper miner Freeport-McMoRan (FCX) and construction services firms Fluor (FLR) and Jacobs Engineering (JEC).
Energy stocks have soared too, as investors believe that Trump will be friendlier to big oil and natural gas companies. Transocean (RIG) and Chesapeake Energy (CHK) are the two top gainers in the S&P 500 since the election. Each is up more than 40%.
Still, some experts warn that the rally has to cool off eventually. And it may make sense to start looking at some of the companies being left behind in the Trump rally.
"More than likely, the market has to take a breath. Too far too fast is never good," said Ron Weiner, managing director and partner of RDM Financial Group at Hightower.
He argues the selloff in biotech stocks due to Trump's recent comments about reining in drug prices is overdone and that there are opportunities there.
Weiner thinks tech stocks should rebound as well. Concerns about Trump's feud with Silicon Valley hurting the likes of Amazon (AMZN) and Facebook (FB) are probably overdone too.