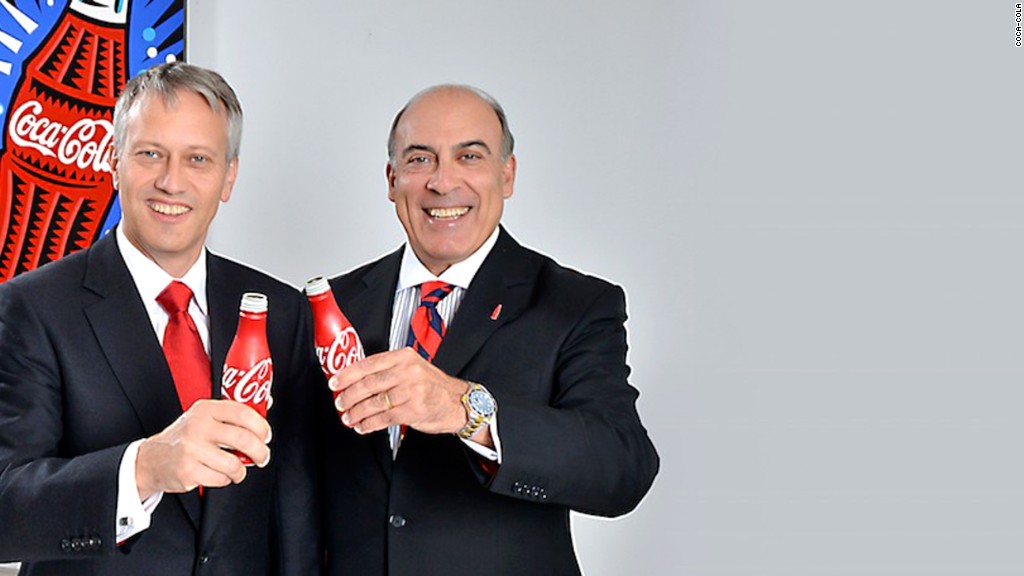 Coca-Cola CEO Muhtar Kent is stepping down.
James Quincey, the company's president and chief operating officer, will become CEO on May 1, the company announced Friday.
Quincey, 51, has worked for Coca-Cola (KO) for 20 years. He will assume responsibility for one of the most recognized brand names in the world. Only Apple, Google and Microsoft have more valuable brands, according to Forbes.
Kent, 64, has been CEO for eight years and will continue as chairman.
The company quoted longtime Coke investor Warren Buffett of Berkshire Hathaway (BRKA) praising him as an "excellent steward" of the company, and Quincey as a "smart investment" for the future of Coca-Cola.
Kent was paid a total of $14.6 million last year, according to regulatory filings. Quincey was paid about $6.8 million.
At the World Economic Forum Annual Meeting in Davos, Switzerland, earlier this year, Kent told Richard Quest of CNN that his company was pouring $4 billion into the Chinese market, and that he had personally approved the slogan "taste the feeling."
Sales expanded to $43.7 billion in 2015 from $31.2 billion in 2009, the year Kent became CEO. But his time in the top job has not been worry-free. Sales of Diet Coke have fallen sharply, partly because of concerns that the artificial ingredients in diet soft drinks make them less healthy than they appear.
And Coke was criticized for funding an anti-obesity group that downplayed the health risks of sugary soft drinks. That group eventually closed down.
Related: Coke says it replenishes all the water it used
Coca-Cola has also struggled to compete against archrival Pepsi (PEP), which has outperformed Coca-Cola by diversifying into many different consumer products, including snacks.
Coke owns the drink brands Minute Maid, Dasani and Powerade. Pepsi owns Tropicana, Aquafina and Gatorade, but it also has Frito-Lay, the profitable division behind Fritos, Lay's, Doritos, Cheetos and Cracker Jack.
--CNNMoney's Paul R. La Monica assisted with this story.