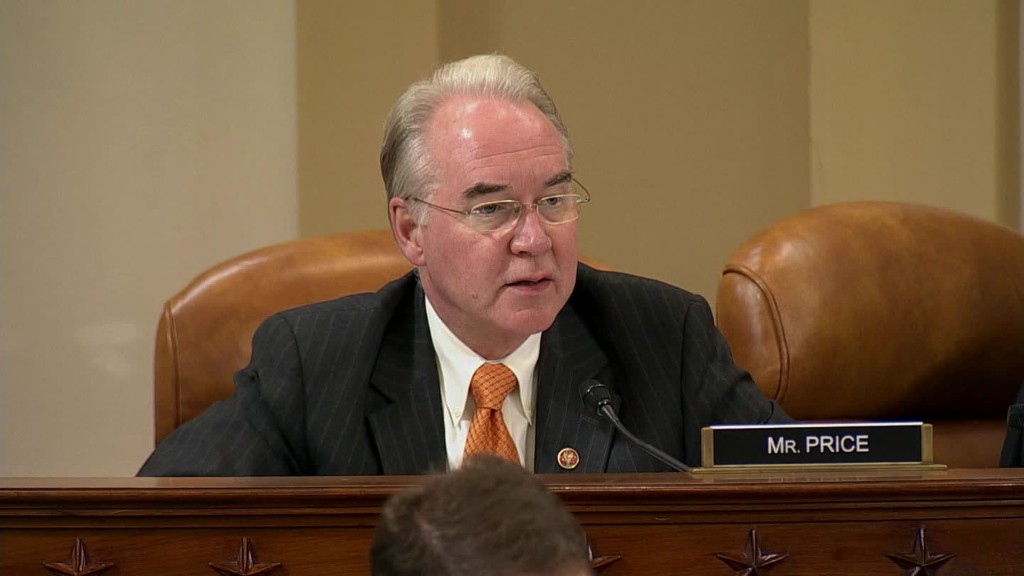 Donald Trump and Republican leaders are fond of blaming Obamacare for many of America's economic woes.
"The first thing we have to do is pry the enormous weight of Obamacare off the national economy," Vice President-elect Mike Pence said on ABC News on Sunday. "It's all going to begin right out of the gate by repealing this disastrous policy that's been killing jobs."
"We have to bring relief to Obamacare as quickly as possible so that it stops doing damage not just to the healthcare system but to the families of Americans who need affordable health insurance," House Speaker Paul Ryan told reporters on Thursday.
But is Obamacare really so bad for the economy and jobs? There's scant evidence for it.
Related: Obamacare under President Trump: What happens next?
Since Obamacare was passed in 2010, the economy has been growing. Here are some key stats:

--More than 15 million jobs have been added through November, according to the Bureau of Labor Statistics.

--Nearly 3 million fewer people are stuck working part-time because they can't find full time-jobs, BLS data shows.

--Median annual household income is up $3,000, as of 2015 -- although wage growth only recently picked up, according to U.S. Census Bureau and BLS data.

--The share of uninsured Americans plummeted to 8.9% for the first six months of 2016, according to the National Health Interview Survey.

--The number of people whose families are struggling to pay medical bills fell by 22% over the past five years, according to the National Center for Health Statistics.
"There's nothing I can find when I look at job growth that indicates there's a drain on the U.S. economy," said economist Cathy Schoen, a senior scholar in residence at the New York Academy of Medicine, who drilled down into the nation's economic indicators in February.
True, the recovery is the slowest since World War II.
Is that Obamacare's fault? Probably not. There are much larger forces at play, primarily the aging of the nation and the retiring of the Baby Boomers.
Related: Who would lose coverage under Obamacare repeal? Trump supporters
Several studies have analyzed Obamacare's impact on employment.
Only 2% of employers with at least 50 employees said they shifted or plan to shift workers' hours from full-time to part-time in order to make them ineligible for health benefits. But 7% said they were upgrading workers from part-time to full-time to make them eligible, according to this year's Kaiser Family Foundation/HRET report. Also, only 4% said they were reducing or planning to reduce the number of full-time employees that they intended to hire because of the cost of providing health benefits.
Two other reports published in Health Affairs in January found that Medicaid expansion did not result in significant changes in employment in 2014 and that there was little evidence that Obamacare caused an uptick in part-time employment in 2015.
One set of surveys, however, did find that New York-area service sector and manufacturing employers were making changes to their payrolls because of Obamacare.
Almost 21% of respondents to the New York Federal Reserve's Empire State Manufacturing Survey and nearly 17% answering the New York Fed's Business Leaders Survey said they were reducing the number of people they employ because of Obamacare's effects on their business. Some 24% of manufacturers and 18% of service sector business leaders said they were reducing wages and compensation. And 32% of manufacturers and 21% of service sector executives said they were raising prices.
Related: Obamacare chaos: Insurers may flee before new plan is put in place
Some Obamacare experts say it's too soon to determine the law's impact on the economy. It was only passed in 2010. The individual exchanges opened and the mandate that nearly all Americans have insurance took effect in 2014. The requirement that employers provide affordable insurance to its workers only began to be implemented in 2015.
"It's too early to know," said Joseph Antos, a health policy expert at the conservative American Enterprise Institute. "A lot of people on the right said there would be an immediate reduction in hours. But it takes a while to put policies into effect."
Also, Obamacare was passed as the economy was emerging from a massive downturn. Employers have been hiring and the economy is expanding. That would likely mask any possible drag from Obamacare.
"The surge in the economy wipes out whatever the negative impact might have been from the ACA, and we don't even know what that is," said Antos.