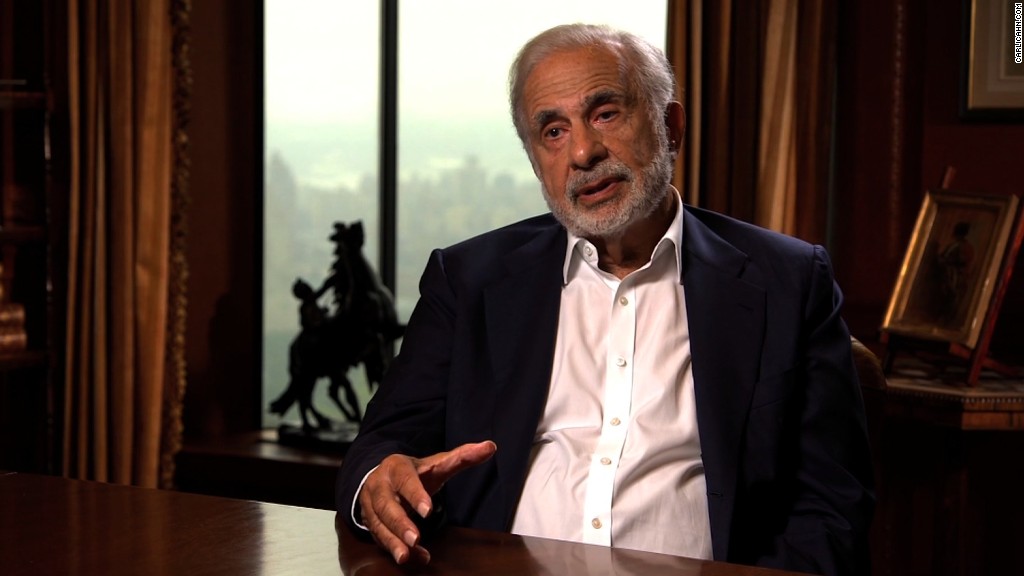 Just look at the stock market: Investors clearly believe Donald Trump's policies will deliver an immediate boost to the U.S. economy.
But beyond America's borders, the outlook is much more grim.
Trump is moving into the White House at a time when the global economy is under severe strain: Trade growth is stalling, China is struggling to implement difficult reforms and Europe is being rocked by political instability.
If the president-elect follows through on his campaign promises, analysts say he could make each of these problems worse.
Here's a look at how Trump could impact the global economy:
Weaker trade
It's been eight years since the world was brought to the brink by the financial crisis. But economies are still struggling to heal.
The International Monetary Fund expects global growth of just 3.4% in 2017. The world economy was growing by around 5% in the years leading up to the financial crisis.
It has warned that the restrictions on trade and immigration championed by Trump would further hamper global growth.
Trump has threatened to tear up free trade agreements and slap huge tariffs on China and Mexico. Doing so would cause global growth to slow to 2.2% in 2017, and 2% in the following two years, according to Oxford Economics.
"Turning back the clock on trade can only deepen and prolong the world economy's current doldrums," said Maurice Obstfeld, the IMF's chief economist.
New tariffs and weaker global trade will eventually rebound to hit the U.S. The OECD, for example, warns that Trump's anti-trade agenda risks canceling out the boost to the U.S. from his fiscal stimulus program.
And Moody's has calculated that Trump's tariffs on Mexico and China would hike the price of goods imported to the U.S. by an average of 15%.
"If he pushes ahead with his protectionist policies, Trump will pose the single biggest risk to the global economy," said Gregory Daco, head of U.S. economics at Oxford Economics.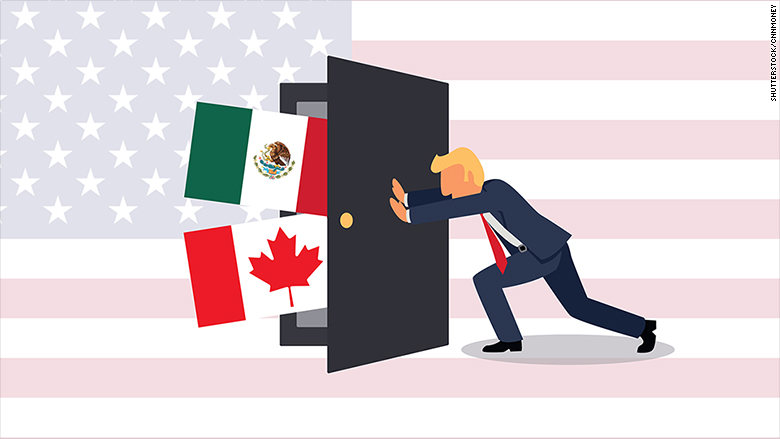 Related: 3 ways Trump can slap tariffs on China and Mexico
Slowing China
Trump has already risked a major diplomatic row by questioning the "one China" policy and accepting a phone call from the leader of Taiwan, which Beijing considers to be a rogue province.
The confrontational stance risks damaging the world's most important trading relationship at a time when both countries are facing economic uncertainty.
In China, economic growth is already slowing as Beijing implements reforms that are designed to boost consumer spending and overhaul the country's financial system.
Chinese exports have been falling, but the country still sent $410 billion worth of goods to the U.S. in 2015. If Trump implements tariffs at the level he promised during the campaign, profits earned by factory owners could be wiped out.
Tim Wu, who owns a tin can factory in Dongguan, said his products have a profit margin of only 10%.
"There will be very big impact on us," he told CNNMoney in November. "Our price will increase, and if our clients cannot accept it, we won't be able to continue manufacturing in China. We'll have to move [the factory] overseas."
Daco, the economist, estimated that China's GDP growth would slow to less than 5% if Trump follows through on his proposed tariffs.
"A major factor underpinning restraint has been the belief on both sides that, on balance, the bilateral trade and investment relationship is too important to jeopardize," analysts at Control Risks wrote of the U.S.-China relationship. "As of January, when Trump takes the oath of office, the feeling is no longer mutual."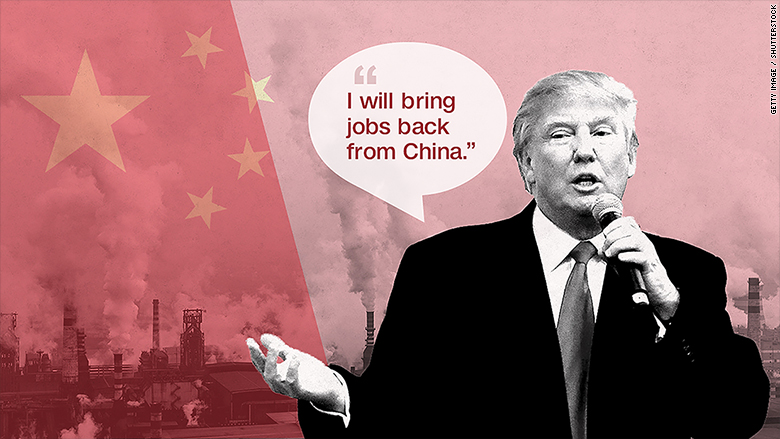 Related: What Trump should do first to grow the economy
Brexit and unstable Europe
Europe was hoping for a strong ally in the White House, but Trump was a major cheerleader for the vote that pushed Britain out of the European Union. He even described the U.S. election as "Brexit plus plus plus."
As president, Trump will have the chance to further influence the continent's unsettled political situation.
Early this month, voters in Italy delivered a stunning rebuke to the country's political establishment by rejecting constitutional reform. Italy's prime minister resigned, raising the risk that it could exit the eurozone.
Further turmoil could be ahead: Germany and France will both hold major elections in 2017.
Related: What President Trump means for your pocketbook
Trump has already pledged to abandon the Trans-Atlantic Trade and Investment Partnership (TTIP), a free trade agreement between the U.S. and Europe that has been in the works for years.
European powers are also closely monitoring Trump's relationship with Russia. An easing of sanctions on Moscow could unsettle NATO allies in eastern Europe who are worried about a resurgent Russia.
What's next? It could be a bumpy ride.
-- Andrew Stevens contributed reporting.