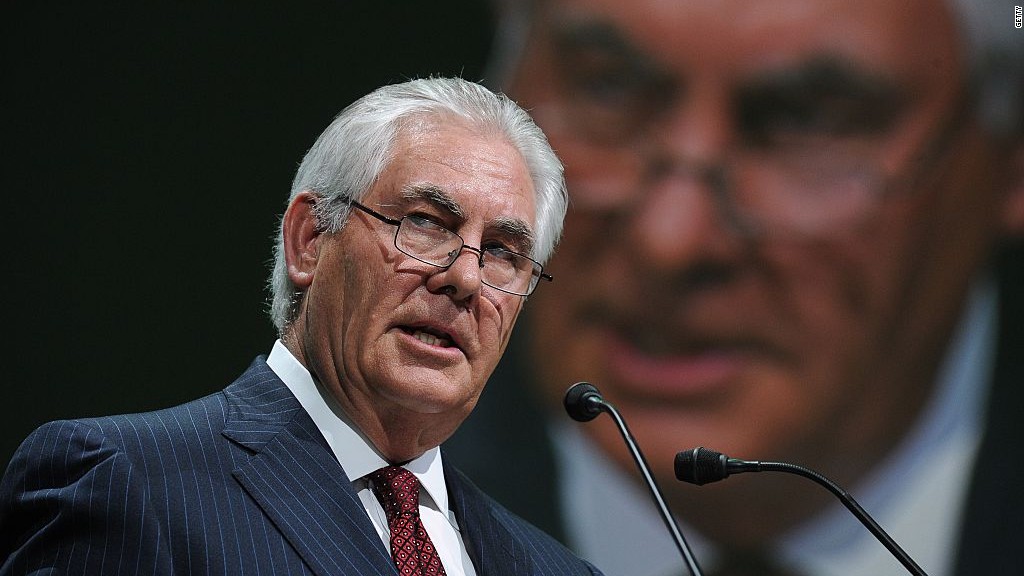 Rex Tillerson has deep ties to Russia -- and in 2011 he used them to claim what may be the next great oil frontier for ExxonMobil.
Vladimir Putin came in person to celebrate the deal to explore Russia's vast, untouched oil resources in the Arctic.
But the transaction had to be put on ice due to U.S. and European sanctions imposed on Russia in 2014.
If any American company stands to benefit big from lifting sanctions on Russia, it would be Exxon. And with Tillerson being nominated as Trump's secretary of state, the lifelong Exxon man may be in a prime position to make that case.
"It's in Exxon's best interests for sanctions to be lifted. Out of all the energy companies, Exxon would be the biggest beneficiary," said Brian Youngberg, senior energy analyst at Edward Jones who covers Exxon.
The deal with the state-run Russian oil company Rosneft was no ordinary one. It represented a massive wager on the next half-century of the oil industry, and Tillerson "bet his career" on it, according to Fadel Gheit, a veteran energy analyst at Oppenheimer.
"The Arctic is the new frontier because it's virgin territory. The amount of oil there could be staggering," said Gheit.
Exxon estimates it may have lost as much as $1 billion because of the sanctions. Plus, the sanctions posed a huge obstacle that stood in the way of Exxon developing prized assets at a time when the company's older oilfields are getting depleted.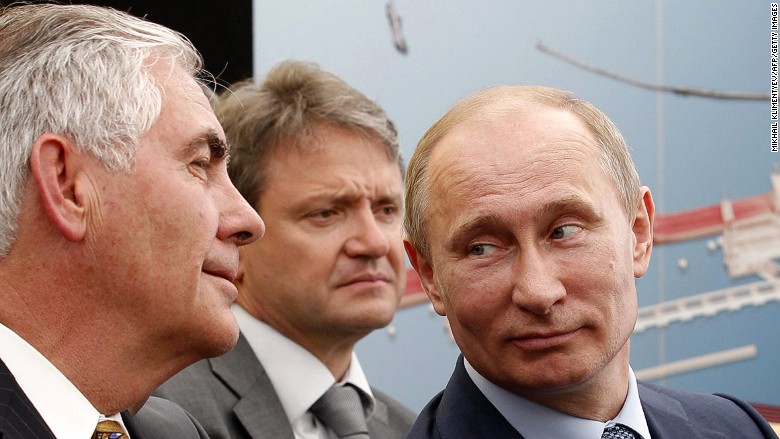 Related: Behind the deep ties between Tillerson and Russia
Tillerson's previous comments have made clear he's no fan of sanctions. In May 2014, Tillerson said Exxon does "not support sanctions" because they aren't effective unless they're well implemented, and that's difficult to do.
The Exxon man also hasn't been shy about a desire to resume operations in Russia's Arctic.
"We are very anxious to get back to work there," Tillerson told industry analysts in March.
While Tillerson said sanctions forced Exxon to "dismantle all of the capability and infrastructure" in the Russian Arctic, the company hasn't lost its foothold there. He said that Russia has "done things to help us hang on to the rights we have."
Related: Big pay cut in store if Exxon CEO becomes secretary of state
Of course, Tillerson's direct financial links to Exxon will likely have to be severed if he is approved to head the State Department. The 600,000 shares he's sitting on can be sold or put in vanilla investment funds to avoid a conflict of interest.
However, CNNMoney reported that Tillerson has also been promised more than 2 million Exxon shares over the next decade. That nest egg, worth a stunning $184 million at current prices, poses ethical and legal questions given the tremendous impact the nation's chief diplomat has over Exxon's business.
Tillerson has also been at Exxon his entire career, making more than $240 million since 2006. And his role at Exxon is why Tillerson was even considered for such a prestigious cabinet post in the first place.
These issues could give pause to lawmakers as they deliberate confirming Tillerson's nomination. Republican Senator Marco Rubio has already said he has "serious concern" about Tillerson as the next secretary of state, who he said must be "free of conflicts of interest."
Related: The problem with Tillerson's Exxon nest egg
Some doubt that Exxon would be investing heavily in Russia's Arctic right now anyway. Today's low oil prices make it difficult to justify spending gobs of money to find and pump notoriously-elusive Arctic oil.
"It would be mind-boggling for anybody to invest in the Arctic at current oil prices," said Pavel Molchanov, a Raymond James analyst who covers Exxon. "The significance of Russia should not be exaggerated. It's not the end-all or be-all for Exxon."
But Oppenheimer's Gheit argues that Exxon is playing the long game in Russia, not looking at today's low (but rising) oil prices.
"You don't build wells looking at your watch. It will take two or three generations of Exxon CEOs to really reap the benefits," he said.
Related: Exxon's CEO would be U.S. emissary on climate change
Exact figures on how much Exxon planned to spend on the Rosneft venture are hard to come by. The initial cost at the time of the announcement was $3.2 billion, but Gheit believes the eventual investment over four or five decades may be in the "hundreds of billions."
The importance of Exxon finding the next great oil frontier should not be underestimated.
Oil companies are constantly depleting their own assets over time. Last quarter, Exxon pumped an incredible 2.2 million barrels of oil each day -- oil that eventually needs to be replaced with new finds somewhere.
"They need to acquire a company the size of Hess (HES) every year -- forever -- just to keep their production flat," said Gheit.
The Rosneft deal is also critical to Tillerson's personal legacy at Exxon. Besides the uncertain Rosneft venture, Tillerson's 10-year stint as Exxon CEO lacks the transformational deal that his predecessor Lee Raymond can claim with the 1999 merger with Mobil.
"Tillerson doesn't have a big mark left behind, except the Arctic. This is the crowning achievement of his career," said Gheit.
--CNNMoney's Chris Isidore, Julia Horowitz and Jill Disis contributed to this report.