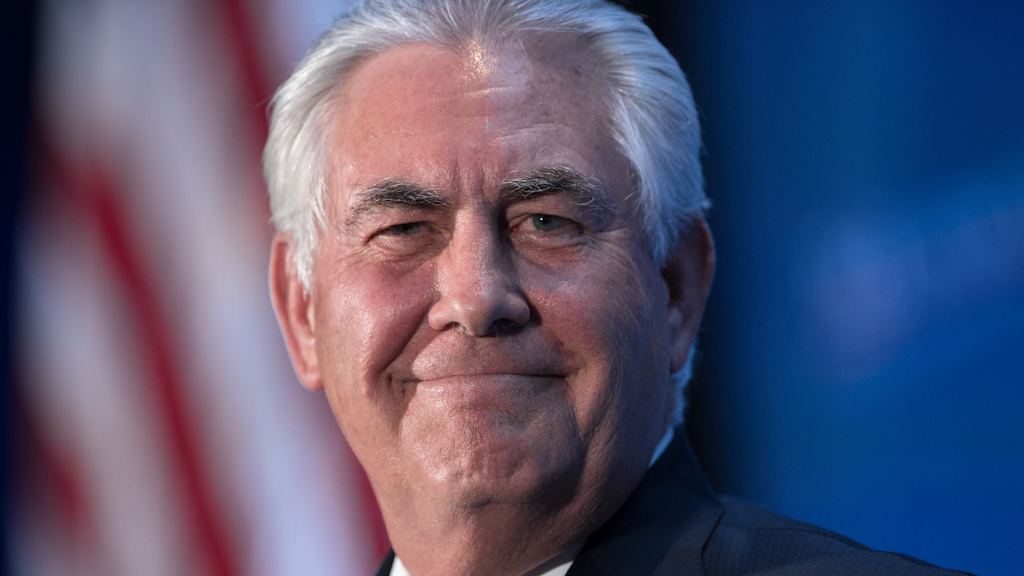 The Senate should take a hard look at ExxonMobil's record on gay rights when it considers the nomination of Rex Tillerson for secretary of state, a leading advocacy organization says.
The Human Rights Campaign, which ranks corporations on how they treat LGBTQ employees, has consistently given Exxon poor grades. Tillerson is the CEO and has worked at the company for most of his adult life.
"Rex Tillerson's nomination raises critical questions as to how a Trump administration plans to protect LGBTQ employees and contractors affiliated with the State Department, and ultimately whether it will continue American efforts to advance equality through U.S. foreign policy," HRC president Chad Griffin said in a statement.
On Tuesday, President-elect Donald Trump said he would nominate Tillerson to be the nation's top diplomat. The Senate debate over his confirmation is expected to focus on Tillerson's ties to Russia. Some Republicans have already voiced reservations.
But Exxon's history on gay rights also may come up.
When Exxon (XOM) merged with Mobil in 1999, it eliminated Mobil's domestic partner benefits for gay and lesbian employees and removed a policy preventing discrimination on the basis on sexual orientation, according to HRC. At the time, Tillerson was a senior executive responsible for the company's operations in Russia.
When the Human Rights Campaign launched its Corporate Equality Index in 2002, Exxon received a score of 14%. The survey rates companies on policies, benefits and practices for LGBTQ employees and their families.
Tillerson, now 64, became chief executive in 2006. That year, the index changed its criteria, and Exxon's score went down to 0%.
Related: Exxon's longtime CEO would be America's emissary on climate change
Since Tillerson took over, ExxonMobil has slowly made improvements -- though that may have more to do with federal policy changes than moral leadership.
In 2013, Exxon reintroduced health coverage for the same-sex spouses of its employees. The change came after the Treasury Department ruled that legally married same-sex couples should be considered married for federal tax purposes.
"The decision is consistent with the direction of most U.S. government agencies," ExxonMobil said in a statement at the time. "We have made no change in the definition of eligibility for our U.S. benefit plans. Spousal eligibility in our U.S. benefit plans has been and continues to be governed by the federal definition of marriage and spouse."
The company adjusted its anti-discrimination policy in 2015 to include protections based on sexual orientation and gender identity, according to the Human Rights Campaign. That revision followed President Obama's 2014 executive order requiring federal contractors to protect LGBTQ workers against discrimination. Exxon regularly contracts with the U.S. government.
Some shareholders had been pushing since 1999 for Exxon to expand the anti-discrimination policy. New York's retirement fund for state employees filed a request every year starting in 2001.
The company consistently opposed those proposals, calling them unnecessary. Shareholders voted them down until Exxon changed its policy to conform to the executive order in 2015.
Related: Behind Tillerson's deep ties to Russia
Exxon says it has always barred discrimination against LGBTQ individuals.
"ExxonMobil does not discriminate, will not discriminate, and has not discriminated against members of the LGBT community. Period," former vice president for public affairs Ken Cohen wrote in a 2014 company blog post.
The company did not respond to a request for comment on this story.
The Human Rights Campaign now gives ExxonMobil an 85% rating on its Corporate Equality Index. It's an improvement, but the company still falls behind Walmart, Chevron, Apple and the 514 other businesses that earned a 100% score in the 2017 report.
Exxon's score was docked because its guidelines on philanthropy permit donations to non-religious organizations that discriminate against LGBTQ people, and because its anti-discrimination policy only covers LGBTQ employees in the U.S.