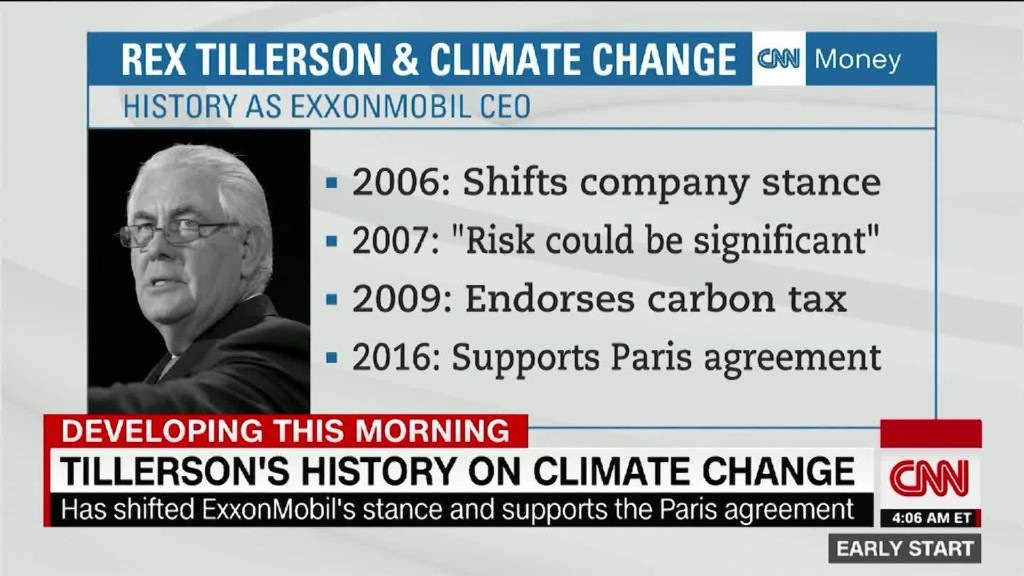 ExxonMobil CEO Rex Tillerson plans to step down at the end of this month from the helm of America's largest oil company to prepare for the confirmation battle over his nomination as the country's chief diplomat.
After running Exxon for a decade, Tillerson had originally been scheduled to retire in March when he reached the company's mandatory retirement age of 65.
Exxon (XOM) said on Wednesday that Tillerson and the company decided to move up his retirement after he was tapped by President-elect Donald Trump to become secretary of state. The oil giant cited the "significant requirements associated with the confirmation process."
Tillerson faces an uphill battle in the Senate given questions over his deep ties to Russia and potential conflicts of interest.
Related: The problem with Tillerson's Exxon nest egg
Exxon congratulated Tillerson on his nomination and praised the CEO for leading the company with "integriety and honor."
"We know that his service to the nation as secretary of state will be equally successful and distinguished," the Exxon board said in a statement.
Exxon tapped Darren Woods, a 24-year veteran of the company who came up through the refining business, to replace Tillerson. Woods was seen as the heir apparent after Exxon elevated him to the position of president in January.
Tillerson owns more than 600,000 Exxon shares that may be sold or put in vanilla investment trusts to avoid a conflict of interest when he leads the State Department.
It's less clear what will happen to the more than 2 million Exxon shares that Tillerson is due to receive from the company over the next decade. That nest egg, worth a stunning $184 million at current prices, poses ethical and legal questions given the tremendous impact the nation's chief diplomat has over Exxon's business.
Tillerson leaves a mixed legacy behind at Exxon.
While he guided Exxon through not just one but two separate crashes in oil prices, he has also been criticized for largely missing the U.S. shale oil boom.
Instead, Tillerson focused on securing exploration deals overseas, including a landmark agreement in 2011 with Russian oil giant Rosneft to search for oil in the Russian Arctic. Yet that deal with Russia has been frozen in place by the sanctions put in place in 2014 by the U.S. and European Union.
Of course, now that Tillerson has been nominated as Trump's secretary of state, he may be in a prime position to help lift those sanctions.