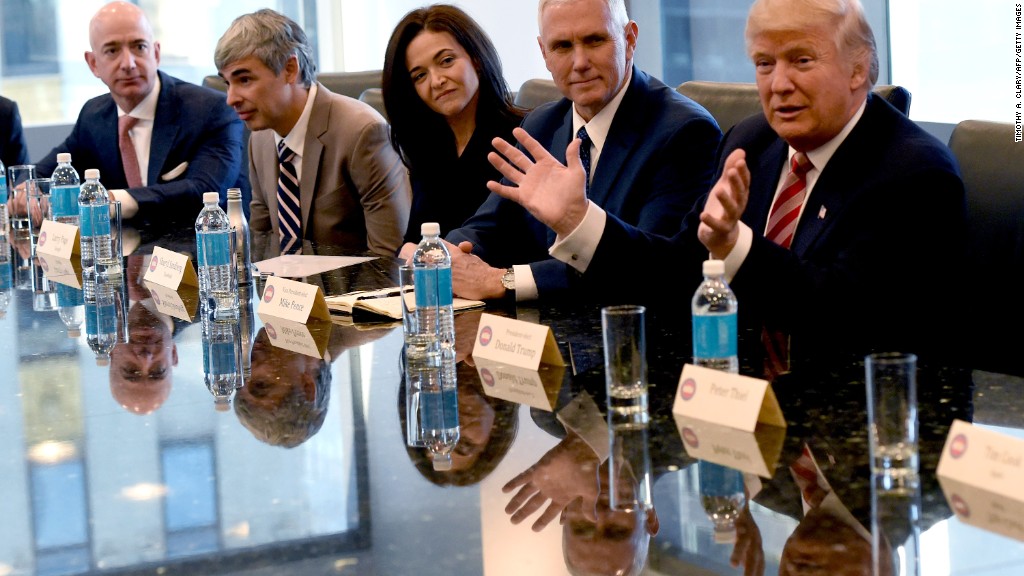 Donald Trump and Silicon Valley want to pivot to a better working relationship.
Top execs from Amazon (AMZN), Tesla (TSLA), Apple (AAPL), Facebook (FB), Alphabet (GOOGL) and several other large tech companies met with the president-elect in New York on Wednesday after months of clashing.
"In the world, there's nobody like the people in this room," Trump told the executives gathered, according to a pool report. "Anything we can do to help this go along, we'll be there for you."
"You'll call my people, you'll call me. It doesn't make any difference," Trump continued. "We have no formal chain of command around here."
Trump sat at a large boardroom table between Facebook COO Sheryl Sandberg and VP-elect Mike Pence on one side and investor Peter Thiel and Apple CEO Tim Cook on the other. Trump's three adult children attended the meeting as well, sitting together at one end of the table.
The three main areas discussed were jobs, immigration and China, according to a source briefed on the meeting. Immigration, in particular, has been a source of anxiety among tech companies who worry about filling high-skilled positions and treatment of their employees.
Trump and the tech leaders also touched on issues like vocational training, infrastructure projects and repatriation of foreign assets. The last of those may be the biggest boon to Silicon Valley. Apple alone has more than $200 billion parked overseas.
The group agreed to meet on a quarterly basis.
"The meeting today was very informative and productive, and President-elect Trump and his team were extremely engaged," Andrea Duffy, a spokeswoman for Cisco (CSCO), said in a statement. "The group discussed critical matters related to job creation and innovation in the United States."
The tech summit was a striking shift for both camps.
On the campaign trail, Trump threatened to boycott Apple, went after Amazon for antitrust violations and called out Facebook's founder for his immigration policies. The tech industry returned the favor by slamming Trump as "a disaster for innovation" and rallying for Hillary Clinton.
"Now that we are out of the campaign cycle, we have to move into constructive mode," says Aaron Levie, CEO and cofounder of Box (BOX) and a vocal Clinton supporter. "This is the next administration."
Related: Silicon Valley could spar with Trump on these issues
George Zachary, a venture capitalist and friend of Elon Musk's, suggested it was all about appearances.
"There is at least the impression of communication going on," Zachary told CNNMoney. "This impression will at least diffuse some of the distance and tension that has been built up over the last couple of years."
Though the execs in attendance were caught on camera going in and out of Trump Tower, they didn't stop to talk to the press.
Invitations to meet with Trump were signed by Trump's son-in-law and adviser Jared Kusher, chief of staff Reince Priebus and Thiel.
Thiel, a Facebook board member and rare Trump supporter in Silicon Valley, has emerged as perhaps the strongest bridge between the tech industry and the incoming administration.
Case in point: Alex Karp, the CEO of Palantir, a secretive data startup cofounded by Thiel, attended the event. Palantir contracts with federal agencies like the Department of Justice and Immigration and Customs Enforcement.
Perhaps the most notable absence from meeting was Twitter (TWTR), the service that Trump can't seem to live without. And there were conflicting explanations as to why.
One source familiar with the matter said Twitter was "bounced" from the meeting by Republican National Committee communications director Sean Spicer. The source said it was retaliation for the fact that Twitter prohibited Trump's presidential campaign from creating an emoji for the hashtag #CrookedHillary.
Another source close to the Trump transition said Twitter was simply not big enough. Most businesses at the table dwarf Twitter in sales, market valuation and number of employees.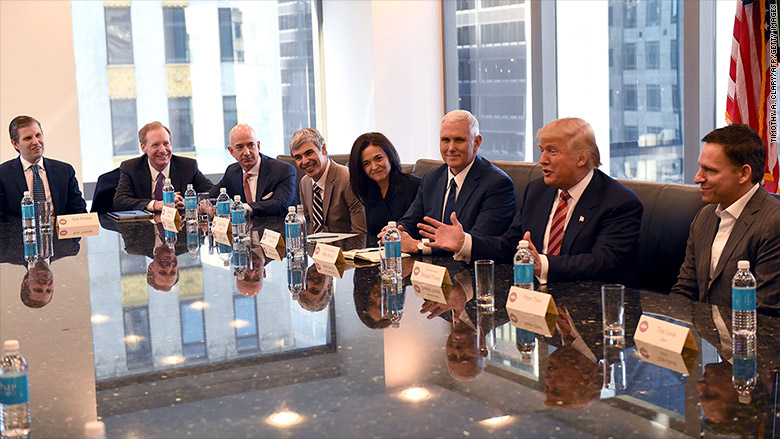 Separately, Trump added Musk and Uber CEO Travis Kalanick to his team of business advisers.
"My administration is going to work together with the private sector to improve the business climate and make it attractive for firms to create new jobs across the United States from Silicon Valley to the heartland," Trump said in a statement about the appointments Wednesday.
Some of those in attendance at Wednesday's meeting have already tried to offer Trump symbolic victories.
On Tuesday, IBM CEO Ginni Rometty published a column in USA Today pledging to hire 25,000 workers during Trump's first term in office. Trump could push others in the room Wednesday to make similar announcements.
In one recent interview, Trump said he spoke with Apple CEO Tim Cook about building a large manufacturing facility in the U.S.
"I said to Tim Cook, 'It's my ambition to get Apple to build a great plant, your biggest and your best," Trump said, "even if it's only a foot by a foot bigger than some place in China.'"
-- Kristin Wilson and Jake Tapper contributed to this report.