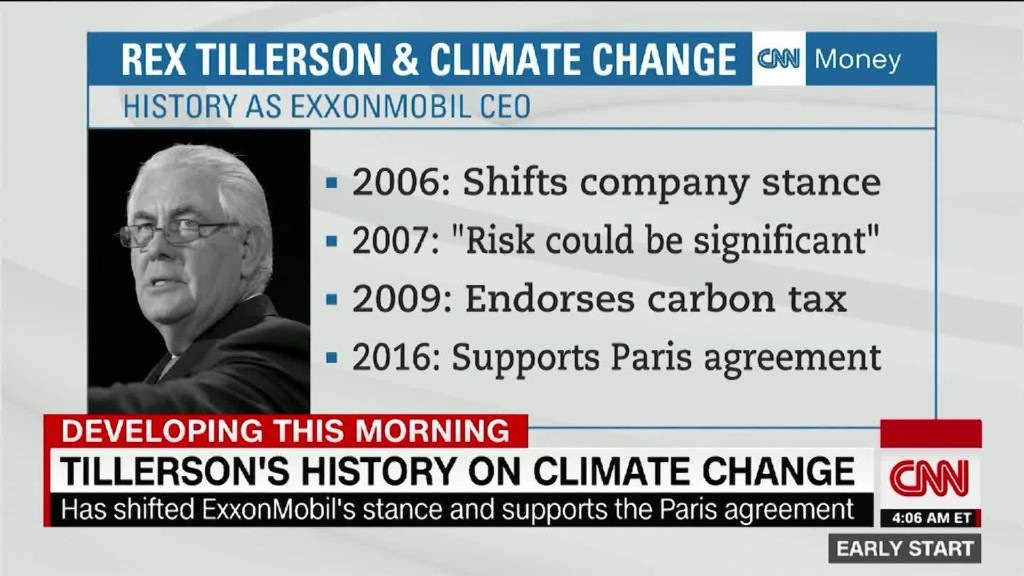 Under President Donald Trump, the United States could drastically scale back efforts to fight global warming.
But a task force wants to help companies sidestep the public sector and fight their own battles against climate change -- and improve their bottom lines in the process.
The group, led by former New York Mayor Michael Bloomberg and including some of the world's biggest banks, wants businesses to standardize how they calculate the financial risk of climate change and how they disclose it to investors.
It's a huge undertaking with a simple goal: Transparency.
There's good reason for businesses to care. The Natural Resources Defense Council estimates that unchecked climate change could cost the U.S. economy almost $2 trillion per year in current dollars by 2100.
The task force was put together at the behest of the major world economies known as the G-20. It released its report Wednesday.
Companies today might spell out the financial risks from global warming, like a supply chain that runs through a region vulnerable to flooding, in a sustainability report. But they are not required to put conclusions in their regular earnings reports. And they might not publish it at all.
Bruno Bertocci, head of the sustainable equities team at UBS, which was part of the task force, told CNNMoney the group is aiming for "better functioning, more efficient markets."
Better disclosure of climate risks would let investors and the public make better decisions, he said.
Acknowledging the danger of climate change, in other words, is just smart business. And saving the planet? Think of it as what economists call a positive externality.
Predicting the effects of climate change is no easy feat. If companies adopt the task force's recommendations, they'll have to change how they disclose information on corporate governance, strategy, risk management, and metrics and targets.
Related: Exxon's longtime CEO would be America's emissary on climate change
Climate watchdogs are encouraged but fear it might not be enough.
Dylan Tanner, executive director and co-founder of InfluenceMap, a nonprofit examining how corporations affect climate policy, says public sector intervention is imperative.
He said that oil and energy companies, the worst offenders when it comes to emitting harmful greenhouse gases, are the least likely to adopt recommendations at this point.
Tanner told CNNMoney that if reporting risks from climate change "becomes widespread, it becomes the de facto standard."
That kind of change, however, doesn't happen overnight.
"The big issue is the speed in which the development comes," Tanner said. It might take 20 years for a new standard to emerge organically, and the world might not have two decades to waste.
"I don't think we can wait," he concludes. "Impacts of climate change are coming."
Activists fear that only legislation will make companies transparent about their environmental goals and risks, but Bertocci makes the case that there are plenty of reasons for companies to opt in.
He points out that the effects of climate change are unavoidable. "[You] don't have to believe in anything except for what you can see for yourself," Bertocci said, adding that this is "real life, put-your-hand-right-on-it kind of risk we're talking about."
The report serves as a detailed guide for companies ready to disclose that information. It offers advice on the type of risks that might impact firms across all industries, and how to figure out costs if the planet's temperature rises by 2 degrees Celsius -- a scenario scientists say could lead to mass droughts, floods and heat waves.
Related: What if Trump dumps Paris climate deal?
The report is also an attempt to standardize the language of disclosing risk. It offers a way to make sure companies, which today use different guidelines to figure out climate risk, are talking about global warming the same way.
Bertocci suggests that a global move away from fossil fuels, codified during last year's Paris agreement, suggests that climate change evaluations for companies are already going mainstream.
When G20 heads of state review the report over the summer, some might decide to turn the recommendations into legislation.
France has already passed a law requiring investment managers to report on their exposure to climate risk. Others may follow suit, limiting a possible effort by Trump to reverse President Obama's efforts to check climate change.
But it's hard to imagine that an American president who devalues the importance of fighting climate change wouldn't affect consumer preferences, or allow corporations to loosen rules for emissions.
Scientists said last month that the election of Trump, who has referred to climate change as a Chinese hoax and called for a cancellation of the Paris agreement, is cause for grave concern.
Since then, the president-elect has proposed a number of Cabinet nominees, like ExxonMobil CEO Rex Tillerson for secretary of state, that have further alarmed environmentalists.
Still, experts in the field are cautiously optimistic. Christina Herman, program director of the Interfaith Center on Corporate Responsibility, a coalition of religious and values-focused investors, told CNNMoney that the recommendations are "a really important first step."
She's hopeful that the harms that businesses suffer from climate change will encourage the president-elect to take it seriously.
Trump is "certainly appointing people who don't seem to be as concerned about climate change risk," she said, "but he's hearing from companies and investors who are deeply concerned about it."