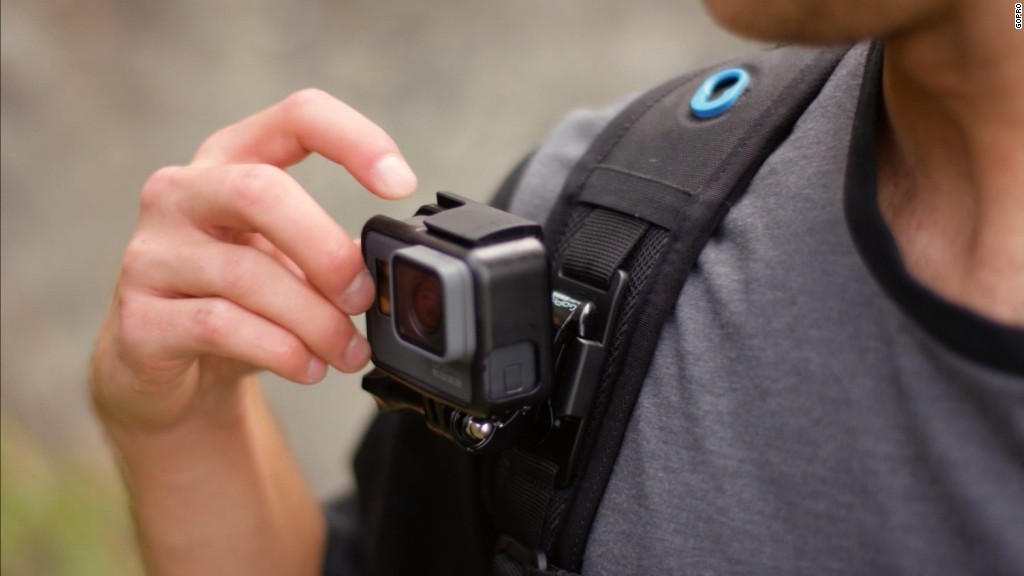 GoPro? More like GoLow. Or maybe GoNo? GoPrivate may be looking more like an attractive option for the action camera and drone company. Shares fell 2% Thursday to their lowest level ever.
There was no clear reason to explain why the stock was down Thursday. But the slump is a continuation of what has been a terrible few weeks -- and year in fact -- for the company. The stock has lost more than half its value in 2016.
GoPro (GPRO) announced plans to lay off 15% of its staff late last month and shut down its entertainment unit -- which featured videos shot on its action cameras -- in the process.
It was a huge blow to GoPro, which had been trying to position itself as both a media and gadget company. GoPro even got energy drink maker Red Bull, a big sponsor of extreme sports, to invest in the company and set up a channel on Microsoft's (MSFT) Xbox Live.
Related: GoPro announces big job cuts
That news followed the recall of its new Karma drone because it was losing power while in flight. The company also announced disastrous earnings in early November.
The Karma recall is a huge blow to the company. Investors were already worried that the drone, which GoPro first teased in May 2015, was coming to the market way too late after a series of delays for its launch.
The consumer drone market is highly competitive and currently dominated by China's DJI and France's Parrot.
GoPro also needs to prove to skeptical investors, as well as consumers, that its newest line of action cameras -- the Hero5 -- are worth buying as well.
GoPro no longer has the action camera market all to itself. Sony (SNE), Xiaomi and Polaroid all have similar products to the Hero. And the improvements that Apple (AAPL) has made to its camera in the iPhone 7 make Tim Cook's company a tougher rival as well.
These problems have led to periodic takeover rumors, but they have failed to lift GoPro's stock price for long. Investors are growing increasingly worried about the company's future.
GoPro's sales have been sinking this year despite the new products. And the company is still losing lots of money. Analysts are predicting another loss in 2017 as well.
Related: Instant Karma's gonna get you -- GoPro recalls drone
The company has also come under fire for the compensation package of its CEO and founder Nick Woodman. Despite GoPro's troubles, Woodman was the highest paid CEO in America in 2014, with a compensation package worth $284.5 million.
Most of that money was tied to the value of GoPro's stock though, which skyrocketed as high as nearly $100 a share shortly after its IPO in June 2014 but has fallen more than 90% since then to around $8.60.
Woodman's compensation plunged in 2015 too as a result. But investors are still wondering if Woodman will ever get the company back on track.
GoPro may have simply been a fad that has peaked -- a 21st century pet rock for extreme sports enthusiasts.