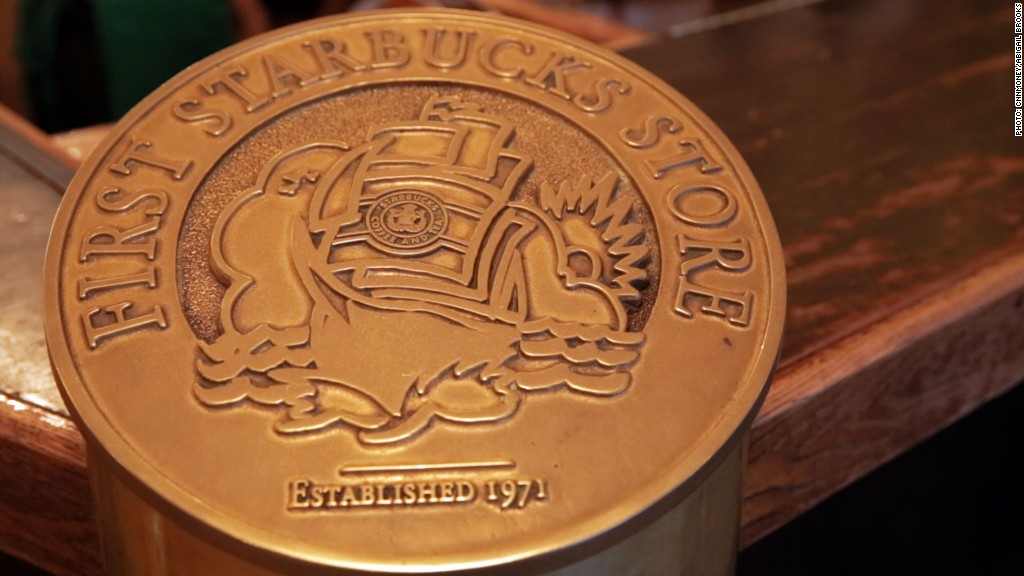 Three "Simpsons" writers can thank LinkedIn and their love for coffee for their latest animated endeavor.
Joel Cohen, John Frink and Rob LaZebnik have been working together on the long-running Fox animated series for about four years. But when they started working on a movie together, they took their brainstorming out of the office and into a Starbucks along a busy street in West Los Angeles, close to Fox Studios.
It wasn't long before their love of people watching turned into an idea: What if they made an animated series for Starbucks about life at Starbucks?
Not knowing anyone at the company, LaZebnik signed up for a free 30-day trial of LinkedIn's Premium service, so he could send private messages to some executives at the company. It was a true shot in the professional networking dark.
"Amazingly, a couple wrote back," LaZebnik told CNN. "The real headline of your article is that there's some value to LinkedIn."
Weeks after the seed had been planted, they settled on a concept.
"1st & Main" is an animated webseries set at Your Local Starbucks, complete with the characters everyone knows well. The barista with a manbun. The neurotic writer who always posts up at a table for the long haul. The perpetually studying student.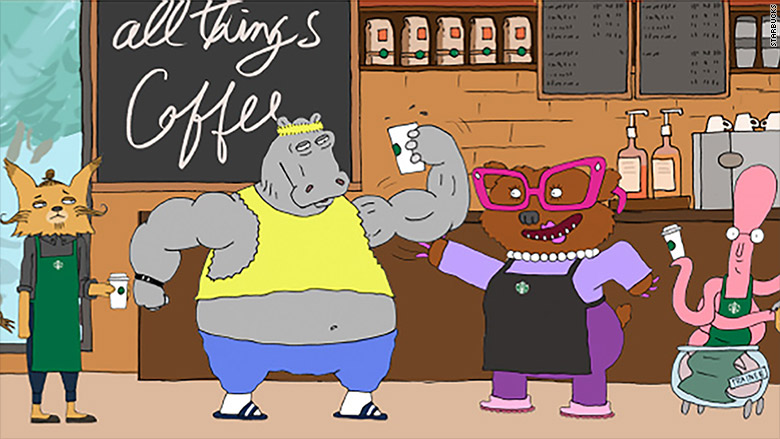 Except on the series, the people are played by animals. There's an Octupus barista who travels in a rolling fish bowl, a manager bear named Julie, and Chet, a beaver who is the "mayor" of the Starbucks at 1st and Main. As Frink explained, every Starbucks has an unofficial mayor.
The show marks Starbucks' first foray into animated storytelling.
The company's first original series, Upstanders, is a documentary-style show that profiled people doing charitable acts in their respective communities.
"We really set aside our mornings and lunch hours trying to pursue things like this Starbucks thing," Frink said. "So we find that having written for 'The Simpsons' for so long, we really kind of look forward to actually finding some new avenues for writing and exploring different characters. We really embraced the idea of doing this for Starbucks [and] creating these characters."
Finding a tone for the series involved a bit of "give and take" with the company, Frink said. But there were never any core disagreements about the audience. Similar to "The Simpsons," it's written for adults, but accessible to kids.
"This was our hardest battle with Starbucks -- they wanted a hard X [rating]," Frink joked. "And we [told them], 'Maybe just PG.'"
Jokes aside, Frink said, the company has loosened up a bit to their taste and they've pulled some things back to suit theirs.
"But you will not see a giraffe vomiting," he said. "There will be no potty humor."
Their main goal, they said, was to capture the home away from home connection some people form with their Starbucks. Because it's a feeling they share.
"People really want to own what Starbucks they go to," Frink said.
LaZebnik added: "That really is true to the point of which if we end up at another one we kinda feel like we are betraying our Pico Blvd. Starbucks."
Frink laughed. "We do cheat once in a while and go to another Starbucks -- and we do think of it as cheating."
The seven-episode series premiere December 16 on Starbucks platforms.