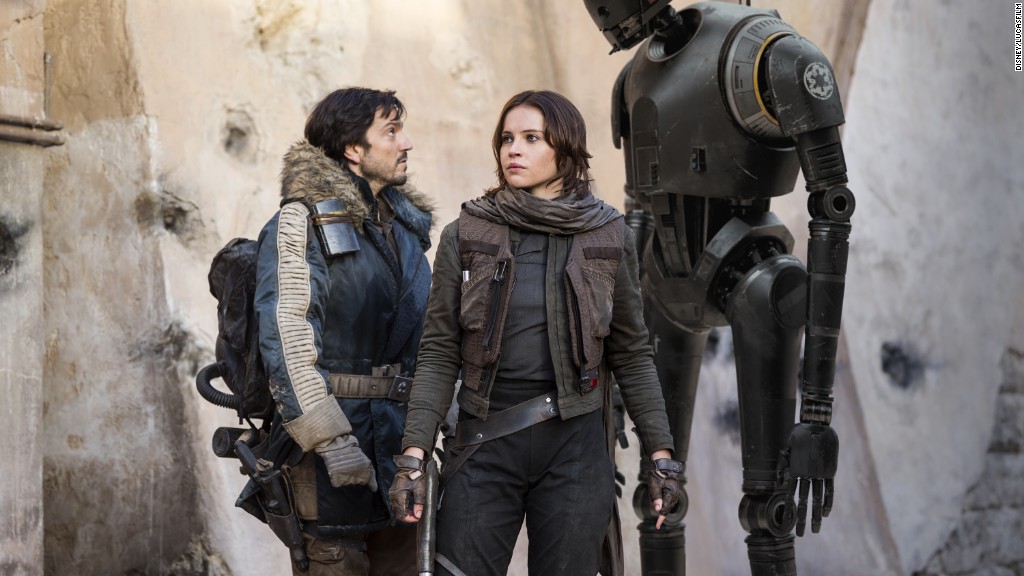 Like the rebels in the Death Star trench run, Disney is hoping that "Rogue One" can "stay on target" this weekend. It's been doing that so far.
"Rogue One: A Star Wars Story" brought in $71 million at the domestic box office for its opening day on Friday. The film's Thursday night $29 million total is rolled into that number.
It's a solid start for the new film, but "Rogue One" still came up short of the record $119 million that last year's "Star Wars: The Force Awakens" brought in for its opening day.
"Rogue One" is on pace for roughly a $140 million to possibly $150 million opening weekend, according to Disney (DIS). That would make it the second biggest "Star Wars" opening ever and one of the biggest debuts of the year.
"Rogue One" is the company's first Star Wars spinoff meaning that it takes place in the same galaxy as other films in the series, but doesn't directly involve the popular stories and characters of the Skywalker family.
Last year's "Force Awakens" went on to become the biggest blockbuster in U.S. history, but that film had more than 30 years of build-up behind it. "Rogue One" is a standalone movie with new characters, so comparing its box office totals to that of "Force Awakens" is like comparing apples to Death Stars.
But a good box office take for "Rogue One" this weekend is of great importance to the House of Mouse because it is the company's first attempt at expanding the brand beyond that of the original story.
Related: The real mission for 'Rogue One': Expand the 'Star Wars' universe for Disney
"Rogue One" has great buzz and positive reviews with it currently holding a 84% score on review site Rotten Tomatoes.
The film starring Felicity Jones and Diego Luna opens in more than 4,100 theaters in North America this weekend. It also debuts in international markers like France, the U.K., Germany, and Japan.