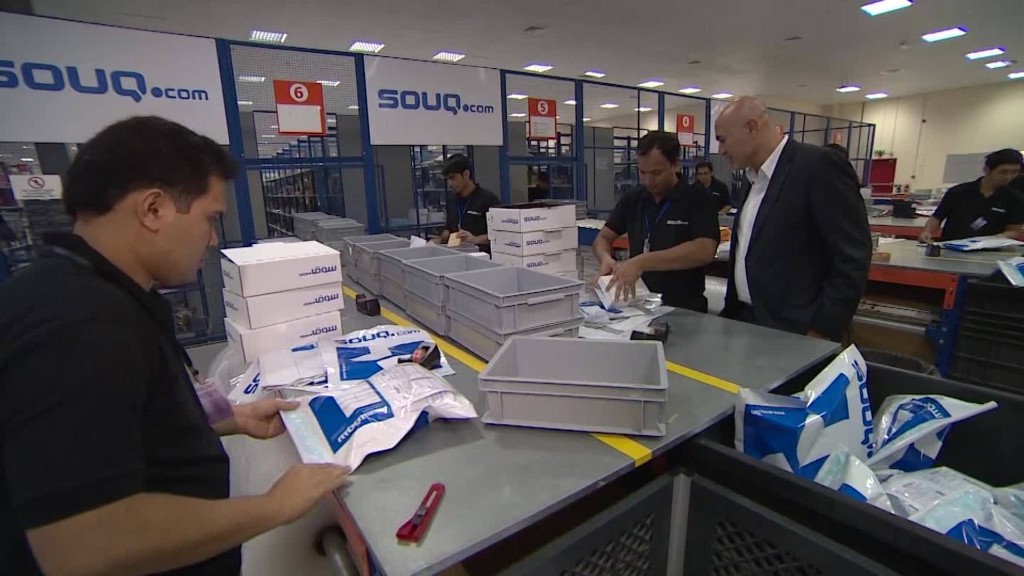 It means marketplace in Arabic. And for many in the Middle East, Souq.com is the online shopping platform.
Founded 10 years ago by Ronaldo Mouchawar, Samih Toukan and Hussam Khoury, Souq has become the biggest player in an e-commerce market Mouchawar estimates could be worth $20 billion this year.
The prospects of future growth, and Souq's success, are reflected in its rising value. The company raised $275 million from investors earlier this year, valuing it at more than one billion dollars, according to CB Insights. Souq does not disclose financial information.
And the Arab world's first unicorn -- typically defined as a privately-held company worth at least $1 billion -- may have caught the eye of the industry's 800-pound gorilla. Bloomberg reported last month that Amazon (AMZN) was thinking about buying a big stake in Souq.
Mouchawar declined to comment on the value of the company, or on any discussions with Amazon.
"We don't comment on investments. I just feel the region is ripe so you're going to see more investments in the region," he told CNNMoney.
Amazon did not respond to multiple requests for comment.
From five workers to 3,000
When Souq started out, e-commerce was virtually unknown in the Middle East. Back then, the company employed five people in Dubai.
Now it has 3,000 workers across the Arab world and sells two million products in 31 categories.
"We thought the company would grow," said Mouchawar. "Definitely there was a need, and we were a local company addressing local problems and challenges," the co-founder and CEO told CNNMoney.
Analysts at Standard Chartered estimate that e-commerce in the region is growing by 30% each year, and that many markets remain untapped.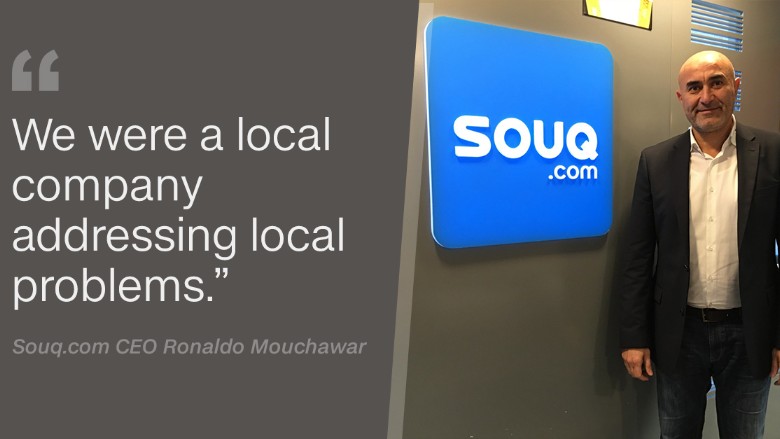 That growth is reflected in Souq's sales on White Friday -- the company's answer to the Black Friday shopping frenzy that follows Thanksgiving in the U.S.
It changed the name to address local cultural sensitivities as black can be a bad omen in some traditions.
White Friday began three years ago, and this year sales doubled over the three-day bonanza, with Souq selling 1.2 million items across the Gulf states and Egypt.
Saudi Arabia is backing a rival
Amazon isn't the only potential competitor looking to cash in.
Last month, Saudi Arabia's sovereign wealth fund and a leading Dubai property developer joined forces to launch a new platform called Noon, based in the Saudi capital Riyadh.
It will launch in January with 20 million products and a 3.5 million square foot fulfillment center in Dubai.
Mouchawar says the market is big enough to absorb new players.
"The sector will grow. We've seen it in other parts of the world -- when there's more players in the market, the sectors will grow."
Related: Oil bust winner: Saudi Arabia's tech scene
As for the future of Souq.com, an initial public offering could be on the horizon.
"As the business grows you have to find a good source for capital. [An] IPO is always one avenue," Mouchawar said.