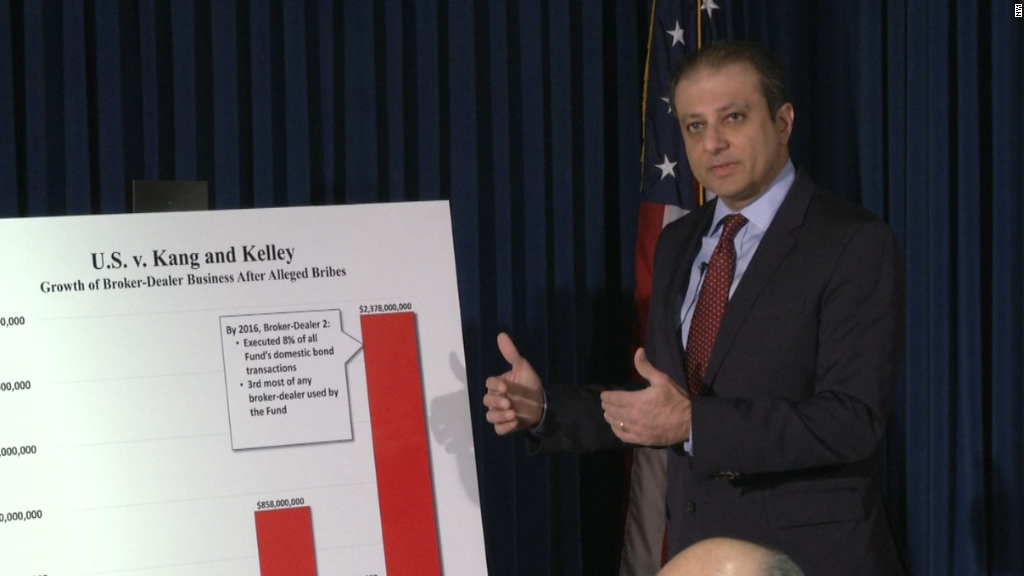 Crack cocaine. A $4,200 Hermes bracelet. $6,000 Paul McCartney tickets. Prostitutes. Cash.
These were the many bribes that authorities allege two brokerage firm employees used to lure lucrative business from a powerful New York State pension fund official.
Navnoor Kang, a 38-year-old former portfolio manager at the vast New York State Common Retirement Fund, was indicted on Wednesday for accepting these bribes as part of a "pay-for-play" scheme.
Preet Bharara, the U.S. Attorney for the Southern District of New York, also charged Deborah Kelley and Gregg Schonhorn, the two broker-dealers who allegedly paid the secret bribes.
Schonhorn has admitted to his participation in the scheme. The 45-year-old Short Hills, New Jersey man pled guilty in Manhattan federal court to six counts and is cooperating with the government.
All three individuals were also charged by the SEC on Wednesday.
The bribery and alleged fraud took place between 2014 and 2016 and involved one of the largest institutional fund managers in the world. With $179 billion in assets, the NY State Common Retirement Fund is the third-largest pension fund in the U.S. and manages retirement assets for more than 1 million people, including firemen and police officers.
"The hard-earned pension savings of New Yorkers should never serve as a vehicle for corrupt, personal enrichment," Bharara said in a statement.
The indictment alleges that Kelley, Schonhorn and "others" paid Kang bribes in the form of "entertainment, travel, lavish meals, prostitutes, nightclub bottle service, narcotics, luxury gifts and cash payments, among other things."
Specifically, authorities say that Kang given cocaine, crack cocaine, a $17,400 luxury watch, a $4,200 Hermes bracelet for his girlfriend, $6,000 worth of VIP tickets to a Paul McCartney concert in New Orleans and an extravagant ski vacation in Park City, Utah with a guest suite costing $1,000 per night.
Kang used his position as director of fixed income and head of portfolio strategy to steer more than $2 billion in fixed-income business to the broker dealer firms he accepted secret bribes from, according to the indictment.
In exchange, Kelley and Schonhorn secured the NY retirement fund's business and in the process earned "millions of dollars in commissions," authorities say.
Related: Expedia IT guy made $300K by hacking own execs
The pension fund's domestic bond business with Schonhorn's firm skyrocketed from zero in the fiscal year ending March 2013 to about $2.4 billion in the most recent fiscal year, the indictment alleges.
The SEC said Kang breached his fiduciary duty to the pension fund's one million beneficiaries by failing to disclose the gifts and entertainment he received, which were prohibited by the pension fund and state regulations.
"The SEC will not tolerate public officials who abuse public pension funds to satisfy their own greedy and wanton desires," Andrew Ceresney, director of the SEC's enforcement division, said in a statement.
Kelley and Kahn were both charged with conspiracy to commit securities fraud. Schonhorn pled guilty to additional charges, including securities and wire fraud and conspiracy to obstruct justice in the SEC investigation.
Representatives for all three defendants declined to comment on the indictment.
Authorities say Schonhorn used the smartphone messaging platform WhatsApp to keep his communications with Kang away from law enforcement.
Kelley worked at brokerage firm Sterne Agee during the time of the bribery scheme, FINRA records show. The New York company was later bought by financial services firm INTL FCStone (INTL).
"All activity giving rise to the indictment occurred prior to the acquisition," INTL FCStone said in a statement. The firm confirmed that Kelley was employed by Sterne Agee, but noted that the fixed-income department she worked in was not part of the acquisition.
The indictment does not indicate what broker Schonhorn worked at.
In a statement to CNNMoney, the New York State Common Retirement Fund said it has "absolutely no tolerance for self-dealing."
"We are outraged by Mr. Kang's shocking betrayal of his responsibilities," the fund said, adding that Kang was dismissed in February and it worked with law enforcement once the misconduct was uncovered by authorities.