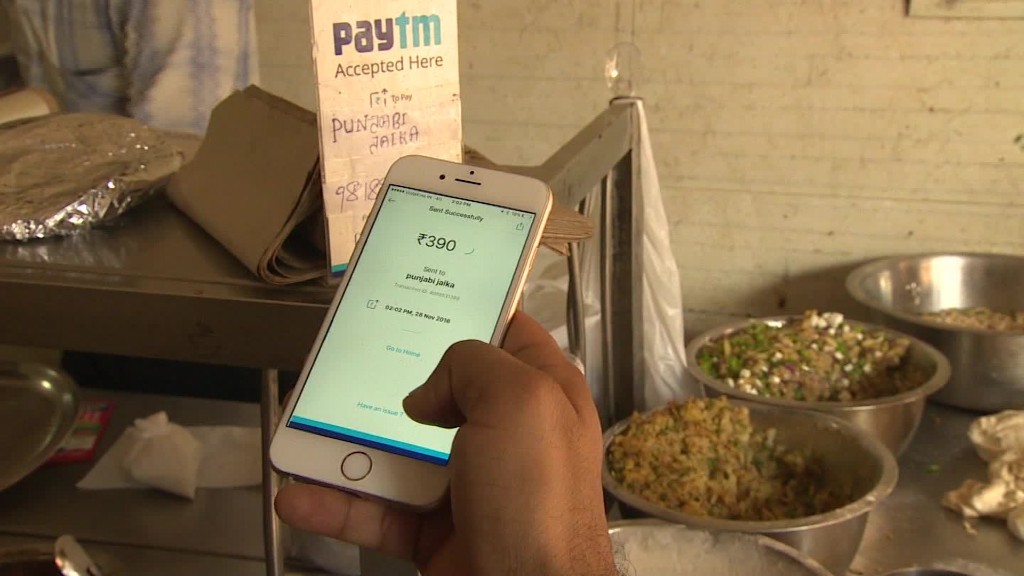 As millions of Indians line up to try and get their hands on cash, an e-commerce company has started delivering it to their doorsteps.
It's a response to the Indian government's sudden ban on 500 and 1,000 rupee notes six weeks ago, which removed 86% of the country's cash and has left people struggling to get money for their daily needs.
Snapdeal, one of India's biggest online retailers, has added rupee notes to the hundreds of products it already offers. Users can get up to 2,000 rupees ($30) in cash by swiping their debit cards through a machine carried by the company's couriers and paying a one rupee commission.
The pilot program debuted Thursday in the cities of Gurgaon and Bangalore. Snapdeal is using the rupee notes it receives from cash-on-delivery transactions, a popular method of paying even for online goods in India.
Related: Five key questions about India's cash crisis
A company spokeswoman declined to give exact figures, but told CNNMoney that it has already received a "significant number" of requests for cash.
Many Indians are switching to digital payment methods, but those who can't have few options but to spend hours waiting in line at banks or ATMs. And for a country where more than 90% of daily transactions are estimated to take place in cash, the shift away from paper currency is a huge task.
Related: India is giving away $50 million for going cashless
Snapdeal's initiative is the latest inventive workaround to the cash shortage. Some banks have provided ATM buses, and one company even let people hire helpers that will stand in line for them.
"The launch of the cash on demand service is intended to further help our consumers tide over any cash crunch that they might face in addressing their daily needs," Snapdeal co-founder Rohit Bansal said in a statement.
The company said it plans to expand the cash delivery service to other Indian cities in the coming weeks.