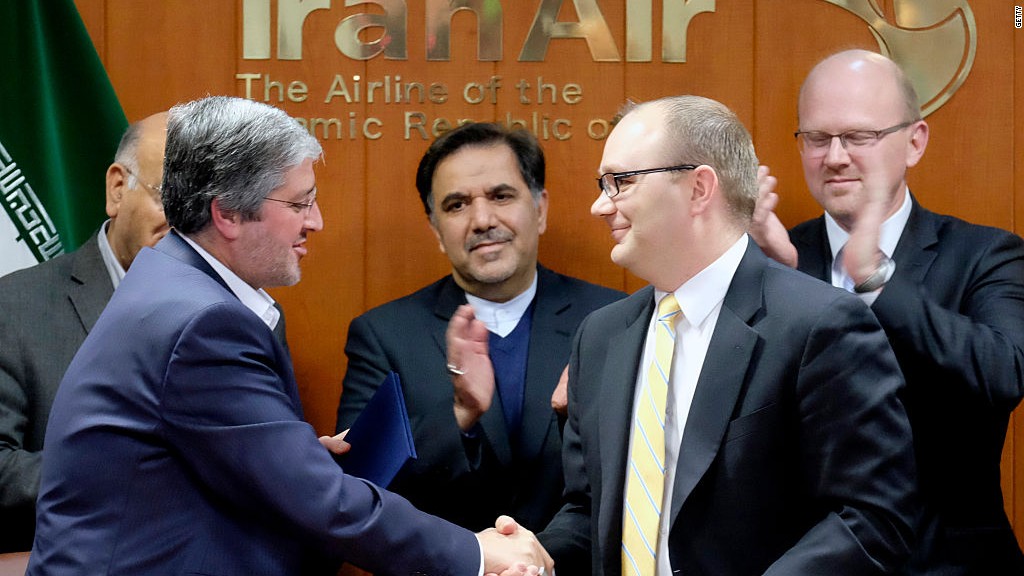 Boeing's deal to sell $16.6 billion worth of aircraft to Iran may be worth only half that.
The company put that figure on the Iran Air deal for 50 737 airplanes and 30 777s when it was finalized earlier this month.
But Iran's deputy transport minister said Sunday that the amount it will pay Boeing (BA) will be nearer $8 billion.
"Given the type of orders and the specifications we have chosen, the value of the deal to buy 80 planes from Boeing is about 50% of that value," said Asghar Fakhreeyeh Kashan, according to official news agency IRNA.
Boeing spokesman Doug Adler said the company would not "comment on or share details of agreements with any customer."
Boeing's deal is part of Iran's effort to modernize its fleet of airliners and is by far the biggest between U.S. and Iranian businesses since the 1979 revolution.
Related: Boeing CEO vows to keep Air Force One costs below $4 billion
Iran's fleet is among the oldest and most dangerous in the world. Years of sanctions left its carriers with outdated and unsafe aircraft.
Those sanctions were lifted after Iran agreed to curtail its nuclear program as part of an agreement with major global powers, including the U.S.
But Boeing's deal with Iran Air will find itself in the political cross hairs as President-elect Trump weighs the future of that global nuclear agreement.
Related: Boeing's Iran deal won't prevent production cut
Boeing's main rival, European aviation giant Airbus (EADSF), also has a major deal with Iran Air. The value of that contract came in lower than initially expected because Iran chose not to buy any superjumbo A380s.
-- Alireza Hajihosseini and Jon Ostrower contributed reporting.