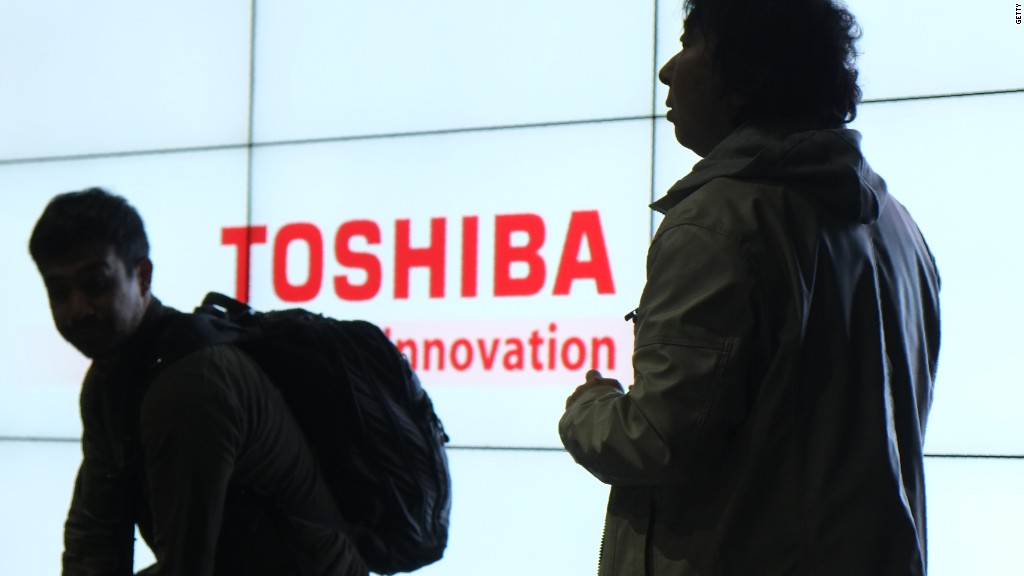 Toshiba's dreams of becoming a nuclear energy leader have turned into a nightmare.
Rattled investors have wiped $6.6 billion off the company's market value after it warned of huge losses tied to its 2015 acquisition of a U.S. nuclear construction business.
Shares in the Japanese firm tumbled another 17% on Thursday. Losses over the past three trading sessions now total 42%, fueled in part by credit rating downgrades by Moody's and S&P Global Ratings.
The hemorrhage started after Toshiba (TOSBF) warned it would lose billions of dollars from its takeover of a U.S. nuclear construction business. CEO Satoshi Tsunakawa didn't put a specific figure on the expected losses, saying the company was "still trying to figure out exact numbers."
Related: Toshiba shares plummet after warning of 'billions' in losses
Toshiba's U.S. subsidiary Westinghouse (WEC) acquired nuclear construction business CB&I Stone & Webster from Chicago Bridge & Iron (CBI) in late 2015.
The deal was supposed to help Westinghouse complete reactor projects in Georgia and South Carolina.
But Toshiba admitted Tuesday that the cost of the U.S. projects "will far surpass the original estimates," and that it may have overestimated the value of CB&I Stone & Webster.
The companies are also mired in a legal dispute over the finances of CB&I Stone & Webster.
Toshiba makes everything from consumer electronics to medical equipment, and had turned to nuclear plant construction to help secure its recovery in the wake of a massive $1.2 billion accounting scandal.
Now, it appears the pivot by one of Japan's most storied corporates may have been another misstep.
"We may revise the positioning of nuclear business in the future if it's needed," Tsunakawa said.