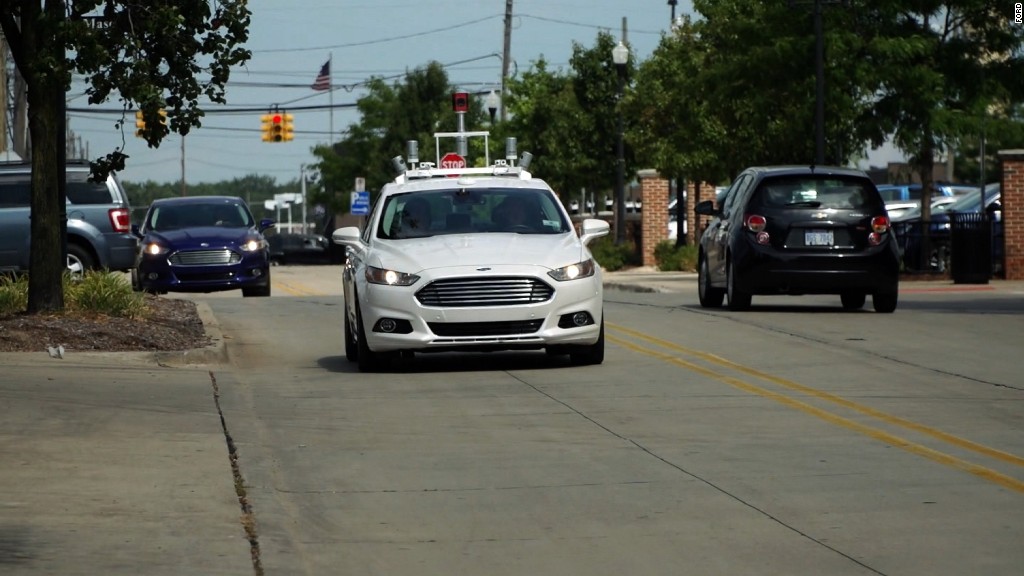 Car sales are near record levels. But this is a time of uncertainty for the industry, not celebration.
Sales are showing signs of leveling off. When December figures come in Wednesday, they may be enough to eke out a seventh straight year of gains, edging past last year's record of 17.5 million cars and trucks. But sales are expected to fall in 2017.
Some automakers are trimming production because excess cars and trucks are sitting on dealer lots. General Motors (GM) has announced its first layoffs since 2010, eliminating about 3,300 jobs at two plants in Michigan and one in Ohio.
"I don't want to say the party is over, but we've been on an historic run, and all good things must come to an end," said Tim Fleming, analyst with Kelley Blue Book. "We're not expecting sales to fall off a cliff, but we are looking for a return to more natural demand."
Fleming and other analysts say sales this year have been propped up by automakers offering cash-back deals, leases and longer-term car loans.
"It's taking a lot more effort in the way of incentives and promotions to make those sales," said Michelle Krebs, senior analyst with AutoTrader.
Related: Best loved new cars of 2016
The boom in auto sales has been driven by a number of other factors, including easier credit for buyers and sustained improvement in the job market.
Record highs in the stock market and higher home values, which increase household wealth, also bring buyers into showrooms, as do lower gas prices, even if history shows the savings don't necessarily last.
But automakers could soon face a big challenge in the form of higher costs. President-elect Donald Trump is threatening to slap a tariff on cars and parts made in other countries. In a tweet Tuesday morning, he specifically called out General Motors, which sells some versions of the Chevrolet Cruze in the U.S. that are made in Mexico.
"Make in U.S.A.or pay big border tax!" he tweeted.
If tariffs are introduced they would hit every automaker, but there's no way to know how hard.
"It all depends on if they happen, how they happen and when they happen," Krebs said. "There are so many unknowns."
Related: Will Donald Trump's Mexican tariffs kill the small car?
There is also growing concern about rising default rates on car loans, particularly among less creditworthy buyers. If lenders pull back, that will hurt car sales.
Car prices are already at record levels. That is partly because buyers are shifting from less expensive cars to crossovers, SUVs and trucks, and partly because of demand for the latest safety and tech features, such as automatic braking and internet.
Higher prices and strong sales have been a boon for an industry that suffered through bankruptcies, bailouts and the deaths of some stories brands as recently as 2009. U.S. sales bottomed out that year at 10.4 million.
"Over the last few years, the industry has outperformed the rest of the economy," Fleming said.
Related: Great looking cars on a budget
Even if the streak of rising sales ends at six years, that will be the longest period of sustained growth since the dawn of the automotive age in the 1920s, said Eric Lyman, chief analyst at the car buying service TrueCar.
And he expects strong sales and profits to continue for at least the next few years, even if sales are no longer rising.
"We're expecting the remainder of decade to see annual sales of 17.1 million to 17.4 million," he said. "By any historical context this is amazing for the industry."