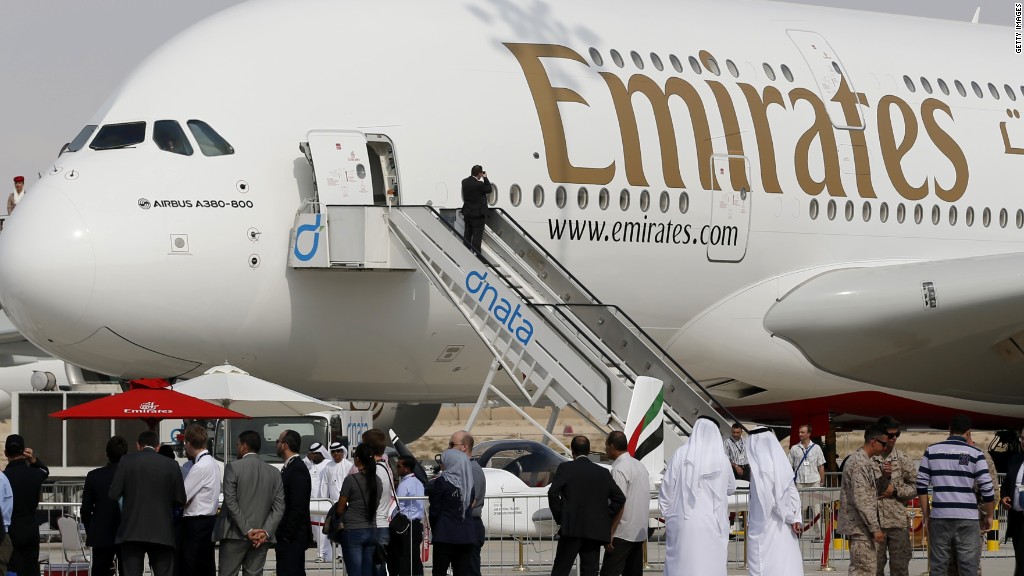 Warren Buffett called the airline industry a "death trap" back in 2013. But he changed his tune late last year -- and his investments in four major airlines have been anything but lethal so far.
Buffett's Berkshire Hathaway (BRKB) disclosed in mid-November that it bought stakes in American, United Continental and Delta at some point during the third quarter.
On the same day as that filing, Buffett told CNBC that Berkshire also bought shares of Southwest in the fourth quarter. The Oracle of Omaha cited his friendship with Southwest co-founder, former CEO and chairman emeritus Herb Kelleher as a reason.
Since Berkshire's airline bets became public knowledge, shares of all four companies have been gaining in altitude. Delta (DAL) has risen 6%. American (AAL) is up 7%. Southwest (LUV) has soared nearly 13%. And United (UAL) has skyrocketed 14%.
Stocks often get a Buffett bump after Berkshire buys new stakes in them. Buffett is known as a consummate value investor, sifting through the rubble for bargains.
He's only recently begun to dip his toe into higher growth tech stocks -- and even there, Berkshire has limited itself to more mature (i.e. slower growth, gigantic and relatively cheap) tech companies like Apple (AAPL), IBM (IBM) and Verizon (VZ).
But can airline stocks continue to build on their early post-Buffett investment gains? There are reasons for optimism.
To start, you can't ignore the elephant in the room named Donald Trump when having any discussion about stocks.
The entire market has been on a tear since Trump won the U.S. presidential election -- just a few days before Buffett's airline stakes were revealed.
Related: The world's new planes in 2017
So the boost in airline stocks could be viewed also as yet another sign of increased confidence in the U.S. economy following the election.
It's also worth noting that airline stocks took a breather last year after a couple of strong years, buffeted by terrorism fears, several high-profile technical glitches that led to major cancellations, rising jet fuel prices and a new round of fare wars sparked by discount carriers like Spirit (SAVE) and JetBlue (JBLU).
The airlines might be slowly getting back on track though.
Delta reported on Wednesday that its passenger unit revenue -- a key measure of financial health for airlines -- was flat in December. That was better than initially expected, a sign that the recent wave of lower ticket prices could be coming to an end.
That may not be great news for travelers obviously. But it's exactly what airline investors like Warren Buffett want to see.