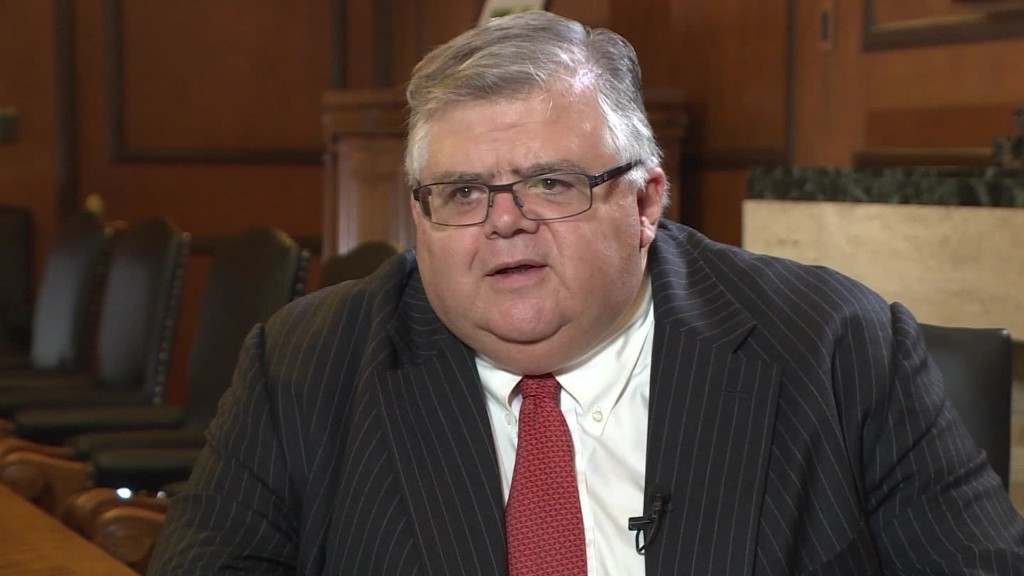 Mexico's "contingency plan" to protect its economy from the "hurricane" effect of Donald Trump's electoral victory isn't working.
On Thursday, Mexico's central bank tried to prop up its battered currency, the peso, by selling dollars to international investors. It's the latest move by Mexico to stop the peso's bleeding from Trump's threats to use tariffs, build a wall and tear up a trade deal.
Mexico's peso briefly shot up on the news of the central bank's rescue attempt. But by the end of Thursday the gains were gone.
Reuters reported that the central bank, known as Banxico, sold $1 billion Thursday, but a central bank spokesperson said it wouldn't publish official figures until next week.
Related: Ford cancels plant in Mexico
One dollar equals 21.50 pesos. A year ago a dollar was worth nearly 18 pesos. It could fall further this year, possibly causing a flight of cash out of Mexico, experts say.
"Imagine if you have a trade war: The peso can go from 21 to 25," says Alberto Ramos, head of Latin America economic research at Goldman Sachs. Pulling money out of Mexico "may create some very destabilizing dynamics for the Mexican economy."
Central bank president Agustin Carstens, who described Trump as a "hurricane" for Mexico's economy, said before the election Mexico had a "contingency plan" ready if Trump won.
However, he won't be around long to execute the contingency plan. Carstens announced in December he will step down from his role in July for another key central bank position in Switzerland.
Thursday's rescue attempt by Mexico was just its latest to have short-lived gains. Since election day, the peso is down 13%.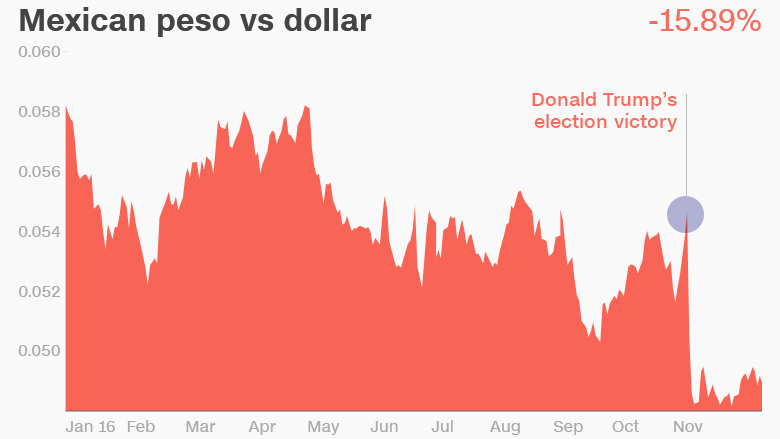 Banxico has raised interest rates twice since the election to buoy the peso. Neither rate hike appears to have helped much in the long term as the peso slid to another all-time low earlier this week.
Related: Toyota to Trump: Mexico plant won't cause U.S. job losses
Trump revived another threat this week, telling Toyota and GM (GM) that if they made cars in Mexico and sold them in America they would face a "big border tax." During the campaign Trump said he would impose a 35% tax on companies that did that, but his transition team hasn't repeated that exact figure since.
A major concern is that Trump's threats, whether they become true or not, will weaken the peso so much that investors pull money out of Mexico. Currently, foreigners hold about $100 billion of Mexican government debt, according to central bank data compiled by Goldman Sachs (GS).
Mexico has also benefited from foreign investment in recent years. It received $29 billion in 2015 and $27 billion last year from abroad. But with a weak economy and currency, and Trump's threats, experts see that falling sharply. Bank of America (BAC)'s economists forecast Mexico only getting $20 billion in foreign investment this year.