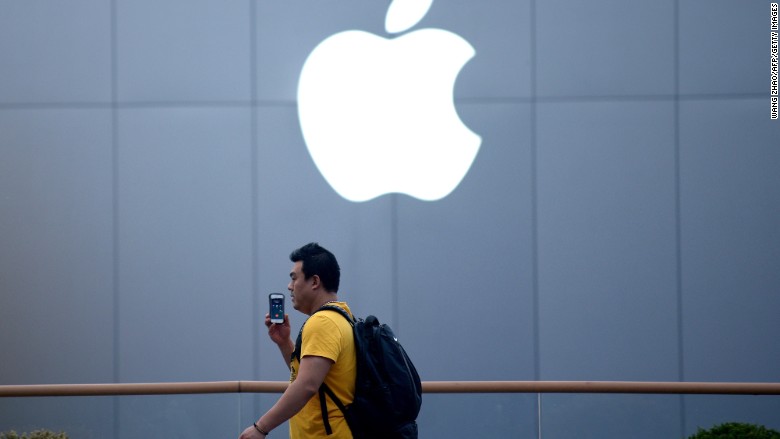 All the news that's fit to ban -- that's essentially China's position on The New York Times.
After blocking the U.S. publication's English and Chinese websites for the better part of five years, Chinese authorities have now had Apple (AAPL) pull New York Times news apps from the App Store in China.
"We have been informed that the app is in violation of local regulations. As a result, the app must be taken down off the China App Store," Apple said in a statement. "When this situation changes, the App Store will once again offer the New York Times app for download in China."
The New York Times (NYT) called the removal of its English- and Chinese-language apps late last month "deeply regrettable," saying it had asked Apple to reconsider its decision.
"The request by the Chinese authorities to remove our apps is part of their wider attempt to prevent readers in China from accessing independent news coverage by The New York Times of that country -- coverage which is no different from the journalism we do about every other country in the world, including the United States," Times spokeswoman Eileen Murphy said in a statement.
Related: Facebook could pay heavy price if it censors news to please China
Amnesty International said the move by Apple is part of a growing trend of big tech companies effectively aiding China in its crackdown on free speech.
"It's extremely worrying that Apple is kowtowing to China's censorship by deleting New York Times apps," said Patrick Poon, an Amnesty researcher.
The apps allowed readers in mainland China to access Times articles without having to use a Virtual Private Network, or VPN, to skirt the country's huge censorship apparatus, known as the Great Firewall. Other international news apps, including those of The Wall Street Journal, the Financial Times and CNN, were still available on the App Store in China on Thursday.
Related: China's WeChat is censoring group chats without users' knowledge
The New York Times app still works for users who had previously downloaded it, but anti-censorship group GreatFire.org said the app will no longer be updated for Apple devices and so will eventually stop working.
Apple declined to specify which regulations the Times allegedly breached. It may be connected to new rules that went into effect in August, stipulating that apps mustn't disseminate banned content.
The Cyberspace Administration of China, the country's top internet regulator, didn't respond to a request for comment. Chinese Foreign Ministry spokesman Geng Shuang said at a regular news briefing that he didn't know any details about the removal of the Times apps but reiterated that digital content "must comply with Chinese rules and regulations."
Related: Apple movies and iBooks shut down in China
Apple makes a significant chunk of its revenue in China, the world's second largest economy, and many of its products are assembled there. It's also not the only tech company bending to the Chinese government's will.
Microsoft (MSFT)'s Chinese chatbot refuses to talk about sensitive topics like the 1989 crackdown on Tiananmen Square protests or Chinese President Xi Jinping.
Facebook (FB) CEO Mark Zuckerberg has made no secret of his desire to get the giant social network unblocked in China. His company is reported to have built a censorship tool that would keep certain posts out of people's news feeds.
Apple has also been on the receiving end of China's content crackdown. Last year, Chinese regulators shut down its iBooks and iTunes Movies services.
-- Nanlin Fang and Tim Schwarz contributed to this report.