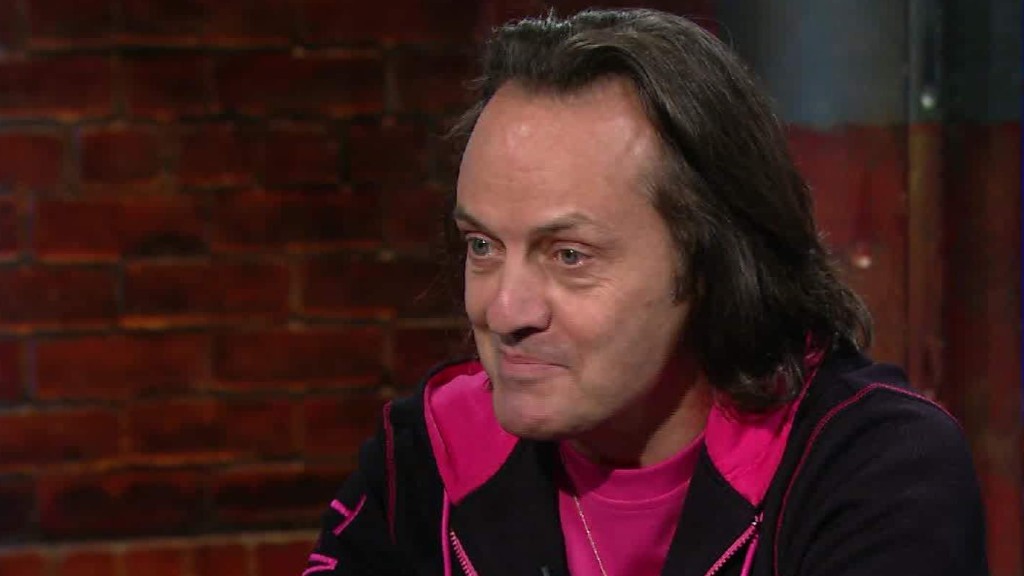 T-Mobile will soon only sell one plan.
T-Mobile (TMUS) CEO John Legere announced at CES 2017 on Thursday the company is abandoning its six plan offerings in favor of T-Mobile One.
The One plan was announced in August as a part of an effort to eliminate incremental data fees that can sneak up on mobile bills. It includes unlimited talk, text and data for $70 a month for one line. The plan jumps to $120 for two lines, $140 for three and $160 for four. All taxes and fees are included.
But starting January 22, One will be the only option available for new customers. Customers on the plan who use less than 2 GB a month will get $10 back at the end of the month.
Currently, a line on T-Mobile's existing Simple Choice plan costs $50 for 2GB of data costs. Of course, customers can keep their existing plans. But to sweeten the deal for new subscribers, the company is offering a $150 credit for each line added.
Related: CNN MoneyStream welcomes 'The Big Idea' guest curator, T-Mobile CEO John Legere
In addition to the news, Legere -- a telecommunications veteran with a big personality -- said he hopes to soon work with President-elect Trump's administration.
"I think so far, all I can say as the CEO of a wireless carrier, I'm highly optimistic as to what the [wireless industry] environment is going to provide," Legere said. "I look forward to spending some time, if I get the opportunity, to meet the President-elect and talk about the fastest-growing wireless companies in America."
He also said he is "way past" his differences with Trump. The pair famously got into a Twitter battle while Legere stayed at a Trump hotel in New York City last year.
After using the social platform to complain about a loud street performer outside the hotel, Legere threatened to check out. Trump tweeted that T-Mobile's service "is terrible" and didn't "want it in his buildings." Legere promptly checked out.
Related: Donald Trump: I don't want T-Mobile in my hotels
When asked about a potential merger with Sprint and SoftBank under the Trump administration, Legere said T-Mobile was open to "various forms of consolidation."
Legere also detailed how he's turned the company around in recent years. The company recently eliminated contracts, overages and early termination fees.
In addition, it added 8.2 million customers in 2016. It has been attracting new customers with marketing ploys, like offering subscribers free Dominoes pizza on Tuesdays. In June, T-Mobile ran a "stock up" promotion to give customers stock in the company.
The company hopes to expand its footprint this year, too. A T-Mobile executive told CNN following the event it plans to open more stores and ultimately bring more jobs to the U.S. later this year.