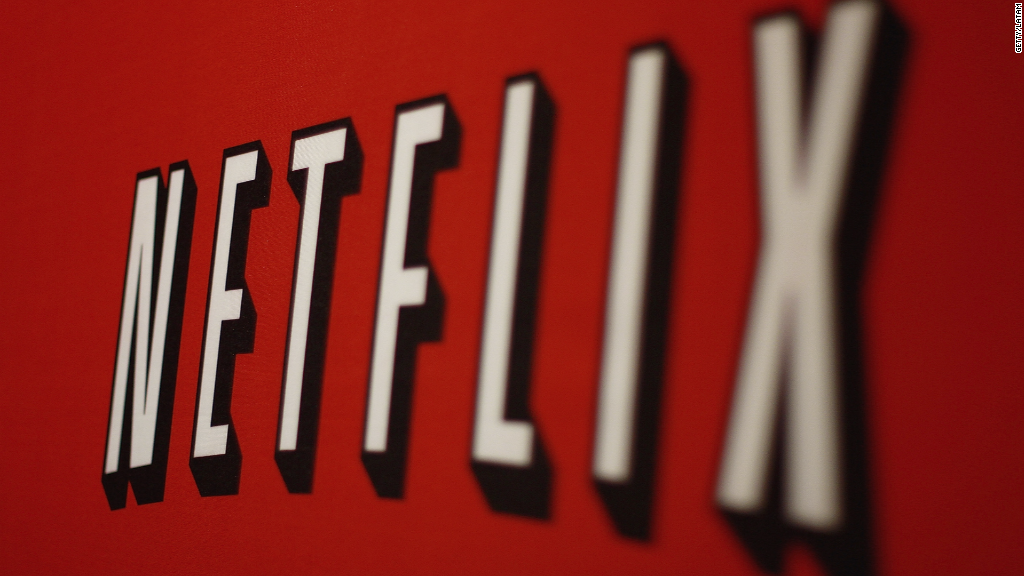 Netflix went on a wild ride in 2016. The stock began last year not far from its record high, then plunged nearly 30% by February.
Concerns about slowing subscriber growth, the high cost of original programming and increased competition from the likes of Amazon, Apple and Big Media-backed Hulu weighed on Netflix (NFLX). (CNNMoney owner Time Warner (TWX) is a Hulu investor.)
Netflix spent much of the year in the red, and it lagged the performance of the other so-called FANG stocks of tech: Facebook (FB), Amazon (AMZN) and Alphabet, the parent company of Google (GOOGL).
Heck, some traders joked that red hot chip company Nvidia (NVDA), the top performer in the S&P 500 last year with a nearly 225% gain, should replace Netflix as the N in FANG.
Few probably think that now. Netflix is once again a Wall Street darling.
The stock went on an amazing tear at the end of the year and wound up with an 8% gain for 2016. It's up 7% more in just the first four trading days of 2017 and hit an all-time high on Friday.
Netflix is now worth about $57 billion. That's almost $15 billion more than the combined value of Sumner Redstone-backed CBS (CBS) and Viacom (VIAB). It's also a little more than Rupert Murdoch's Fox (FOXA).
What's changed? Investors are no longer as worried about Netflix's ability to keep attracting new subscribers following a strong earnings report in the third quarter.
Related: Why Netflix's Iron Fist will look different than anything else
And the company has proved it can produce one hit show after another. I used to refer to Netflix as the company known for "House of Cards" because that was one of its first original hits.
But it's since churned out one popular show after another, including "Orange is the New Black," a series of programs based on Disney/Marvel comic books ("Daredevil", "Jessica Jones" and "Luke Cage") and "Stranger Things" -- a creepy love letter to the '80s.
If I tried to list all the Netflix programs that have tapped into the zeitgeist and racked up award nominations now, my editor would have a coronary because the word count would be so high. ("The Get Down," "Unbreakable Kimmy Schmidt," "Narcos" ... )
Netflix has also expanded to almost every major market worldwide, with the notable exception of China.
So what can it do for an encore? This may sound like a broken record. But some Wall Street analysts are a little worried that expectations are too high.
Even though CEO Reed Hastings continues to defy the skeptics -- some even think Disney (DIS) should consider him as a potential successor to Bob Iger -- the stock is looking extremely expensive.
Shares trade for about 140 times forecasts for 2017 earnings.
And while new shows -- such as the return of "Gilmore Girls," the "Fuller House" sequel, a reboot of "One Day at a Time" and art house favorite "The Crown" -- are generating buzz, they may not be as big of a driver of new subscribers as other shows.
Related: Netflix viewers binge shows, then chill
UBS analyst Doug Mitchelson wrote in a report Thursday that the new shows are a series of singles and doubles as opposed to a home run like "Stranger Things."
That's not the worst thing in the world, of course. All of baseball's most famous sluggers hit more singles than home runs in their careers.
But for the stock to keep climbing, investors will want to see Netflix's subscriber count continue to tick higher. And here's the magic number to watch: 100 million.
Netflix ended the third quarter with a little more than 87 million global streaming subscribers. Wall Street is predicting 100 million by the third quarter of this year.
If Netflix gets there sooner, the stock could avoid a nasty trip to Wall Street's equivalent of the Upside Down in "Stranger Things."