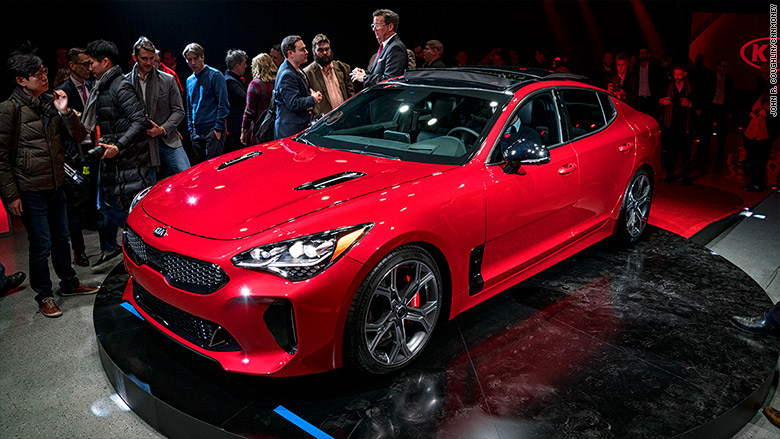 Whenever someone asks me which car they should buy I almost always tell them to consider a Kia. Kia makes great looking, high-quality cars and SUVs that are enjoyable to drive and loaded with lots more features than you'd expect for the money.
And people always look at me like I just recommended they eat a spoonful of caterpillars.
"Um, no," they'll say. "I just... can't."
Kia has been enjoying rising sales, but its image as a budget carmaker for those who simply can't afford more has been hard to shake. Even a very nice luxury car like Kia's Cadenza hasn't been able to really do the job.
Perhaps the Kia Stinger, a sharp-looking performance sedan just unveiled ahead of the Detroit Auto Show, will finally push Hyundai's Korean sister brand into the spotlight it deserves. The Stinger might not sell in huge numbers, but that's not really the point.
Related: Small SUVs take over LA Auto Show
The Stinger is expected to change minds, especially here in America, a Kia spokesman said. Kia has not yet announced the price, but it's expected to go on sale late this year.
The car is a rarity these days, a rear-wheel drive sedan. (An all-wheel-drive option will be available.)
It's a European-style performance car -- it was designed in Germany -- but Kia isn't claiming that it'll beat everything else on the road. It's supposed to offer a blend of performance and refinement, the sort of car you'd enjoy taking on a long drive but that won't leave you drained at the end of it.
"The Stinger has nothing to do with being the first to arrive at the destination," Gregory Guillaume, chief designer, Kia Motors Europe, said in a statement. "This car is all about the journey."
The car's two engine options are powerful, but not shocking by modern standards. The base car will have a 2.0-liter turbocharged four-cylinder engine that can produce as much as 255 horsepower. The more expensive Kia Stinger GT will have a 3.3-liter twin turbo V6 capable of producing 365 horsepower.
Related: Why your SUV needs winter tires
Most cars sold today are front-wheel-drive. That means engine power goes to the front wheels, which pull the car along while also turning and steering. In rear-wheel-drive cars, the back wheels push the car along the road and the front wheels just steer. That strict separation of duties -- power at one end, steering at the other -- can give the driver a greater sense of feedback and control, making the car more exciting to drive.
The Stinger will also be available with all-wheel-drive, but the all-wheel-drive system is tuned to deliver more power to the back wheels than the front. The all-wheel-drive system also uses torque vectoring, which sends more power to a wheel on one side or the other to help push the car through a turn.
While it does have the profile of a sedan, the Stinger is, technically speaking, a hatchback. The entire rear window area lifts up revealing a cargo area that goes straight into the passenger cabin.
The Stinger will go on sale by the end of this year. Pricing hasn't been announced yet but the vehicle's cost is expected to start from roughly $35,000 to $45,000.