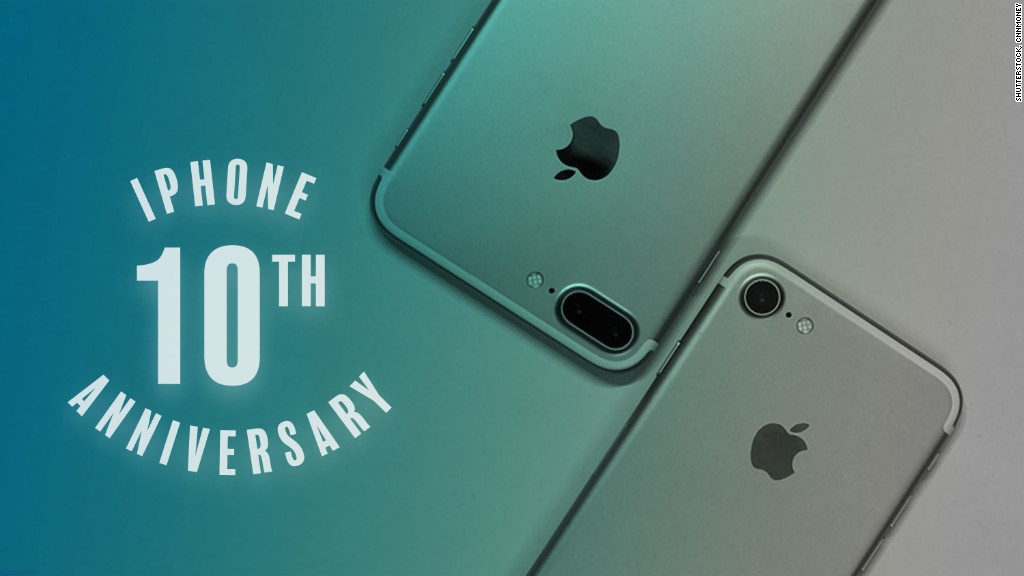 "We're going to make some history together today."
With those words on January 9, 2007 -- 10 years ago on Monday -- Steve Jobs kicked off his presentation to unveil "three revolutionary products."
These included a touch iPod, a better cellphone and a "breakthrough Internet communications device." Today we know it simply as the iPhone.
During the presentation, a group of Apple (AAPL) employees who helped build the original iPhone sat in the audience bracing themselves for disaster.
"The memory that I have from that day is doing shots of scotch that we had lined up because the demo was so tenuous," Andy Grignon, a former Apple employee who was part of the original iPhone team, told CNNMoney. "It wasn't a sure thing."
After Jobs successfully demoed each feature, the lead designer took a victory shot of scotch.
Scrolling through album covers? Shot. Pinch and zoom? Shot. Making a phone call? Shot, shot, shot.
"It was this mix of absolute terror and elation," Grignon said.
The presentation went off without a hitch and introduced the world to a product that would indeed make history. A decade later, Apple has sold more than one billion iPhones. The device redefined the smartphone market, gave rise to countless wealthy app developers and propelled Apple to become the world's most valuable company.
Related: This was Apple's prototype for the iPhone
In the 2016 fiscal year ending on September 30, Apple's iPhone sales totaled more than $135 billion, or more than half of its total revenue. The App Store alone, originally created for the iPhone, generated more than $20 billion for developers for the 2016 calendar year.
"iPhone set the standard for mobile computing in its first decade and we are just getting started. The best is yet to come," Tim Cook, Apple's CEO, said in a statement marking the anniversary.
But that incredible success wasn't obvious to everyone at the time.
The baseline model of the original iPhone had just 4GB of space, a hefty $499 price tag, a single wireless carrier option and no App Store, despite the objections of Apple employees who wanted to offer one.
"In that particular room, those who were pro Apple believed it had another hit," said Tim Bajarin, a longtime Apple analyst with Creative Strategies, who attended the original launch event. "But there were a lot of other skeptics."
Chief among them: Microsoft's then CEO Steve Ballmer, who quite literally laughed off the iPhone when asked about his first impressions of it.
"That is the most expensive phone in the world and it doesn't appeal to business customers because it doesn't have a keyboard, which makes it not a very good email machine," Ballmer said in one interview.
The skeptics were ultimately proven wrong, but a new wave of skepticism abounds about the continued dominance of the iPhone and Apple nowadays.
Some early developers who built apps that made the iPhone indispensable to customers are increasingly disheartened as the App Store becomes more crowded and less conducive to building businesses.
"The structure of the store hasn't changed much," said Loren Brichter, a former Apple employee who worked on the original iPhone before building popular apps like Tweetie and Letterpress.
"It's hard to create an app now that is both genuinely interesting and economically sustainable, so I'm focusing my efforts elsewhere."
Related: Apple under Tim Cook: More socially responsible, less visionary
Apple's iPhone sales declined for the first time last year amid concerns about global smartphone market saturation and a sense that the latest iPhone is a dead ringer for the previous two models.
That decline pushed Apple's overall sales below its goal for the 2016 year. Cook and other Apple executives saw their bonuses cut as a result, according to a company filing last week.
Apple is widely rumored to be planning a major overhaul of the iPhone for the tenth anniversary edition, likely to be unveiled at its usual launch event in September.
That may be enough to reignite interest in the iPhone this year, but a decade after Jobs unveiled those "three revolutionary products," many are hungering for Apple to unveil another breakthrough device.
"[The iPhone] put them in the limelight as being one of the most innovative companies, but it puts a level of expectation on Apple that's almost impossible to meet in that people want them to do it again," said Bajarin. "To have another hit like the iPhone would be asking way too much."