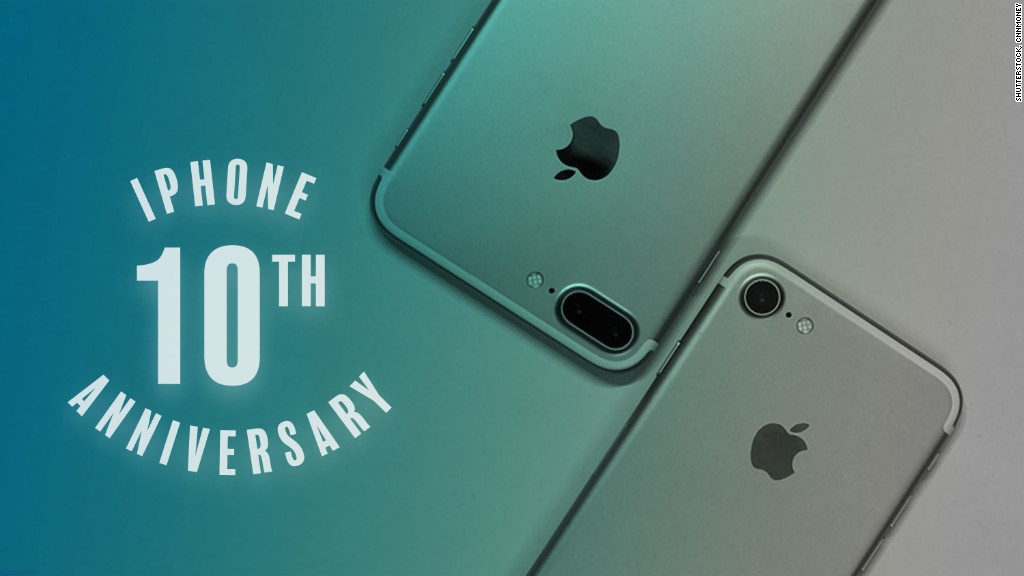 The iPhone may have just celebrated its 10th birthday. But for Apple investors, this is the only number that matters: $134.54.
That is the all-time high for Apple's stock -- which it last hit nearly 21 months ago back on April 28, 2015.
Apple (AAPL) has been mostly stuck in a rut since then, even as investors embraced fellow tech stocks, most notably the FANG of Four.
Facebook (FB), Amazon (AMZN), Netflix (NFLX) and Google owner Alphabet (GOOGL) have all hit new records more recently than Apple.
But there are several reasons to believe that Apple might finally be back on track.
The stock has had a nice run lately, gaining about 8% since the presidential election.
Although tech investors were initially nervous about Donald Trump's win because of some antagonistic tweets about Silicon Valley leaders, Apple and other tech stocks have since enjoyed a strong rally.
Part of that is due to the more general hope that Trump's policies will boost corporate and consumer spending. That obviously would help Apple and other gadget makers.
Related: This was Apple's prototype for the iPhone
But there are also growing hopes that the Trump administration may lower some corporate taxes, which could entice Apple and other tech giants hoarding cash overseas -- like Microsoft (MSFT) and Google -- to bring that back to the U.S.
Apple currently has $237.6 billion in cash on its balance sheet. CFO Luca Maestri said during Apple's most recent earnings call with investors in October that $216 billion of that iMountain was being held overseas.
If Apple is able to repatriate -- i.e. bring back -- that cash to the U.S., the company could potentially use it on acquisitions, stock buybacks or higher dividends. Investors would probably approve of that.
Another cause for optimism? Growing hopes that the recent iPhone 7 will continue to sell well, especially due to the massive problems facing Android rival Samsung in the wake of its fire-prone (and now defunct) Galaxy Note 7.
There is also growing excitement about the 10th-anniversary version of the iPhone that will be unveiled later this year.
Will Apple call it the iPhone 8? The Ocho? Skip 8 and 9 altogether and call it the 10? Or maybe name it the iPhone X if Apple wants to mimic the NFL and start using Roman numerals?
Whatever the newest iPhone is called, investors are hoping that there will be enough new bells and whistles to live up to the hype -- and help dispel the notion that Apple has lost its innovative edge since Steve Jobs died and Tim Cook has led the company.
Related: Apple cut Tim Cook's pay after missing internal sales goals
UBS analyst Steven Milunovich wrote in a report earlier this week that patience is still required with Apple's stock. But he thinks that the stock should start gaining momentum as optimism builds about the next iPhone.
And Morgan Stanley analyst Katy Huberty is even more optimistic. She just named Apple as her top large hardware stock pick for the year, citing expectations of Apple bringing back cash from overseas as well as broader tax reform under Trump.
But Huberty argues that perhaps the biggest catalyst for Apple will be iPhone sales in China.
Even though Apple has faced tough competition from Chinese smartphone rivals like Xiaomi, Huawei, Vivo and Oppo, Huberty thinks that those companies are catering more to the lower-end of the market.
She believes that once Apple does unveil a major upgrade to the iPhone, the company's market share in China will tick higher again.
"Investors worry Apple has lost its edge in China. We don't believe this is the case," she wrote. "High-end Chinese users are committed to Apple but are waiting for a more meaningful change...to upgrade."
Huberty thinks that Apple will hit a new all-time high over the next year. Her 12-month price target is $148 --nearly 25% higher than current levels.
In her extremely bullish case for the stock, which calls for much higher earnings growth than expected, the stock could hit $190. That's a more than 60% increase.
And at that price, Apple's market value would wind up topping the mythical $1 trillion level -- a first for a U.S. company.