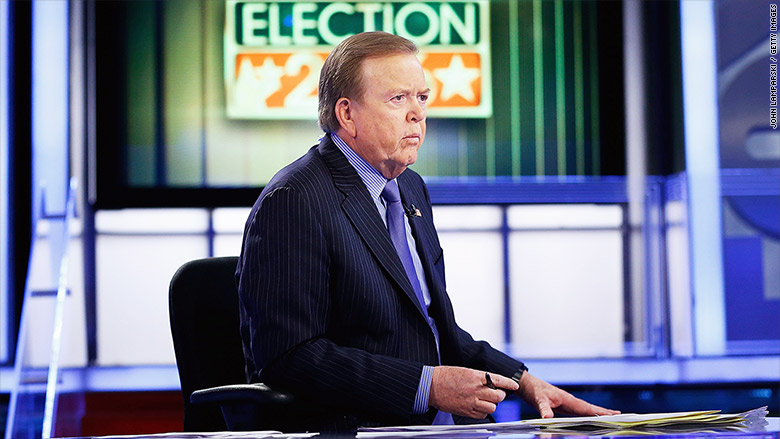 On a recent edition of "Lou Dobbs Tonight," a few days before Christmas and more than six weeks after Donald Trump's victory on election day, the host was brimming with holiday cheer.
"It's OK to say Merry Christmas now," Dobbs said. "Thank you, Donald Trump."
It was the type of sentiment usually reserved for Trump's most zealous supporters, a combination of unwavering belief in the president-elect and unbridled optimism heading into 2017 and the four years to come.
And it was the type of sentiment that has brought Dobbs back from obscurity, helped to make his show the highest-rated program on Fox Business Network and helped the network itself close the gap with rival CNBC.
Some of Trump's biggest media boosters, like The Blaze's Tomi Lahren and CNN's Jeffrey Lord, gained star power through their support for him. Fox News' Sean Hannity got ratings and infamy as perhaps the staunchest Trump supporter on TV. But Dobbs quietly outworked all of them in his passion for Trump.
Once a magnet for controversy, Dobbs has seen his star fade in the six years since he joined Fox Business, the financial news companion to Fox News Channel.
But in Trump, Dobbs found a candidate who echoed his own views on border security and trade -- issues that made the host a ratings draw for years at CNN, and have now helped put him firmly in sync with both Trump and Fox's audience.
And in hosts like Dobbs and Hannity, Fox executives may have found a template for the next four years, particularly following the departure of Megyn Kelly, who repeatedly drew the ire of Trump in last year's campaign.
Related: Fox News picks Tucker Carlson to take over for Megyn Kelly
Like others on cable news, Dobbs enjoyed a massive ratings bounce in 2016. Interest in the unpredictable election (and, more specifically, in Trump) accounted for that across-the-board audience jump, but Dobbs may have found momentum by backing a winner.
Dobbs' rhetoric both on-air and on Twitter often mirrors the most ardent supporters of Trump, down to his use of hashtags like #MAGA and #TrumpTrain.
Other times, Dobbs simply echoes Trump, as the host did last week during a commentary aimed at Senate Democratic Leader Chuck Schumer.
"Sorry, Chuck, it appears to be too late for you. You're down as the head clown," Dobbs said, repeating the label Trump had given Schumer hours earlier that day.
In October, Dobbs suggested that Jessica Leeds, one of several women to accuse Trump of sexual misconduct, was connected to the Clinton Foundation. Dobbs posted a tweet that purportedly showed Leeds' phone number and address before deleting it and apologizing.
A week after Trump's victory in November, Dobbs likened House Speaker Paul Ryan to a snake for showing little support for the Republican presidential nominee.
"Ryan made clear to all, to his fellow Republicans, to the nation, what he is, what he's capable of, and who he is," Dobbs said. "And there is no cure for that."
In a monologue last week, Dobbs provided the rosiest of outlooks for the next four years, saying Trump's "values and objectives are clear, and they are this nation's values."
"In my opinion, the country, no matter what Hollywood or the silly left-wing elites would have you believe, is eagerly awaiting Trump's presidency," Dobbs said.
Dobbs, 71, completed his transformation from staid and objective newsman to outspoken pundit long ago. He spent the bulk of his career at CNN, which he first joined in 1980, left in 1999 and returned to two years later.
It was in that second stint that Dobbs fully embraced his role as a commentator and developed the outlook that would lead him to Trump, branding himself "Mr. Independent" as he stirred up controversy on a variety of issues, particularly immigration and outsourcing.
Dobbs abruptly left CNN in 2009 after the network's leadership at the time reportedly told him he could either shelve his opinions on television, or quit. He hasn't been nearly as visible since; a month before he left CNN seven years ago, Dobbs' show averaged 631,000 viewers.
But 2016 represented a breakthrough for Dobbs, and for his network.
Viewership for "Lou Dobbs Tonight," which airs nightly on Fox Business at 7 p.m. ET, spiked nearly 200% from 2015 to 2016, according to Nielsen. Among viewers aged 25-54, the demographic most coveted by advertisers, the show saw a jump of 282% last year.
It was also the best year ever for Fox Business, which launched in 2007. The network gave its mothership, Fox News Channel, a foothold in the realm of financial news, and an opportunity to challenge the king of the genre, CNBC. But it spent much of the last decade struggling to catch its rival. At the end of the last year, Fox Business claimed to have its first ever quarterly win in business and total day viewers over CNBC. (CNBC largely uses services other than Nielsen to track ratings in order to capture out of home viewing.)
Dobbs' show averaged 266,000 viewers a night last year, which Fox said made it "the number one program in business television."
Internally, many at CNBC view Fox Business as less of a rival in the financial news sector than Bloomberg News.
That's because Fox Business, save for the stock ticker at bottom of the screen, often looks and sounds like nothing more than the conservative political coverage found on Fox News. 90% of viewers who watched at least six minutes of Dobbs also watched at least an hour of Fox News, according to Nielsen data from the fourth quarter of last year.
That overlap seems likely to continue.