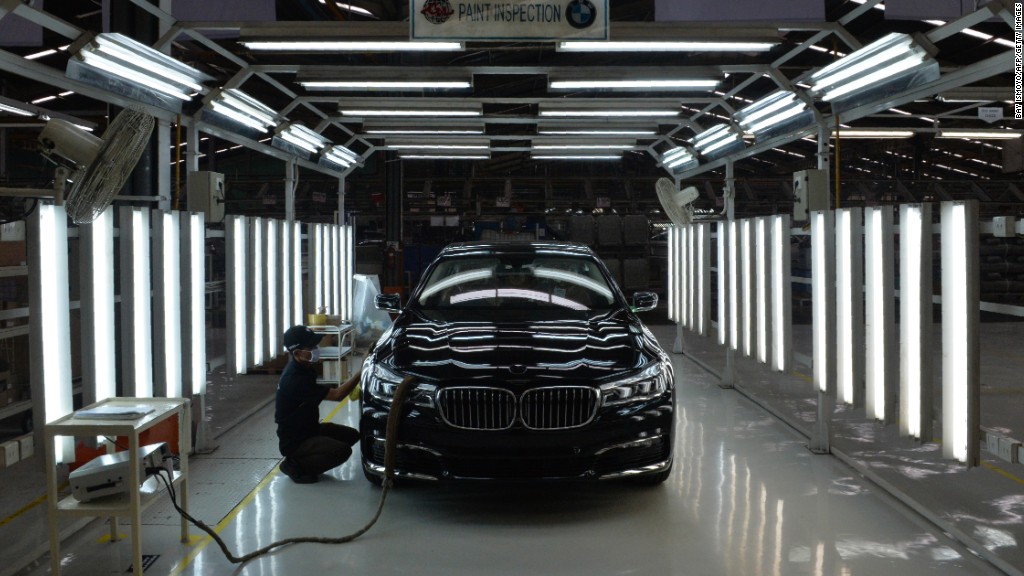 President-elect Donald Trump's future trade policies are worrying the World Bank.
The bank cut its global growth forecast for 2017 on Tuesday, citing "protectionist pressures" as one of the key risks.
Along with highly uncertain policies in the U.S. and U.K., "risks" to the outlook include "mounting protectionist pressures, financial market disruptions and growth disappointments in major economies," the World Bank said in its report.
It also cited the U.K.'s vote to leave the European Union as a major uncertainty to its economic outlook.
World Bank leaders forecast the global economy growing 2.7% this year, down a notch from 2.8% projected in June.
The report never mentions Trump by name, although it describes his economic policies.
However, the gloomier forecast stands in stark contrast to many Americans' views about Trump's policies. The stock market has rallied since the election while consumer confidence and business optimism have risen sharply.
Many are betting Trump will cut taxes, ramp up infrastructure spending and get rid of regulations to boost growth.
Related: Trump threatens GM with 'big border tax' in Mexico
But he also wants to get tough on America's trade partners. Trump has repeatedly threatened countries and companies with tariffs and taxes if jobs don't come back to America. Such a trade stance risks putting the U.S. and its major trade partners in a trade war, which would affect the global economy, economists say.
The World Bank warned that Trump's potential trade policies would be bad for the U.S. economy, alluding to Trump's threat to withdraw from NAFTA, the free trade deal between Mexico, Canada and the United States.
"If implemented, plans to retreat from trade agreements or to raise tariffs and trade barriers could lead to retaliatory action and have negative effects on the outlook for the U.S. economy," the World Bank said.
It didn't change its outlook for the U.S. economy, citing Trump's highly uncertain policies as the reason it couldn't forecast U.S. growth. It projects the U.S. economy growing 2.2% this year.
The World Bank's warning on trade wasn't lost on experts.
"They're probably trying to send a message to governments: 'Hey, you're playing with fire here,'" says Scott Anderson, chief economist at Bank of the West in San Francisco. Protectionist trade policy "is one of my bigger concerns about the outlook for the next couple of years."