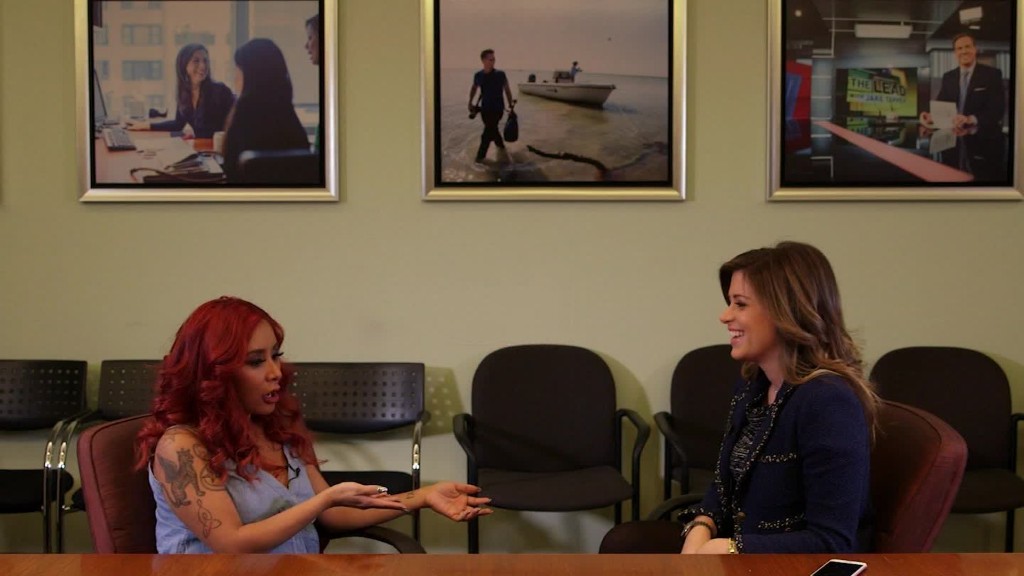 Nicole "Snooki" Polizzi thinks it's a "little weird" that President-elect Trump was tweeting about the ratings of the new "Celebrity Apprentice" instead of getting ready to run the country.
Polizzi, best known as Snooki from her "Jersey Shore" days, was tearfully bounced from the show that is now hosted by Arnold Schwarzenneger.
Trump, who remains a producer of the show, mocked the show's ratings which were lower than when he presided over the show with his trademark "You're fired!"
"For our next president he should worry about what's going on in our country and not a television show," Polizzi told CNNMoney. "So I think it's a little weird. I just hope eventually once he gets into office is that he focuses on what he should be focusing on and not reality TV."
Polizzi agrees with the recent poll of 71% of Americans aged 18-34, who are in favor of Trump's Twitter account being shut down.
"I mean I'm surprised they haven't [taken away his Twitter] yet for real. Don't you have a team? Like, come on," she said. "It's kind of guilty pleasure, but then you think, 'Oh my God, he's actually our president.'"
Related Link: Americans to Trump: Delete your account
Polizzi was hesitant to do the show, but when she learned Schwarzenegger was going to be the boss, she was in.
"I'm a huge fan of Arnold, so I was super excited for him to be the boss," she said. "He was one of the main reasons why I said yes to the show ... I'm obsessed with Arnold, so [I thought] I'm going to regret it if I say no."
Despite Trump's jabs, Polizzi doesn't think ratings should be an indication of how good the show is because she says there's plenty of "drama" this season.
"But personally for me, I think we killed it," she said. "The cast is a hot mess, there's a lot of drama. I mean, I cry, so that's good ratings right there, but I think overall everyone just enjoyed the show, so ratings or not, it was a good experience."
Even though Polizzi admits the show wasn't "a good fit" for her, she has her money on a few of her fellow cast members to win it all.
"[You've got to be] cut throat, no heart, throw people under the bus," she said. "Porsha [Williams] definitely doesn't give a crap. She's very strong. Laila Ali is very strong. I also think Boy George and Carson Kressley, I mean they can get it done."
Now if Trump comes after her on Twitter she's prepared.
"I'd block him," she said.