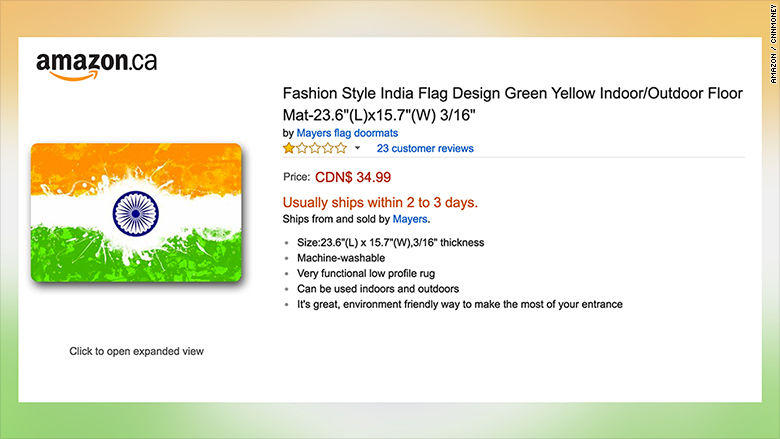 India angrily told Amazon that its flag could not be used as a doormat, and Amazon quickly yanked them.
The doormats, sold by a third-party vendor on its Canadian website Amazon.ca, violate India's Flag Code -- and the country's minister of external affairs, Sushma Swaraj, made it clear in a series of Twitter posts Wednesday that India won't tolerate misuse of its flag.
"Amazon must tender unconditional apology. They must withdraw all products insulting our national flag immediately," Swaraj wrote. "If this is not done forthwith, we will not grant Indian Visa to any Amazon official. We will also rescind the Visas issued earlier."
Amazon confirmed Wednesday that the products are no longer on its site. The company declined further comment.
India's Flag Code has strict rules regulating how the national symbol is used and displayed. The rules state that the flag, often called the Tricolour, should never touch the ground.
They also prohibit the printing of the flag's design on any clothing or furniture. Using it as a doormat would thus violate multiple rules.
Many Indian users were outraged, and posted angry comments on the flag-doormat's product page before it was taken down. The product also had nearly 50 one-star ratings.
"You cannot insult a national flag of India by making a doormat of it," one user said.
India isn't the only country whose flag features on a doormat sold on Amazon -- several others, including the U.S., U.K. and Mexico are also available.
Amazon (AMZN) has committed to massive investments in India. In June last year, the company announced plans to pump $3 billion into its India operations, on top of a $2 billion investment the company made there in 2014.