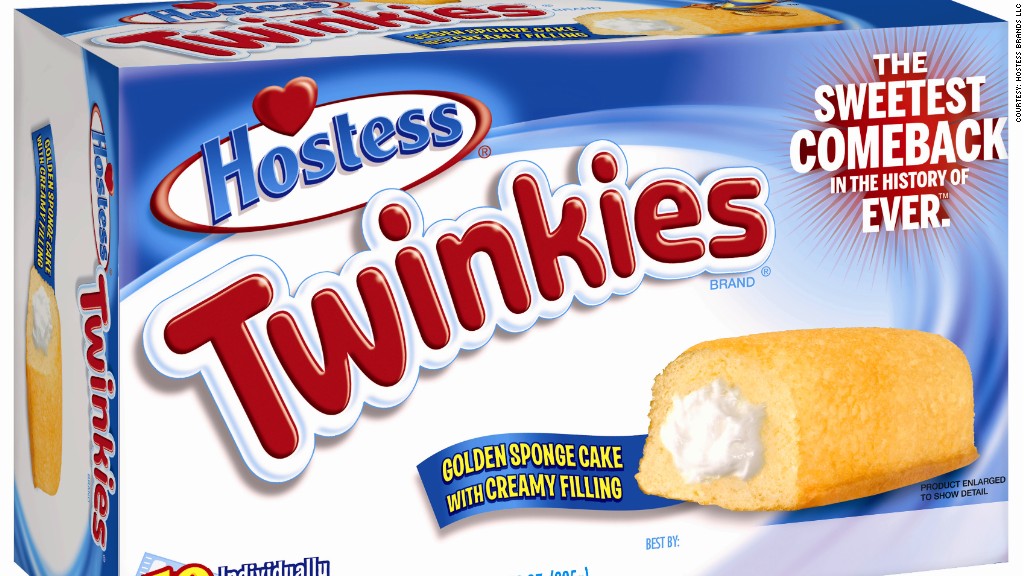 One of the market's hottest stocks also happens to be one of the sweetest and most decadent: Twinkies maker Hostess Brands.
Hostess shares have surged nearly 25% since the day before the presidential election. (I wonder if President-elect Donald Trump is a fan of Twinkies? His son Donald Trump Jr. tweeted an "R.I.P Twinkies" message when Hostess went bankrupt in 2012.)
November 7 is the first day that Hostess (TWNK) began trading again as a public company.
Hostess has had a complicated history since its bankruptcy, a year after which it was bought by two private equity firms. Last year, the new Hostess owners sold a majority stake to another private equity firm that was already publicly traded.
That company -- Gores Holdings -- went public in 2015 with the sole intention of buying other firms. Gores Holdings took over Hostess, changed its name to Hostess Brands and its ticker symbol to TWNK (get it?) as well.
What's driving the comeback? Depressed Democrats eating more Ding Dongs and Ho Hos following Trump's win and Republicans keeping control of Congress? I kid!
But Hostess does seem to be doing well because its new owner is embracing its roots as a classic maker of sinful, comfort food.
Related: Long live Twinkies! Hostess returns to Wall Street
Last year, the company announced a deal with Walmart (WMT) to sell frozen versions of Deep Fried Twinkies, long a staple at county fairs across the nation. There's even a banana-flavored version! Yum!
Hostess also has a new deal with Nestle (NSRGF) to start selling ice cream featuring the flavors of three of its most iconic brands -- Twinkies, Sno Balls and CupCakes.
Investors are eating it up. The stock hit an all-time high this week, despite the news that Hostess was recalling a limited edition holiday version of White Peppermint Twinkies due to salmonella risks. The main Twinkies product is not affected by the recall.
Hostess management also held a presentation at an investor conference earlier this week where they touted some of the new products and highlighted the big financial improvements the company has made since emerging from bankruptcy.
Revenues and profits are up. Expenses are down.
So as long as Hostess can continue to wow investors with solid sales and delight consumers with tasty treats, the stock could keep climbing.
But the proof of Hostess' comeback will be, as they say, in the pudding. Perhaps in a new version of the defunct Hostess Teenage Mutant Ninja Turtles pudding pies?