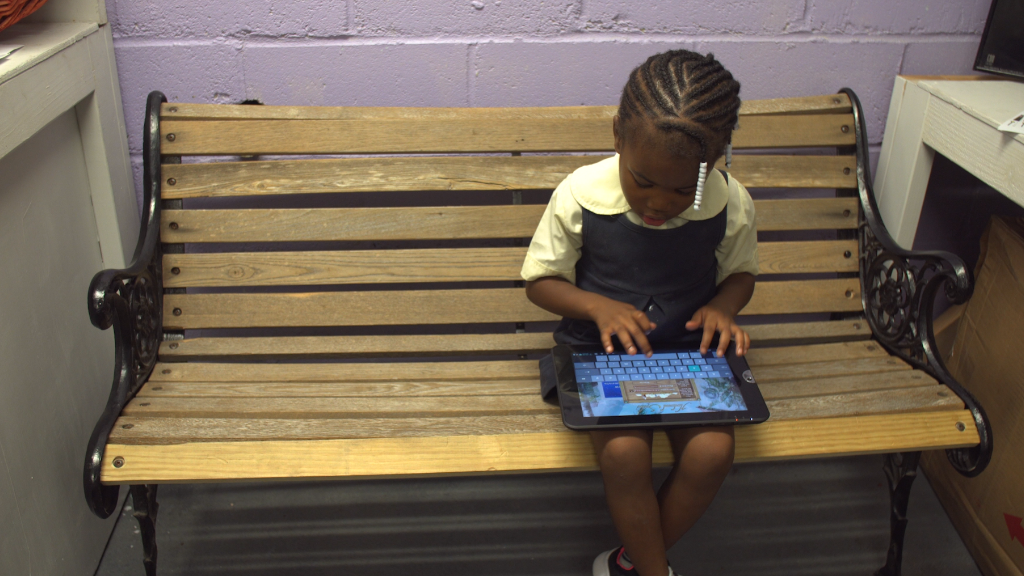 Can technology deliver lasting solutions to urban America's most pressing social problems?
In 2016, the Rockefeller Foundation teamed up with the Unreasonable Institute to challenge entrepreneurs to tackle issues like homelessness, food access and education.
"We wanted innovative solutions coming from the next generation of entrepreneurs who themselves may have experienced these issues," said Teju Ravilochan, cofounder and CEO of Unreasonable Institute, a social impact startup hub.
The Future Cities Accelerator challenge drew more than 300 entries from startups around the country. Ten finalists received $100,000 each to invest in their startups.
Here are five of them:
Boost preschool literacy with mobile phones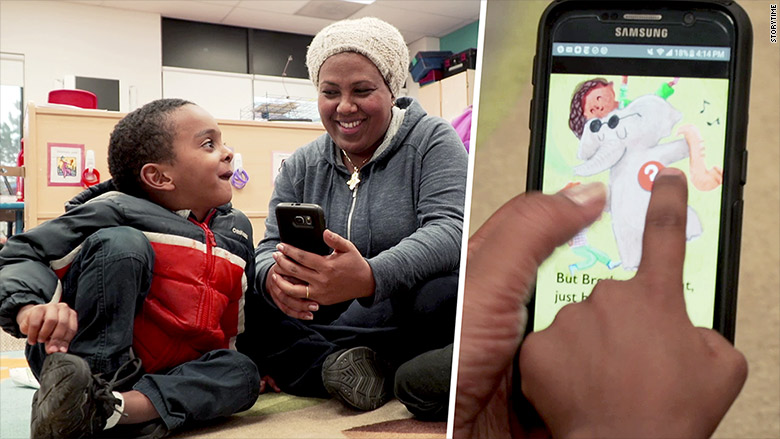 Studies have shown reading to young children is one of the most important things you can do for their development. However, many low income families can't afford books.
Phil Esterman, cofounder and CEO of Storytime, saw this firsthand.
"I taught a preschool class in a Florida community where a lot of the families had no books, or time to read them to their children," said Esterman. "These families were struggling for their basic needs."
But all of the families in the class did have one thing: mobile phones. "Texting was second nature to them," he said.
Related: How this Denver manufacturer is helping rebuild lives
Esterman, who studied computer science at Yale and had a passion for social policy, got to work. With two friends, he developed an app that would let teachers text illustrated books to families.
Storytime launched in 2016, and schools in 12 states are already using the free app.
"Teachers told us it's helped improve [students'] literacy and more than doubled reading at home," Esterman said. "One teacher said she felt she was giving families a gift every night."
Teach programming to underserved communities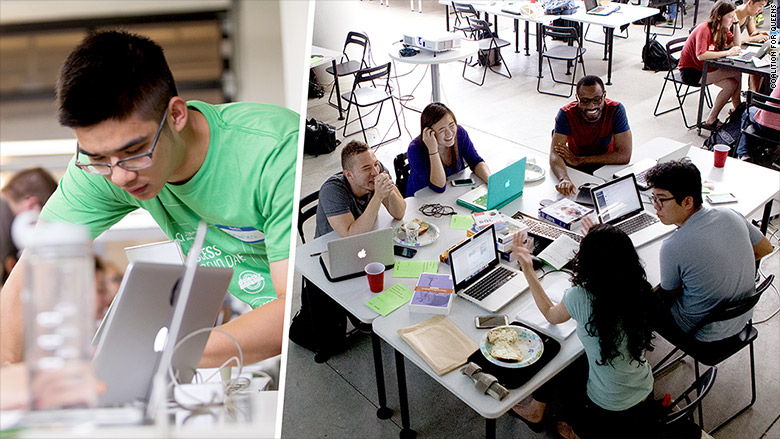 Jukay Hsu believes access to tech education shouldn't be restricted by people's socioeconomic status.
In 2013, Hsu cofounded Coalition for Queens with the aim of giving people in underserved communities the opportunity to learn coding and programming.
The 10-month program is free for students but requires participants to commit to paying a percentage of their first two year's salary back to the organization to support future classes.
In three years, the program has graduated 100 people with another 150 set to graduate in 2017. "More than 60% of our students are black or Hispanic, half are women and half are without college degrees," said Hsu.
Related: This school helps inexperienced programmers land jobs at Apple
More significantly, the course (funded in part by Google for Entrepreneurs and Blackstone Foundation) has meaningfully pushed up incomes.
"Before enrolling, average salaries of our students is $18,000 a year. After graduating, it jumps to $85,000," Hsu said. "It's a pathway to becoming middle class."
Increase Internet access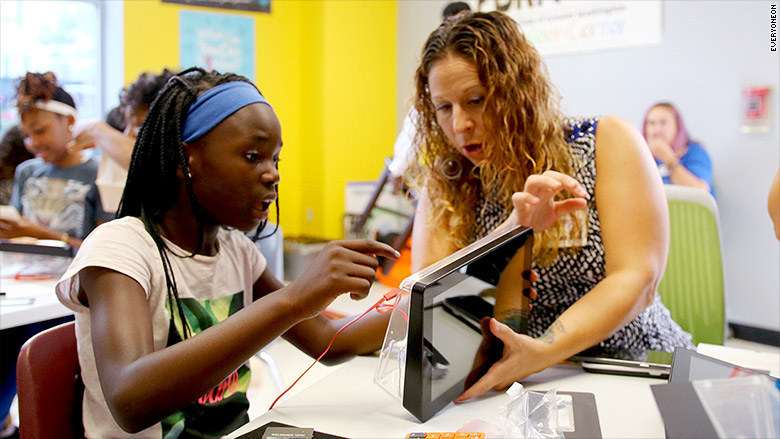 20% of Americans don't have Internet access at home.
"Most of this population is disproportionately poor or of color," said Chike Aguh, CEO of EveryoneOn, which partners with internet service providers to get affordable access to low-income households. with plans as low as $10 a month.
Lack of Internet at home is a huge barrier to children's learning -- and to job placement as well.
"Most kids need this access to do their homework. And thinking beyond school, 90% of college and job applications are done online," said Aguh.
Since it launched, D.C-based EveryoneOn has connected more than 405,000 people to the internet -- sometimes with plans as low as $10 a month.
Related: In Charleston, underserved kids get coding classes in a laundromat
Speed up food stamp eligibility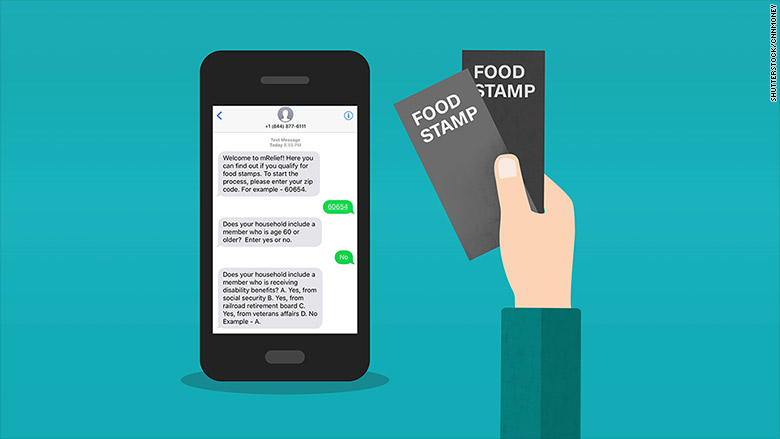 Families in need endure a cumbersome administrative process when they need access to necessities like food.
"The biggest challenge for the 47 million Americans in poverty is getting timely benefits," said Rose Afriyie, cofounder of Chicago-based mRelief. "It's why $13 billion in food stamp benefits go unclaimed annually."
In Illinois, food stamp applicants are required to fill out an 18-page application or sit through a 90-minute phone call and submit as many as 10 supporting documents. In other states, it's an even lengthier process.
MRelief created an online platform that helps families can determine in just a few minutes if they qualify for food stamps. It launched in 2014 and more than 100,000 families in 42 states have used it to secure food stamps.
Bring low-income housing applications online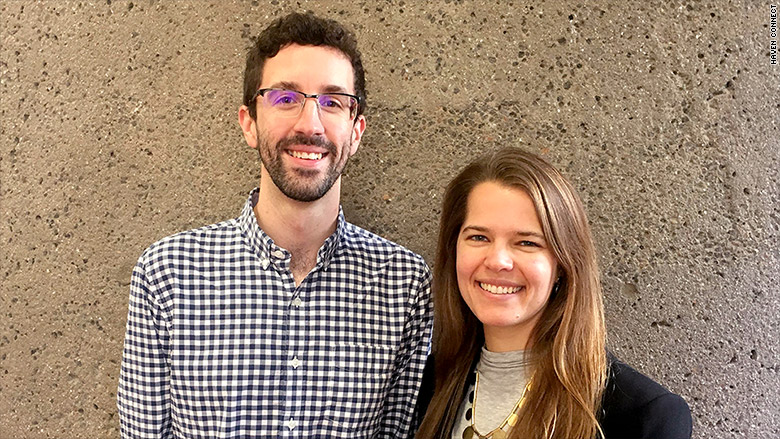 As a social worker helping homeless families find housing, Caroline Caselli was frustrated by the onerous paperwork.
"Sometimes I could only do 15 to 20 applications in six months," she said. Many low-income families wanted to apply to more properties, but there wasn't a centralized place to look for housing. "It's a heavy burden on them," she said.
So Caselli turned to technology to speed up and streamline the process. She launched San Francisco-based Haven Connect, an online platform that makes the affordable housing application process easier for applicants and property managers.
Caselli piloted it last year in Palo Alto, San Mateo, and in San Carlos, California. She hopes to expand into the 19 other states that accept electronic signatures on affordable housing applications.