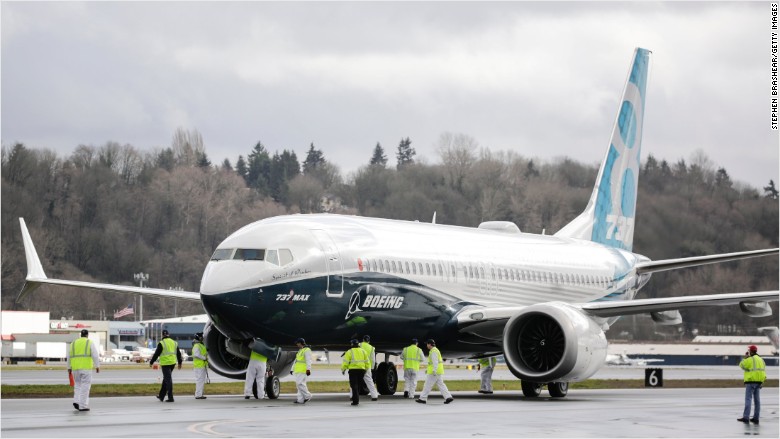 Boeing has won a massive deal to sell its new 737 jet into the rapidly growing Indian market.
The U.S. plane maker is going to supply another 100 of its 737 Max 8 jets to Indian budget airline SpiceJet, an order Boeing says is worth about $11 billion at list prices.
It builds on an earlier SpiceJet order for 55 of the 737 Max model, and the airline has the option of buying 50 more in future. Together, the 205 jets would be worth $22 billion at list prices.
The new planes will be delivered between 2018 and 2024, the companies said.
The deal boosts Boeing's drive to expand its business in India, which is one of the world's largest and fastest growing aviation markets. Its top rival, Airbus, supplies aircraft to several Indian airlines.
"We're honored to be here in India in a big way, and this is truly a demonstration of that commitment... to our partners and to the country of India," Boeing (BA) vice chairman Ray Conner said Friday.
Related: The world's new planes in 2017
Boeing's fourth-generation single-aisle Max 8 has two new engines and a new tail section and winglets -- designed to cut fuel consumption by 14%.
The Max 8 is the first of four 737 Max models Boeing is designing.
Boeing has thousands of orders for the 737 Max, including from China's airlines. It is also seeking buyers for the new 737 Max 10X, a longer plane that aims to compete with the Airbus A321neo.
SpiceJet chairman Ajay Singh said the airline was considering buying the Max 10X in future.
Friday's deal will strengthen SpiceJet's ability to compete in the crowded Indian aviation market, Singh told CNNMoney. He said the low-cost airline is planning to add more routes to destinations in the Middle East, east Asia and eastern Europe.
Related: Business class or private jet? This young Indian entrepreneur can help
With a booming economy and a rapidly growing middle class, more Indians are taking to the skies than ever before. Air travel grew by more than 20% last year, and India is projected to overtake the U.K. as the world's third largest aviation market by 2026.
The 50 Boeing planes SpiceJet has the option of buying also include wide-body aircraft, which would allow it to undertake long-haul international flights.
"With this deal," Singh said, "we think we are well placed to take on the world."