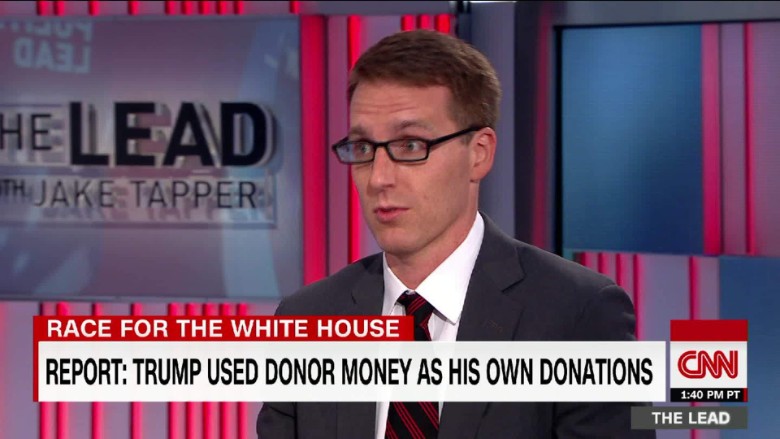 Washington Post reporter David Fahrenthold, a breakout star of the 2016 campaign for his coverage of Donald Trump's foundation, is CNN's newest contributor.
Fahrenthold was introduced with his new title on "The Daily Show with Trevor Noah" on Monday night, making it official.
Like other CNN contributors who work at major newspapers, Fahrenthold will remain full-time with The Post but will appear on the network regularly.
The contributor role is sure to be newsworthy because Fahrenthold was behind some of the biggest scoops of the campaign season. Editors and journalism professors pointed to his work as a prime example of how to investigate organizations and involve readers in the reporting process.
Some media critics expect that Fahrenthold will be in the running for a Pulitzer Prize later this year.
Related: The secrets of David Fahrenthold's reporting on the Trump Foundation
Fahrenthold painstakingly documented Trump's lack of charitable giving. Poynter called him a "charity sleuth." He also obtained the "Access Hollywood" tape that upended the campaign in early October. Slate subsequently called him "the man who owns the Trump beat."
In December, the Post awarded him the news organization's first annual Ben Bradlee Prize.
At the time, the Post's publisher Fred Ryan said Fahrenthold's work "dominated political conversation during much of the presidential race and ranks as one of the greatest runs of political journalism in recent memory."
Related: CNN to Sean Spicer: Jim Acosta 'has our complete support
CNN has dozens of on-air contributors -- some of whom are Democratic and Republican partisans and others, like Fahrenthold, who are professional journalists.
Contributors appear across the network's daytime and prime time lineup.