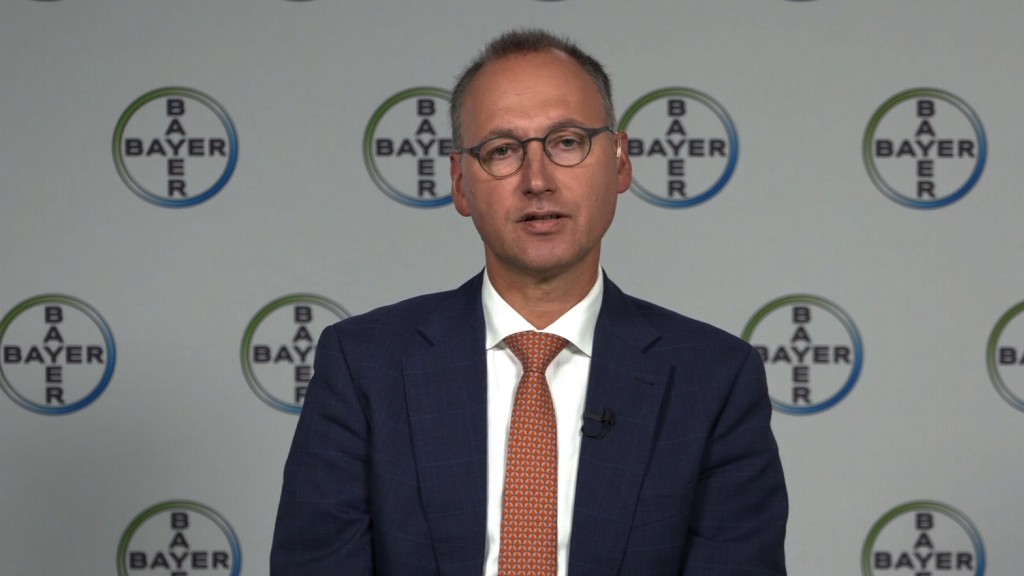 Following Donald Trump's meeting with the CEOs of Monsanto and Bayer last week, the president-elect's transition team says the companies will increase research and development spending in the U.S. and keep Monsanto's headquarters in St. Louis.
But will any workers lose their jobs?
German pesticide and drug giant Bayer is planning to buy American seed and fertilizer king Monsanto. That deal was announced before Trump was elected president.
Since then, Trump has made clear his views on global trade are a lot different from the Obama administration's.
Incoming White House press secretary Sean Spicer told reporters Tuesday that, after the meeting, the two companies have committed to $8 billion in R&D spending within the U.S.
A spokesman for Bayer confirmed to CNNMoney that Bayer (BAYRY) CEO Werner Baumann and Monsanto (MON) CEO Hugh Grant met with Trump.
The spokesman said they told the president-elect that the combined company planned to spend $16 billion on R&D -- at least half in the United States.
Spicer added that Monsanto and Bayer pledged to keep all of Monsanto's nearly 10,000 U.S. workers. The companies said they plan to create more than 3,000 high-tech jobs in the United States.
Related: Bayer buying Monsanto in $66 billion deal
Spicer said this was happening because of Trump's "focus on creating a better business climate here in the United States."
Is that really true, though?
The Bayer-Monsanto deal was announced in September -- a time when many people thought Hillary Clinton would be the next president.
At the time, Bayer said that St. Louis would remain the North American headquarters of Monsanto and be the home of the global seeds business for Monsanto and Bayer.
Bayer also said that San Francisco would be the home of the combined company's digital farming unit, which uses real-time data on weather, soil quality and other measurements to make growing crops more efficient.
So Trump isn't necessarily keeping Monsanto in St. Louis. The company was never going to leave.
As for jobs, it's still unclear whether all Monsanto employees will remain with the company.
The Bayer spokesman did say the merger would "create several thousand new high-tech, well-paying jobs ... jobs that will keep America at the forefront of agricultural innovation and that serve U.S. farmers by delivering better products and services faster."
Bayer said that geneticists, roboticists, satellite imagery specialists, engineers, data scientists, advanced breeders and statisticians were the types of jobs the combined company would be looking to add.
But the Bayer spokesman did not address Spicer's claim that no jobs would be lost.
Executives for the two companies had hinted after the merger was announced that it could lead to job cuts on the administrative side of the business to reduce overlap -- a common post-merger occurence.
According to a St. Louis Post-Dispatch report after the deal was announced, Liam Condon, head of Bayer's crop science division, told journalists it was a good assumption R&D jobs were safe, but that it was "too early" to say what might happen to administrative jobs.
Bayer was not immediately available to clarify whether or not any decisions had been made about Monsanto administrative jobs in the past few months. Monsanto did not have a comment.
--CNN's Noah Gray contributed to this report.