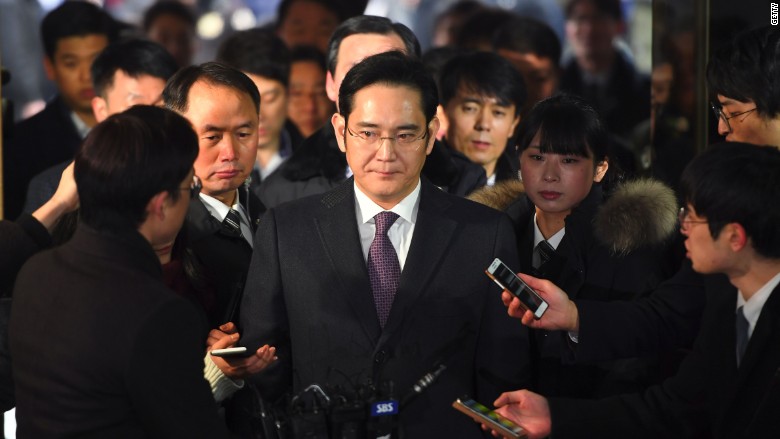 A South Korean judge has rejected prosecutors' request to have the heir to the Samsung business empire arrested.
Lee Jae-yong, Samsung's de facto leader, remains a suspect in the investigation into a huge political corruption scandal that has rocked South Korea.
Prosecutors are accusing him of bribery, embezzlement and perjury. They say Lee, who's also known as Jay Y. Lee, paid tens of millions of dollars to win government support for a controversial merger that helped tighten his grip on the country's biggest conglomerate.
After hearing arguments from both sides on Wednesday, Seoul Central District Court Judge Cho Eui-yeon said early Thursday he was turning down the request to have Lee detained, citing a lack of evidence.
Prosecutors said they were were disappointed with the judge's decision, but will "steadily" pursue their investigation into the widening corruption scandal.
Related: South Korea's long history of light sentences for business leaders
Lee, who was questioned for 22 hours last week, has denied any wrongdoing. Samsung also disputes the bribery allegations. It said in a statement Thursday that the case against Lee "can now be determined without the need for detention."
Many South Koreans slammed the decision on social media, accusing the judge of giving Lee lenient treatment. Within hours of the decision, the top two trending terms on Twitter in South Korea were "rejection of warrant" and "Judge Cho Eui-yeon."
Prosecutors accuse Lee and Samsung of providing 43 billion won ($36.3 million) to organizations linked to a confidante of President Park Geun-hye in return for government backing of a contentious merger of two Samsung affiliates in 2015.
South Korea's National Pension Service provided vital support for the deal, which enabled Lee to increase control over Samsung Electronics (SSNLF) and helped pave the way for him to potentially succeed his ailing father as chairman of Samsung Group.
Related: South Korean prosecutors seek to arrest Samsung heir
Earlier this week, National Pension Service chief Moon Hyung-pyo was indicted on charges of perjury and abuse of power. He's accused of pressuring the fund to support the Samsung merger when he was minister of health and welfare.
Lee and Moon's cases are part of the far-reaching scandal that has driven hundreds of thousands of South Korean protestors to the streets and prompted lawmakers to vote to impeach Park. Other top South Korean companies are also under investigation.
Samsung's links to the corruption investigation have done further damage to the company's image after the humiliating fiasco over its fire-prone Galaxy Note 7 smartphone last year. Results of an investigation into what caused the smartphones to catch fire are expected to be announced this month.
Lee, who's 48 years old, isn't the first South Korean business leader to face accusations of corruption, and he probably won't be the last. His father, Samsung Group Chairman Lee Kun-hee, was convicted twice -- and pardoned twice. Prosecutors have raided the offices of other big conglomerates in the country as part of the investigation.
Top business leaders are so frequently accused of corruption in South Korea that "it's almost a rite of passage," said David Kang, director of the University of California's Korean Studies Institute.
-- Stella Ko contributed to this report.