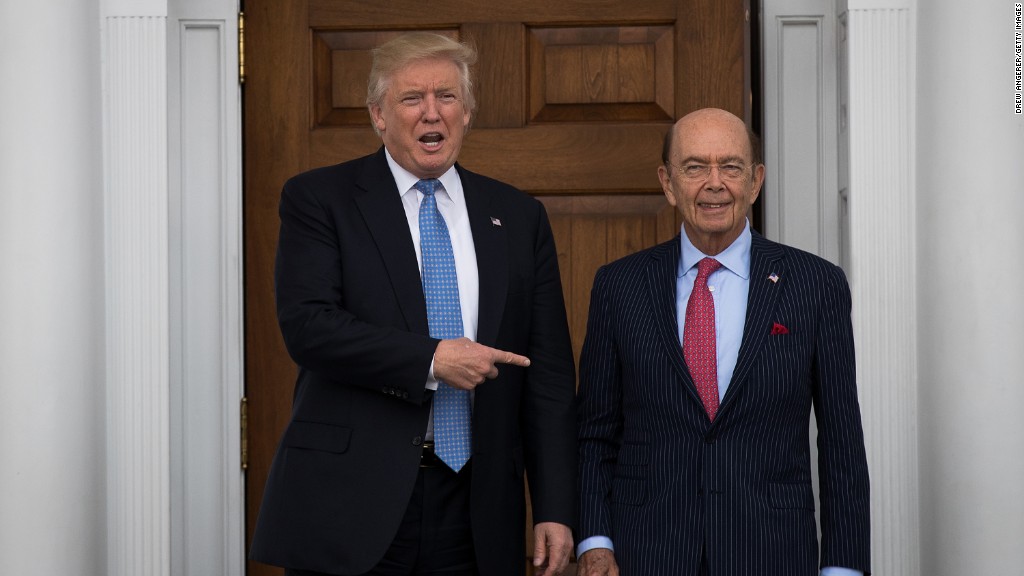 Wilbur Ross is a billionaire investor unaccustomed to being under the spotlight or being questioned publicly. But that's exactly what is scheduled to happen on Wednesday when he auditions before the U.S. Congress to become commerce secretary.
Ross, who's made a fortune by investing in failing companies, will likely face questions during his 10 a.m. ET Senate confirmation hearing about President-elect Donald Trump's trade agenda to resurrect U.S. manufacturing jobs.
Lawmakers are poised to grill Ross, 79, also about potential conflicts of interest linked to his fortune and lengthy career. Ross has sought to ease those concerns by reaching an ethics agreement, a common deal between political appointees and government ethics experts.
It is aimed at removing possible conflicts, where the appointees may stand to personally gain from their decisions as top government officials.
Ross's ethics agreement calls for him to sell some, but not all, of his web of assets. He plans to hold on to nine investment vehicles including hedge funds that have assets in shipping, mortgage lending and real estate financing. Ross said that ethics officials approved this plan because these is only a "remote" chance he will need to be participate in matters concerning these assets.
The ethics agreement also allows Ross to delay the sale of other less liquid assets for up to six months. Ross has agreed to step down after getting confirmed from Invesco as well as its various divisions. That includes WL Ross & Co., the private-equity firm he founded in 1997.
Traditionally, the commerce secretary is an emissary to the business world who promotes U.S. companies and ensures markets run well.
But Ross's role may be more elevated. Trump aims to give the Commerce Department a bigger role on trade policy and negotiations, sources have told CNN's Jeremy Diamond. Shortly after his selection, Ross told CNN that his first goal would be to renegotiate NAFTA.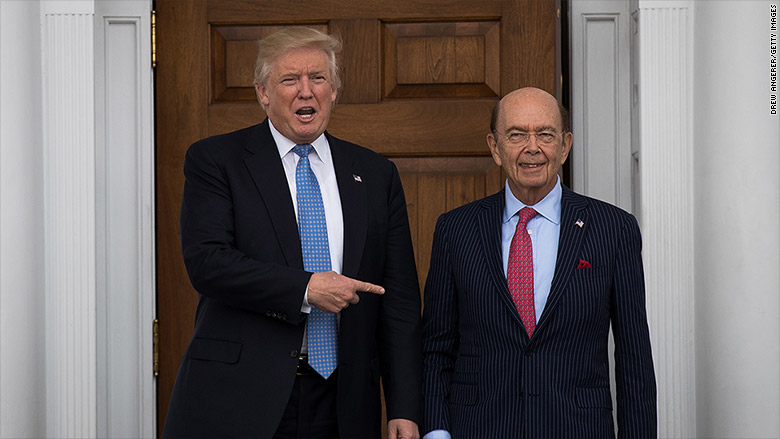 Related: Trump taps 'King of Bankruptcy' as Commerce Secretary
There was also a 57-page financial disclosure report made available late Tuesday. Among many other assets, the report listed unvested restricted stock worth between $5 million and $25 million in Invesco (IVZ), which owns Ross's private-equity firm. Ross said that the shares will vest once he resigns from the firm, as is standard Invesco policy for friendly terminations like his.
Ross, a vocal Trump supporter before the election, has made a career resurrecting dying companies. Fittingly, some of Ross's biggest hits have been in the same demoralized industries that Trump wants to revive: steel and coal.
Ross wrote in his confirmation questionnaire that this experience makes him "well-versed" in the global competitive challenges facing manufacturing companies and "successful strategies for revitalizing them."
Along the way, Ross has also amassed a fortune that's worth $2.5 billion, according to Forbes.
Related: Remove car imports, and U.S.-Mexico trade gap disappears
Trade is likely to be a hot topic during Wednesday confirmation hearing.
Ross co-authored a white paper on the Trump website in September with Peter Navarro, the vocal critic of China tapped to lead Trump's newly created White House Trade Council, laying out how America can level the free trade playing field in part by cutting taxes and renegotiating trade deals.
Former Treasury Secretary Larry Summers bashed the paper as "beyond voodoo economics" and the "economic equivalent of creationism."
Ross represents a group of Trump advisers that is highly critical of U.S. trade deals. Ross told CNN that the renegotiation of NAFTA is one of the first things he'll tackle when Trump takes office.
But much uncertainty remains over what Trump will demand on NAFTA and whether he would carry out campaign threats to slap big tariffs on Mexico and China.
Interestingly, Ross's personal positions on trade policy and relations with China are a bit fuzzy, as CNN's KFile recently reported.
For instance, Ross called the Trans-Pacific Partnership trade agreement a "horrible deal" after the election.
However, before the election and as recently as May, Ross went on Bloomberg to say he differed from Trump's criticism of TPP.
"I like the TPP," Ross said at the time. (Ross did say he agreed with Trump that U.S. trade deals need to be "more muscular" than in the past).
Ross also signed a 2015 pro-TPP letter that argued the deal would be a "catalyst for creating new jobs" in the U.S.
Ross has also at times defended China, a country that Trump has said is "raping" America.
"I think the China bashing is widely overdone in this country," Ross said on CNBC in 2012.
--CNN's Jeremy Diamond, Andrew Kaczynski and Patrick Gillespie contributed to this report