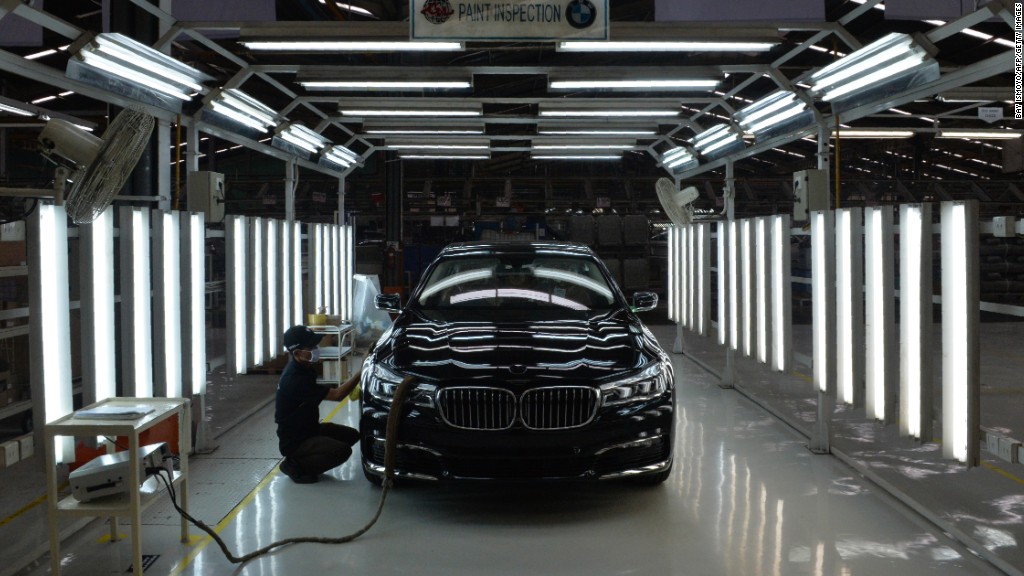 Under attack from President-elect Donald Trump for its investment in Mexican plants, General Motors announced plans Tuesday to invest at least $1 billion in U.S. factories and committed to creating or retaining about 7,000 U.S. jobs in the coming years.
The company will move 450 jobs from GM supplier plants in Mexico back to the U.S., and will keep another 1,500 factory jobs in the U.S. that were at risk of moving to Mexico. In addition, GM is adding 5,000 jobs to its finance and technology operations.
"As the U.S. manufacturing base increases its competitiveness, we are able to further increase our investment, resulting in more jobs for America and better results for our owners," said GM CEO Mary Barra. "The U.S. is our home market and we are committed to growth that is good for our employees, dealers, and suppliers and supports our continued effort to drive shareholder value."
Related: GM cutting 1,300 jobs at only plant inside Detroit
All of these plans have been in the works for some time, according to a company executive, and aren't part of any deal with Trump. Tuesday's press release made no mention of the president-elect. But the company joins a number of major employers eager to demonstrate a commitment to U.S. jobs ahead of Friday's inauguration.
Earlier Tuesday, Walmart (WMT) said it would add 10,000 U.S. jobs this year. Last week, Amazon (AMZN), a frequent target of Trump criticism, announced it add 100,000 U.S. jobs.
Ford scrapped plans for a $1.6 billion plant in Mexico two weeks ago and said it would expand a Michigan plant, adding 700 jobs there. Lockheed Martin (LMT), which, like Ford, had been criticized by Trump, announced Friday it would add 1,800 jobs to its F-35 fighter program. And Sprint (S) said it is bringing 5,000 jobs back to the US.
Related: Walmart adding 10,000 U.S. jobs
Trump has threatened to impose a 35% tax on cars imported from plants in Mexico. At his first post-election press conference last week, Trump predicted GM would be making this kind of U.S. investment announcement.
"I hope that General Motors will be following, and I think they will be," he said. "I think a lot of people will be following. I think a lot of industries are going to be coming back."
Details of the investments and jobs were not revealed, and will be rolled out later this year, the company said.
The company recently announced layoffs at three U.S. plants, eliminating three shifts and about 3,300 jobs, because of slowing sales. But in its 2015 labor deal with the United Auto Workers union, GM (GM) committed to $1.9 billion in additional investment in U.S. plants as a form of job protection for the union's membership. And even with the recent layoffs, the company has added 25,000 jobs to its U.S. work force since its 2009 bankruptcy and federal bailout, despite investment in Mexico and China plants.