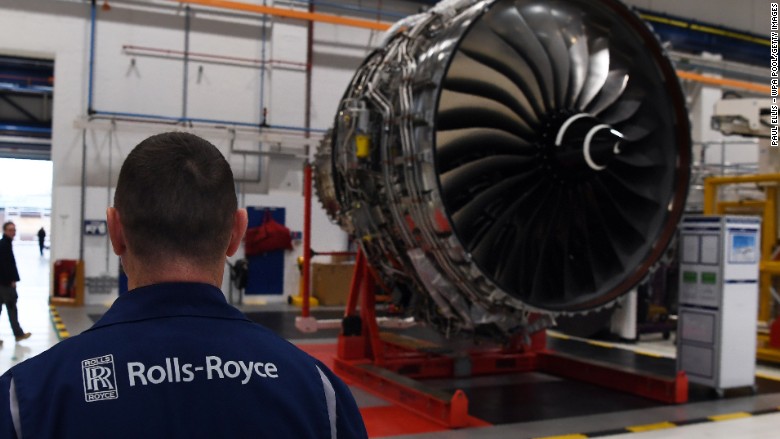 Tangled up in corruption investigations on three different continents, Rolls-Royce will shell out more than $800 million to deal with the legal fallout.
The British engineering giant says it has reached settlements with authorities in the U.K., the U.S. and Brazil over bribery allegations it is facing across the globe. The agreements -- which are yet to be finalized -- total £671 million ($813 million), the company announced.
That includes around $170 million to the U.S. Department of Justice, $25 million to Brazil's Ministério Público Federal and over $600 million to Britain's Serious Fraud Office.
"Rolls-Royce has co-operated fully with the authorities and will continue to do so," the company said in a statement. It added that the bribery allegations involved "intermediaries in a number of overseas markets."
Related: Rolls-Royce entangled in Brazil's corruption scandal
The British investigation into Rolls-Royce (RYCEF) began in 2012 over alleged malpractice in countries like Indonesia and China. Three years later, the company was implicated in a far-reaching corruption scandal at Brazil's state-owned oil company Petrobras.
The engineering firm has its origins in the luxury automaker that shares its name, but the two are separate companies now (Rolls-Royce Motor Cars is owned by German car manufacturer BMW). Rolls-Royce manufactures engines and power systems for aircraft, ships and energy producers.
The company employs more than 50,000 people -- including some 16,000 engineers -- across 46 countries.
Rolls-Royce is set to report its earnings for 2016 next month. It said it will provide more information about the impact of the bribery settlements then.
Investors welcomed news of the settlements: Rolls-Royce shares rose more than 6% early Tuesday.