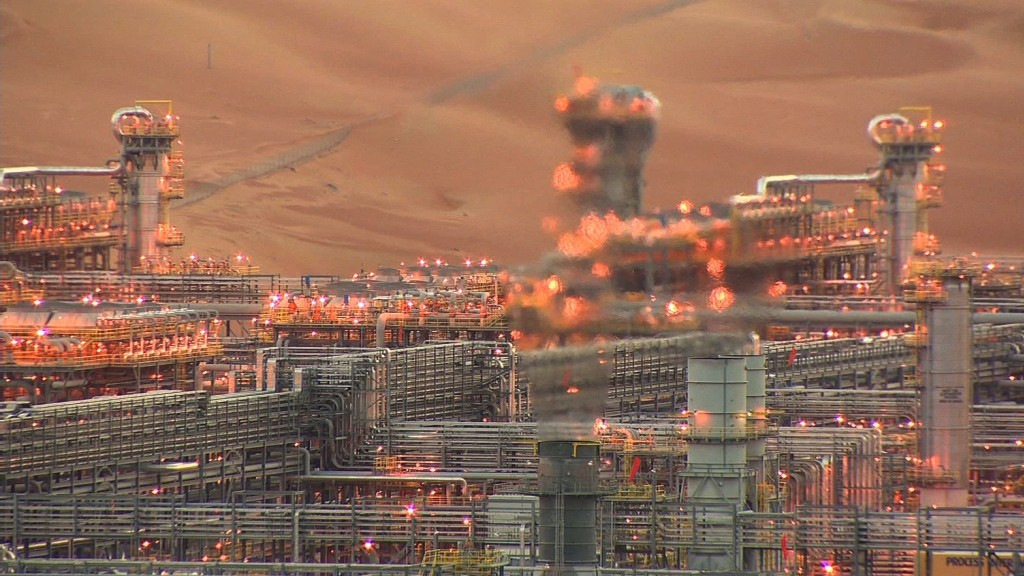 The International Monetary Fund has sharply cut its economic growth forecast for Saudi Arabia.
The organization expects the Saudi economy to grow 0.4% this year, down from a forecast of 2% just three months ago, because of OPEC oil production cuts.
Saudi Arabia and other major oil producers agreed to the cuts in December to ease a glut of supply that had caused prices to collapse.
Timothy Callen, assistant director for the IMF's Middle East and Central Asia Department, said Saudi Arabia's economic output from oil could shrink this year. The IMF lowered its growth forecast for other parts of the Saudi economy to 2%.
"We are still expecting a pickup, but not quite as strongly as we previously expected," Callen said.
Related: OPEC could extend oil production cut by six months
The drop in oil prices has forced Saudi Arabia to rethink its economic strategy. Last year it announced Vision 2030, a plan to wean its economy off oil.
The kingdom's budget deficit swelled to 366 billion riyals ($98 billion) in 2015, and 297 billion riyals in 2016. It was forced to borrow money from international investors for the first time, raising $17.5 billion in October.
The IMF expects Saudi Arabia to tap the international markets again this year.
Saudi Arabia already slashed energy subsides, cut wages for officials and warned of four more years of austerity.
Related: How many Saudis are only working one hour a day?
Callen said creating jobs will continue to be a challenge. Saudi unemployment runs as high as 12%.
"If jobs are going to be created for Saudi nationals going forward, they are going to be increasingly in the private sector, and that is going to need an employment strategy on how that is going to be achieved," he said.