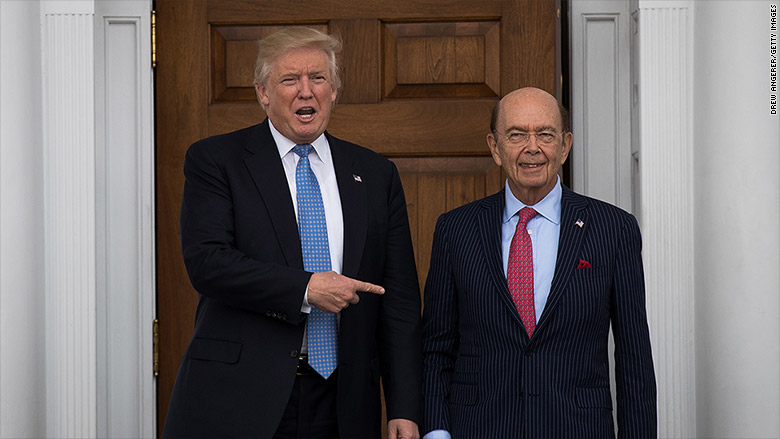 Wilbur Ross, Donald Trump's pick to be Commerce Secretary, criticized in 2007, politicians, who, he said, mindlessly bashed China in order to pander to voters.
Now, his view seems to have taken a turn towards a public opinion more in line with his new boss, President-elect Trump.
Ross -- a billionaire private equities investor whose companies invest and manufacture steel and textile products in China -- was speaking on a panel dedicated to encouraging productive relations between the United States and China.
"What I worry about is the protectionist monster starting to develop in this country and in western Europe," Ross said, when he was asked what factors might inhibit growth in China's economy. Addressing the Committee of 100 -- an organization helping to grow relationships between China and the US --Ross hinted he feared politics was getting in the way in regard to China.
"This mindless China bashing that's going on, people introducing legislation that they know is not even enforceable under WTO rules. Why? Just to pander to the voters. And I fear that as we get farther into the presidential election cycle, there may become more and more of that. And I think that's the greatest danger that China and other developing nations face right now, is a return of the west, especially the US, to a kind of isolationist mentality and a protectionist mentality."
A Trump transition spokesperson did not respond to a request for comment.
President-elect Trump made criticizing China a cornerstone of his campaign speeches, saying the U.S. was already in a trade war with the country, and has promised to revise America's trade policy to impose punitive tariffs on Chinese imports once he enters the oval office.
This isn't the first time Ross's past statements have clashed with Trump's economic vision. CNN's KFile has previously reported that in 2015 he signed a letter endorsing the Trans-Pacific Partnership, and in 2012 said that US jobs would not come back from China. Ross said those jobs would remain outside the U.S. - in countries with lower production costs.
More recently though, Ross has begun to echo a similar view of China as the president-elect. In a campaign white-paper he co-authored, on trade in September and posted on the Trump campaign's website, Ross called China the "biggest trade cheater in the world" and said that the country was manipulating its currency to keep it artificially weak against the US dollar.