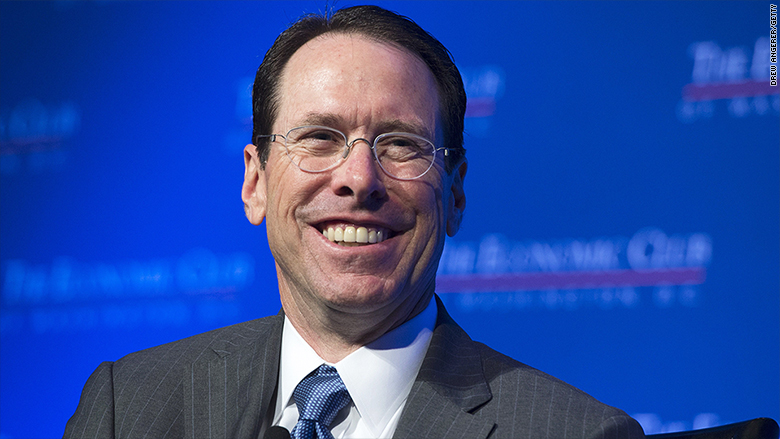 AT&T CEO Randall Stephenson said Wednesday that he is ready to deal with the attention that owning CNN would bring.
"I understand there is going to be a lot of attention, there's going to be a spotlight," Stephenson told CNNMoney's Richard Quest at the World Economic Forum in Davos, Switzerland.
"But it's not the first time we've faced this, and are we prepared for it? Yeah, I think we're prepared for it," he added.
AT&T (T) last year struck a $85.4 billion deal to buy CNN parent company Time Warner (TWX), an acquisition that has drawn opposition from some lawmakers concerned about competition in the media industry.
President-elect Donald Trump spoke out against the deal during the campaign, describing it as "an example of the power structure I am fighting."
More questions over the takeover have been raised in recent weeks after Trump went on the offensive against CNN, describing its reporting as "terrible" and "fake news."
His most strident criticism came after CNN reported that Trump and President Obama were presented with classified documents including allegations that Russian operatives claim to have damaging information on Trump.
CNN released a statement last week in support of correspondent Jim Acosta, who attracted Trump's ire during a contentious press conference.
Related: CNN says Jim Acosta has its 'complete support'
Stephenson said he was prepared for such scrutiny.
"It's not the first time that we'll have been in a controversial area," he said. "We are a rather large company. We face hundreds of thousands of consumers everyday."
Related: AT&T CEO pledges journalistic independence for CNN
Some observers have speculated that Trump could block the merger as a way of punishing Time Warner and AT&T because of his dislike for CNN. Stephenson, however, said he saw no reason to spin off CNN in order to win approval for the deal.
"I don't see what that accomplishes," he said. "To what end, right?"
Stephenson has argued since the deal was struck that it should go through because AT&T and Time Warner are not direct competitors. Time Warner produces media content, and AT&T primarily acts as a distributor.
Related: White House reporters rally for Trump era
Last week, the AT&T boss met with Trump in New York.
"I walked away saying 'This guy is a CEO,' " Stephenson said Wednesday. "He's been very clear about the agenda, and you meet with him, he talks about the agenda."