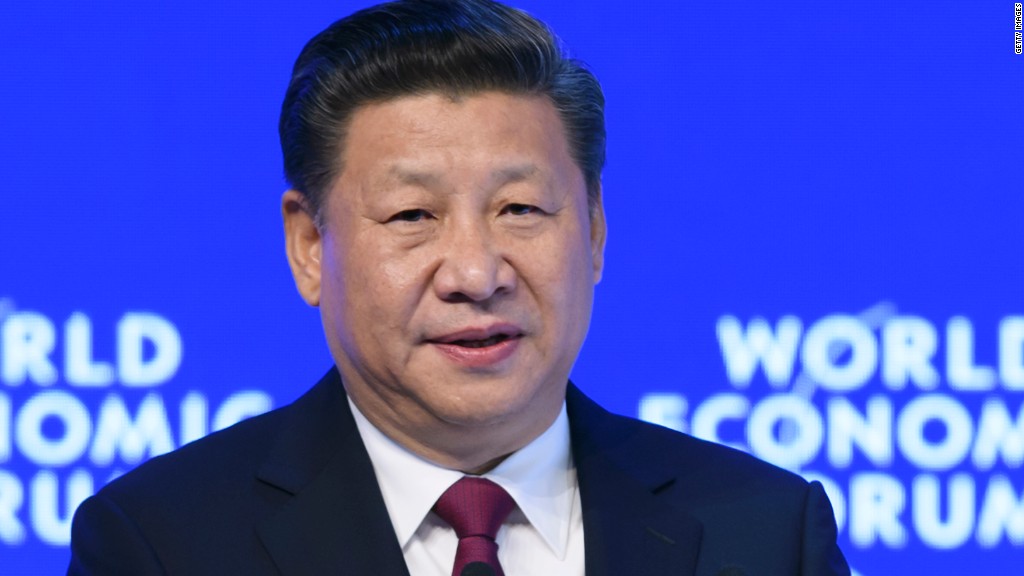 U.S. companies doing business in China aren't buying President Xi Jinping's new status as a free trade champion.
"If one country's products are subsidized and protected in other ways to make them more competitive internationally, is that really free trade?" said William Zarit, chairman of the American Chamber of Commerce in China.
In a landmark speech Tuesday at the World Economic Forum in Davos, Xi mounted a robust defense of globalization. "We must remain committed to free trade and investment," he said.
Zarit, who speaks for about 900 companies operating across China, says Xi's words don't reflect reality.
"The U.S. is so open to Chinese exports and now increasingly Chinese investment. And the reverse is not the case," he told CNN on Wednesday.
Related: Chinese president says no one can win a trade war
Zarit highlighted Beijing's support for the country's huge state-owned enterprises and protection of key industries like advanced technology and renewable energy.
"Protecting those industries makes it more difficult for our companies to do business in those sectors," he said. "That's one of the things we see as not fair."
Xi on Tuesday defended China's strategy of isolating certain industries from global competition, saying that the country has succeeded because it followed a path that was uniquely suited to its needs. It would not seek to impose its standards on other nations, he said.
Right on cue, the Chinese government announced just before his speech that it was introducing new measures to make it easier for foreign companies to invest in the country.
Related: China is ready to pounce if Trump axes Pacific trade deal
Experts said that while the policy changes looked promising on paper, they lacked detail and would depend on how effectively they were implemented.
Although Zarit is critical of how some things work in China, he's wary of the kind of confrontational approach to trade that Donald Trump has talked about. The president-elect has threatened to slap tariffs of as much as 45% on Chinese goods, a move experts warn would set off a cycle of retaliation.
"Treatment of American companies in China has been deteriorating," he said. "And a trade skirmish, or a trade war, could possibly see the treatment of American companies deteriorate even further."
He based those comments on the Chamber of Commerce's latest survey of its members in which 81% of respondents said they felt foreign businesses are less welcome in China than before. That's up from 77% a year earlier.
So what steps does he suggest for tackling the problems U.S. firms face in China?
"To look at what has been going on and what we can do in a positive way to level that playing field and improve the communication with the Chinese," Zarit said. "But we want to make sure we analyze it three, four, five, six steps down the road, what's going to happen, with whatever measures we take and to be sure that is not going to adversely affect our workers."
-- Charles Riley contributed to this article.
Correction: An earlier version of this story misstated the last name of the chairman of the American Chamber of Commerce in China.