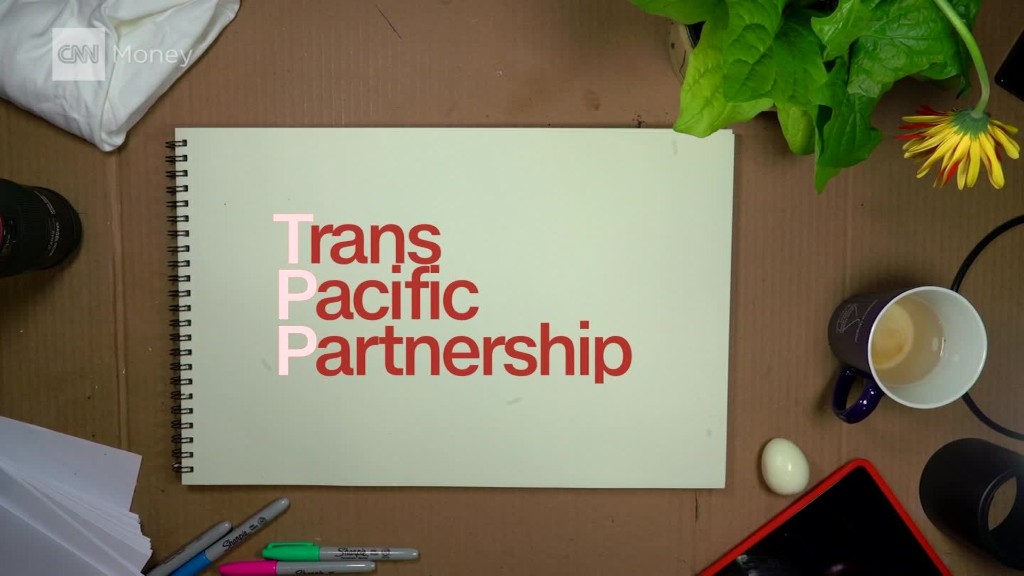 Chinese President Xi Jinping test drove a new message last week at the World Economic Forum. China, he said, would defend globalization against populist forces that want to end free trade.
On Monday, Donald Trump handed Xi the car keys and threw in a free tank of gas, abandoning the Trans-Pacific Partnership (TPP) in one of his first official acts as president.
Trump's decision to jettison the largest proposed free trade deal in history leaves the door open for Beijing to push its own brand of trade in a region that is home to many of the world's fastest-growing economies.
Trump, who made protectionist trade policies a cornerstone of his campaign, has described TPP as a "disaster done and pushed by special interests who want to rape our country." He has also pledged to renegotiate NAFTA.
Edward Alden, a senior fellow at the Council on Foreign Relations, said he was "baffled" as to why Trump would try to renegotiate NAFTA, which governs trade with Mexico and Canada, while abandoning TPP wholesale.
"Trump has single-handedly given away an enormous source of leverage over China," Alden said. "The first rule of negotiating is don't give away something for nothing, and he's done that right off the bat."
China is likely to be emboldened by Trump's backpedaling. Sen. John McCain, a former Republican presidential nominee, said that it was a "troubling signal" of American disengagement at a time when "we can least afford it."
"It will create an opening for China to rewrite the economic rules of the road at the expense of American workers," McCain added.
Beijing is already pushing its own trade deal known as the Regional Comprehensive Economic Partnership (RCEP). It includes many countries, such as Japan and Australia, that would have been in TPP.
Related: Chinese President Xi Jinping: No one can win a trade war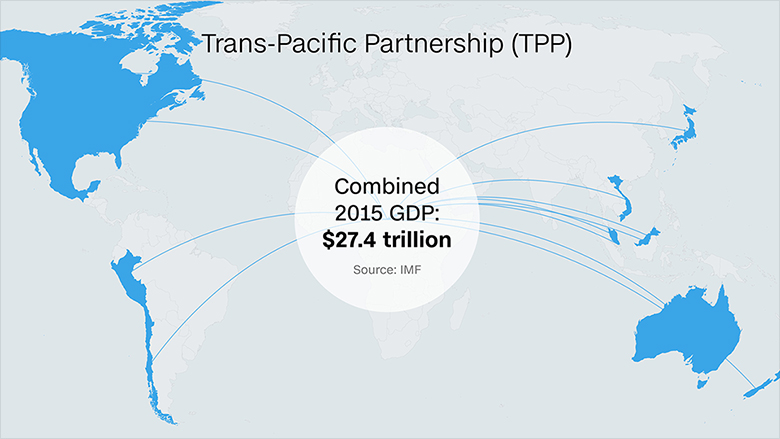 If RCEP succeeds, China would be in a stronger position to lead a bigger free trade area in the future. Already in Asia, some countries, like the Philippines, are aligning themselves with China.
Chinese officials are also welcoming Latin American nations to RCEP.
Critics worry that Beijing will increasingly set the rules and global standards that govern trade.
TPP included provisions that would have required countries like Vietnam and Brunei to observe international standards relating to forced labor and collective bargaining -- principles that have long been valued by the U.S.
"We can't let countries like China write the rules of the global economy," former President Obama said last year. "We should write those rules."
It's not clear exactly what rules Beijing might push. Despite Xi's forceful defense of globalization, China often protects its own huge state-owned enterprises at the expense of foreign firms. It also restricts access to its domestic markets.
Related: China is ready to pounce if Trump axes Pacific trade deal
Xi has defended that strategy, saying that China has succeeded because it followed a path that was uniquely suited to its needs. It will not seek to impose its standards on other nations, he said.
China appears pleased at the opportunity it's been given.
The country's foreign ministry said Tuesday that good progress was being made on RCEP and negotiations could soon conclude.
"We are willing to work with all countries to pull together in times of difficulties, so that we can fulfill our responsibility and make our effort in resolving problems facing the world today," ministry spokeswoman Hua Chunying said.
-- Jethro Mullen and Patrick Gillespie contributed reporting.