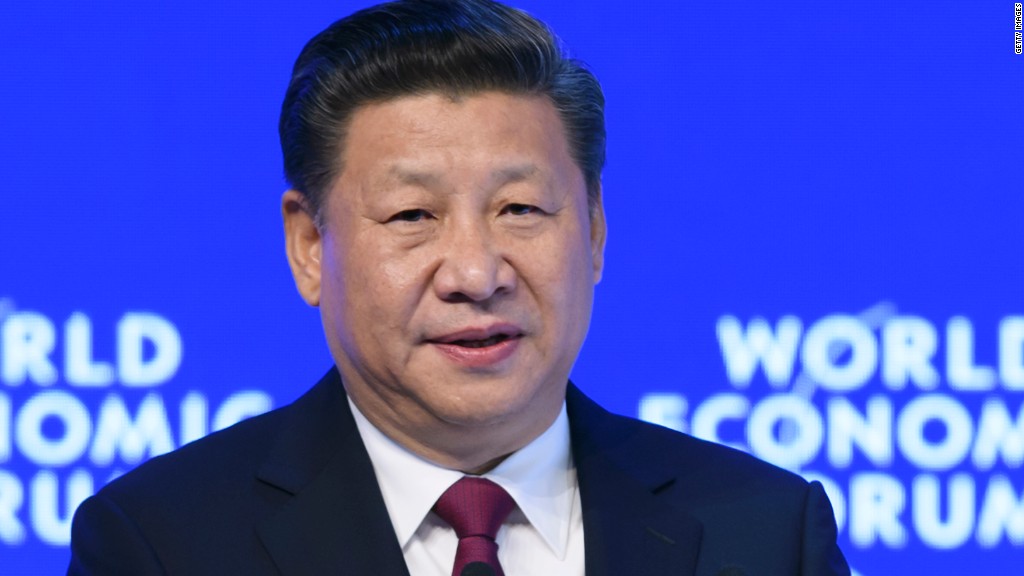 America and Canada dropped their first hints that they could strike a new trade deal without Mexico. And Mexico suggested that it's not interested in any deal that puts it at a disadvantage.
President Trump's press secretary, Sean Spicer, emphasized Trump will seek out "bilateral" trade agreements -- meaning just between two countries.
"The Trump administration will pursue bilateral trade opportunities with allies around the globe," Spicer said during a press briefing Monday.
A deal between Canada and the U.S. would be a huge blow to Mexico, which sends over 80% of its exports to the United States and Canada, its two biggest trade partners.
It would also present major challenges for U.S. companies that ship supplies in and out of the three countries seamlessly today.
Experts say tearing up trade ties with Mexico would cost jobs in each country but that Mexico would be hit hardest.
NAFTA, the free trade deal between the U.S., Canada and Mexico, is a trilateral or multilateral agreement.
Spicer's comments came after Canada's ambassador to the United States, David MacNaughton, suggested over the weekend that Canada too would consider bilateral trade talks with the U.S.
"We will cooperate on trilateral matters when it's in our interest and we'll be looking to do things that are in our interest bilaterally also," MacNaughton told reporters.
Related: Trump withdraws U.S. from TPP deal
During his campaign, Trump labeled NAFTA "the worst trade deal maybe ever signed anywhere," and he reiterated this week that talks on renegotiating NAFTA would begin soon. If talks don't go well, the White House says it plans to withdraw the U.S. from NAFTA.
Spicer later said that the fate of NAFTA would depend on Trump's upcoming meetings with Canada's Prime Minister Justin Trudeau, and Mexico's President Enrique Pena Nieto.
Canada's MacNaughton said he wants to make sure Canada doesn't become "collateral damage" if Trump tears up NAFTA.
"That's what we've got to worry about -- is if we're collateral damage," MacNaughton said.
Canada's minister of international trade, Chrystia Freeland, did not respond to a request for comment.
All three North American leaders spoke over the weekend, and each leader emphasized that any new trade deal should benefit all parties involved.
Related: Trump to begin renegotiating NAFTA
On Monday, Pena Nieto signaled support for NAFTA, but added that he would be open to a revised agreement as long as it benefited Mexico.
"We must preserve free trade between Canada, the United States and Mexico," Pena Nieto said in a speech.
But Mexico's economy minister said the country isn't signing up for a bad deal. Ildefonso Guajardo warned Tuesday Mexico could pull out of NAFTA if the terms of a revised deal are unfavorable.
"If we're going to go for something less than what we have, it makes no sense to stay," Guajardo said on the Mexican news show Despierta con Loret. "It's impossible to sell it here at home if there aren't clear benefits for Mexico."
Guajardo and other Mexican officials will meet with Trump's trade advisers later this week in Washington.
As for the U.S. and Canada, they have one of the world's largest trade relationships. In 2015, total trade between the two nations amounted to $662 billion.
America and Canada had a bilateral free trade agreement in place before NAFTA. In fact, it set the framework for NAFTA, which became law in 1994. The previous agreement was backed by President Ronald Reagan, and it was signed in 1987.
Experts say reverting to that previous, U.S.-Canada agreement would be easy to do on paper. However, the reality of reworking how businesses operate under NAFTA would be difficult since supply chains are spread across the three countries now.
"For the U.S. and Canada to exclude Mexico -- that would likely be a substantial upheaval to many companies' supply chains," says Scott Lincicome, a trade attorney at the law firm White & Case.