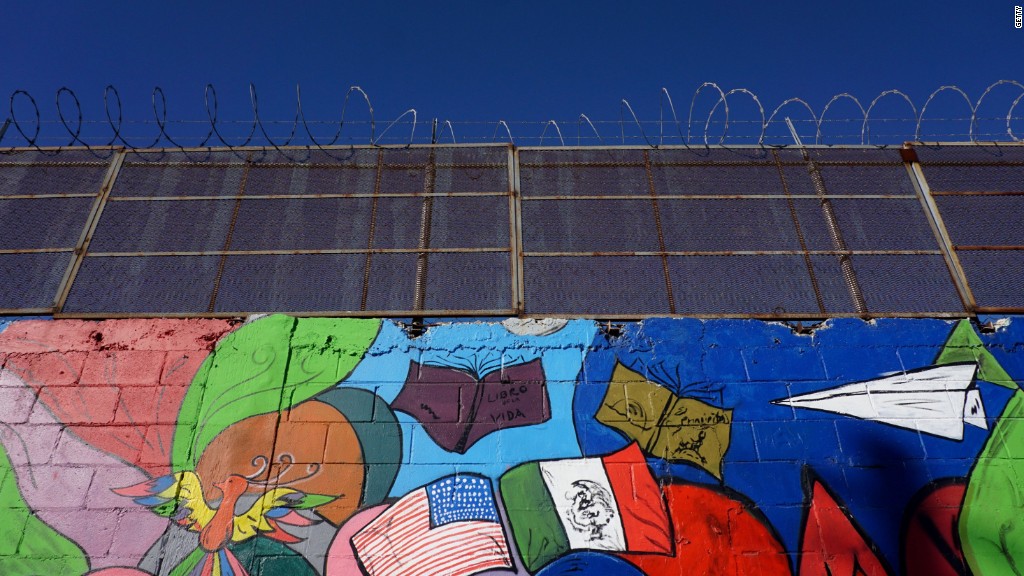 At least 1,300 miles long, 40 feet high, and containing 19 million tons of concrete. Donald Trump's much heralded wall along the Mexican border would be a massive undertaking.
Just how massive the cost would be is harder to determine.
Trump signed an order Wednesday to start the planning process to build the wall, declaring, "We're in the middle of a crisis on our southern border." There are already about 650 miles of fencing along the border, mostly in more populated areas. Presumably, most of that will stay in place.
That leaves about 1,300 miles of the border completely open, although much of that border is along the Rio Grande River.
The existing fence is mostly 18 feet high. But in others there are only low barriers that would stop vehicles, but provide little impediment to people.
Related: Trump orders construction of border wall, increased deportations
The taller portions of the fence cost an average of $3.9 million per mile, according to the Government Accountability Office.
But that's just a fence, not a wall. And the fencing is mostly located in more populated areas, where construction is easier.
Building a wall in isolated areas will be more expensive. In some cases, the U.S. would first need to build roads and other infrastructure built just to reach the border area. The terrain itself could be rugged, even mountainous.
The wall would probably be made out of precast concrete panels, which are often used on sound walls to block out traffic noise along the side of the nation's highways. It's also how most of the 30-foot tall Israeli-West Bank barrier was constructed.
As far as cost goes,Trump has cited a $10 billion estimate that was given to him during the campaign by the National Precast Concrete Association. That comes to about $7.4 million per mile.
"We're pretty confident in that figure," said Ty Gable, president of the industry trade group. "But there are a lot of variables. It depends on factors like terrain, how level the land is, whether you can get a crane in there."
By comparison it only costs about $3 million to build a mile of a typical two-lane road. So for $10 billion you could build a road roughly from Seattle to Miami.
Related: The many challenges facing Trump's wall
But other estimates suggest there are enough uncertainties to drive the cost up to $15 billion, and possibly as much as $25 billion, according to a report from Bernstein Research, which tracks materials costs.
It's also important to note that none of these estimates includes the cost of acquiring the land where the wall will be built, which could also be considerable.
Bernstein estimates that it will take at least one to two years to plan the project and buy the land, while the construction itself would be completed in two years.
Gable said that the one thing that's certain about building a wall: It won't do much to generate jobs.
The construction might only require hundreds of workers -- a couple thousand if the project is sped up. But it wouldn't generate tens of thousands of jobs, he said.
"It's not the Hoover Dam," Gable said. "We're more automated now than we've ever been."
Related: Trump threatens Mexico's biggest cash source
Trump has vowed to get Mexico to pay for the wall. But Mexican government officials have denied that will happen.
The wall isn't the only thing Trump is doing to toughen border and immigration enforcement. He wants to construct more detention facilities near the Mexican border.
Trump also wants to hire an additional 5,000 workers for the Customs and Border Patrol Agency, which had an annual budget of more than $13 billion last year.
The Immigration and Customs Enforcement agency, which arrests and deports undocumented immigrants, had a budget of $6.2 billion.
It's not clear how much it would cost to hire, train and pay additional staff. But Trump cannot authorize any budget increases unilaterally. For that, he'll need the approval of Congress.