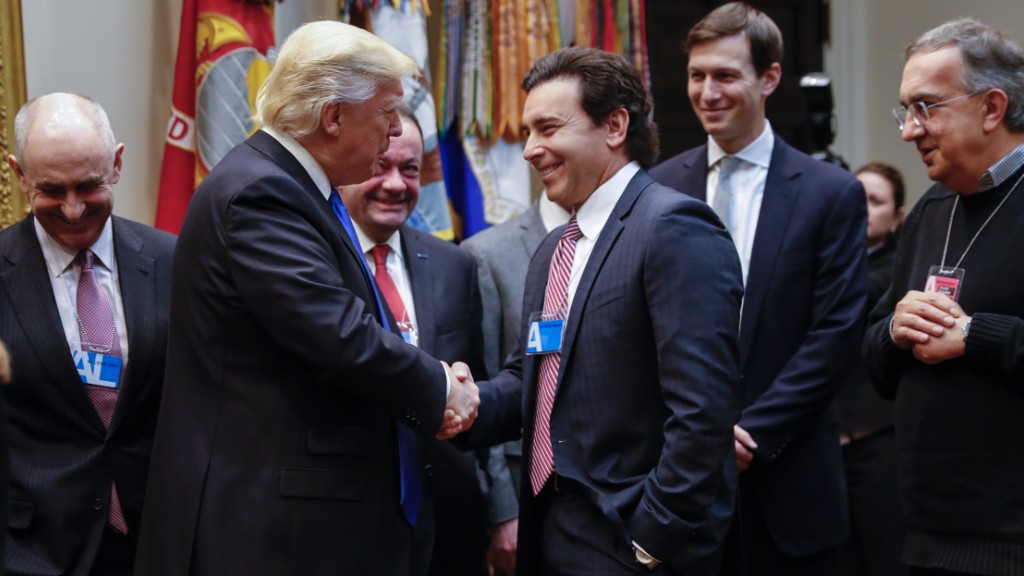 Donald Trump's plans for a border tax on auto imports from Mexico isn't scaring auto CEOs.
Speaking to investors Thursday morning, Fiat Chrysler CEO Sergio Marchionne said that although he has concerns about the border tax proposals, he's encouraged by Trump's other policies, such as his plans for a lower corporate tax rate.
"If all those things were to happen, including the reduction of the corporate rate, these things all [would add to the] bottom line," he said. "The policy direction being taken by President Trump is something we appreciate. "
Ford CEO Mark Fields also praised President Trump in his remarks to investors Thursday.
Related: Detroit at the White House - Trump meets with Big Three auto CEOs
"I think he'll be very focused on policies that drive investment and job creation in American manufacturing and in automotive manufacturing," Fields said.
Still, automakers are worried about exactly how all these new policies will be put into place.
"Even after the meeting I attended in Washington a couple of days ago, I'm unsure what part of that package, if any is going to get rolled out by 2018," said Marchionne.
He added that that Fiat Chrysler has been considering bringing some work it's doing in Mexico back to the U.S. for years -- specifically assembly of the Ram 1500 pickup truck that's currently built at a plant in Saltillo.
Related: Trump scores PR win against automakers but can he take credit for jobs?
Marchionne cautioned he couldn't yet commit to the move. But he said that some of the Trump proposals could help make it happen.
"Properly motivated, it could be executed relatively quickly," he said.
On Thursday, Fiat Chrysler reported record 2016 earnings. It also announced that 40,000 U.S. factory workers will get a $5,000 profit sharing payment next month, a record since Fiat bought Chrysler out of bankruptcy in 2009. Ford announced a $9,000 profit sharing payment for its 56,000 U.S. factory workers.