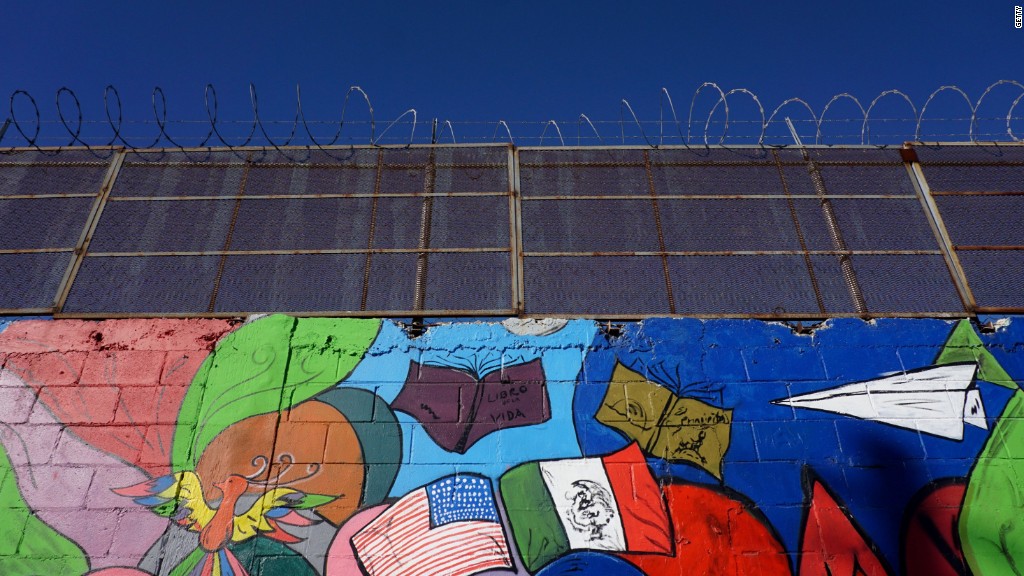 Mexican products have plenty of red, white and blue in them.
President Donald Trump tweeted Thursday that America is losing to Mexico on trade.
"It has been a one-sided deal from the beginning of NAFTA with massive numbers of jobs and companies lost," Trump tweeted, referring to the free trade deal between the U.S., Canada and Mexico.
But trade is more of a two-way street.
Experts like to point out a key fact: 40% of the parts in a typical Mexican product originate in the United States, according to the Commerce Department.
And that's a key reason why 6 million U.S. jobs depend on trade just with Mexico, according to the U.S. Chamber of Commerce.
These numbers represent the core of how free trade works in North America and how supply chains of thousands of businesses flow through the three countries. Certain products are made in the United States, others in Canada and others in Mexico. Assembling the product also happens across borders.
For instance, before a car arrives at a local dealership, its parts already crossed both southern and northern borders multiple times.
Related: Remove cars, and the U.S. trade deficit with Mexico 'vanishes'
Trump threatens to slap a "big border tax" on companies that manufacture in Mexico and sell products in the United States. Trump says it could be as high as a 35% tax -- or tariff -- on Mexican products.
Trade experts emphasize that tariffs on Mexican products would cost jobs in the U.S. precisely because of that 40% figure. Tariffs risk disrupting the free flow of goods between these three North American nations, which could cost jobs in all three countries.
Peter Navarro, who leads the White House National Trade Council, said during the campaign that tariffs would not cost U.S. jobs.
"The tariff is not an end game, it's a strategy -- a strategy to renegotiate trade deals," Navarro told CNNMoney during the campaign. "Tariffs wouldn't put U.S. jobs at risk."
Navarro and other Trump advisers are holding their second day of talks with Mexico's economy minister, Ildefonso Guajardo, and foreign minister, Luis Videgaray. Trump is still scheduled to meet with President Enrique Pena Nieto next week. NAFTA and the border wall are at the top of the agenda.