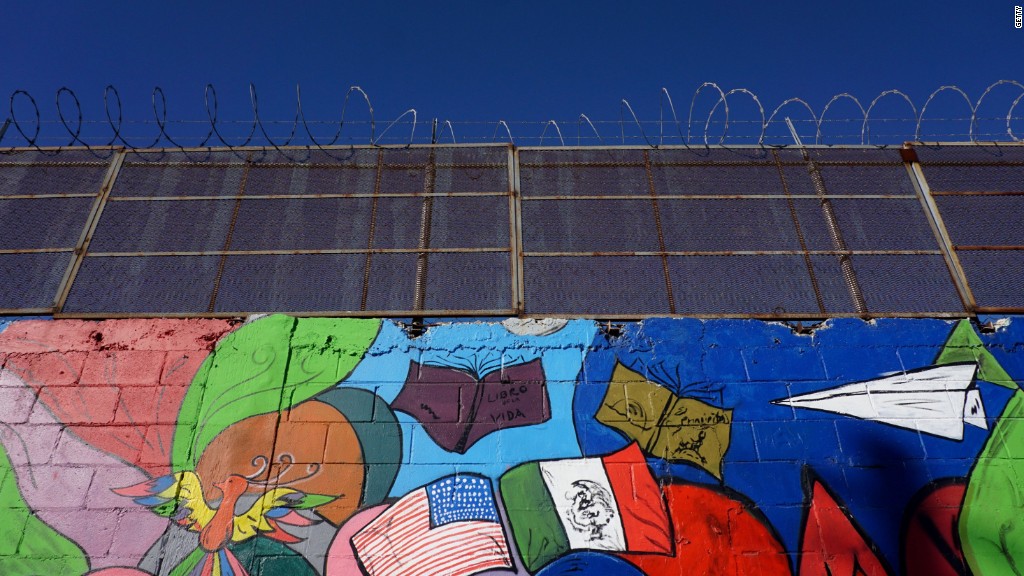 A CEO who voted for Donald Trump is confident that the president will get his big infrastructure plan through Congress.
But he said Wall Street might be just a little too giddy.
Bill Sandbrook, the head of U.S. Concrete (USCR), told CNNMoney that investors are ignoring the political reality in Washington. Even though President Trump is pledging to take quick action to help stimulate the stagnant U.S. economy, it may not be that simple.
"Investors are underestimating the complexity of getting deals done. There are a lot of steps between saying it and doing it," Sandbrook said. "Things take a while. Shovel ready doesn't mean it gets done immediately. People need to be more realistic."
This is the third time CNNMoney has spoken with Sandbrook since the election. Trump's win has given the company's stock a significant boost, largely due to hopes that increased spending on roads and bridges will lead to a spike in demand for concrete.
On Election Day, shares of U.S. Concrete closed at just under $49. One week later, when CNNMoney first interviewed Sandbrook, the stock was trading at $56.25. By the time we spoke to Sandbrook again in mid-December, the stock was trading at about $65.
Shares hit an all-time high above $70 earlier this week after Trump reiterated his plans to build a wall on the border of Mexico. The stock has pulled back a bit since then. But it is still up more than 35% since Trump's win.
Related: Construction boom expected under Trump
Sandbrook joked that he's really happy to have a company named U.S. Concrete at a time like this. And he continues to be impressed by what he's heard from the new president so far.
"It is refreshing that a winning candidate is doing exactly what he said he would do. Unequivocally. He's quickly hit the ground running," Sandbrook said.
He added that he's confident that there will be a big increase in spending on infrastructure, even though it may take time to nail down the final details. But Sandbrook said he's encouraged by the bipartisan support for investing in infrastructure.
To that end, a group of eight Democratic senators proposed their own $1 trillion infrastructure plan earlier this week. Even Jerry Brown, the Democratic governor of California, praised Trump's plan in his state of the state address this week.
While Brown said he was concerned by Trump's "disturbing" rhetoric and the use of "alternative facts," he had no problem with the president's infrastructure plans.
Related: Here's how much Trump's border wall will cost
"The president has stated his firm intention to build, and build big," Brown said. "I say 'Amen to that, man! Amen to that, brother! We're there with you."
Sandbrook said statements like this are good to hear. But he concedes that getting an infrastructure plan through Congress still won't be a slam dunk. It will take time.
"I am optimistic that things will get done. There will be tax reform. There will be increased infrastructure spending. There will be regulatory reform," he said. "I am not worried about them not taking place."
"But how long will it take to enact and what is the final scope? That's still up in the air. But there will be changes. I am certain of that," Sandbrook added.
As for the wall? Sandbrook still thinks more details need to be fleshed out before he considers how his company could be part of any construction plans. U.S. Concrete sells its products to big builders. It's a subcontractor.
Related: CEO who voted for Trump likes what he sees so far
And even though a wall would be a tangible symbol of more anti-immigration polices under Trump, Sandbrook still isn't worried that there will be a big backlash from foreign companies.
Sandbrook points out that two international cement giants -- Mexico's Cemex (CX) and Swiss-based LafargeHolcim (HCMLF) -- have a significant number of workers in the U.S. They conceivably could play a role in -- and benefit financially from -- building a wall.
"If you have a quarry or cement plant in the U.S. you have American workers," Sandbrook said, adding that as long as the new administration encourages global giants to do business here, that should be good for the U.S. economy.
"America first means American workers. It doesn't preclude other companies from investing in the U.S. That's not the focus. Trump needs to be pro-worker, not anti-foreign investment," Sandbrook said.